by Rev. Alan Viau
Lighting is one element of the wedding that is often overlooked – especially for the ceremony. Ensuring that lighting is incorporated in your wedding planning is essential. For an incremental small price, lighting has a bigger impact on the success of your wedding than most realize.
In the 11 years that I have been performing weddings in all sorts of locations, without a doubt lighting is one element that is consistently overlooked. Perhaps it may be that brides and grooms have an outdated impression about lighting. It is true that 11 years ago, lighting was still about big lights that got hot and needed lots of power. However, the introduction of LED lighting has changed the game.
Lighting is as important, and as important to plan, as sound amplification. In theatre, there are three rules about planning and designing a lighting scheme.
1. To illuminate the space. An audience needs to see an actor's eyes. That's when your audience connects with emotions. So you must have sufficient lighting to see the love that the bride and groom have for each other. Having sufficient lighting also make the photographer's job so much easier.
A good example of the impact of lighting is seen below. In November, 2014, I participated in a Best Day Ever. We compared two weddings in one room at the Canadian Museum of Nature. As you can see, both ceremonies had a back-lighting effect. However, I insisted on front lighting for our ceremony (the one on the left). You can immediately see the impact. Faces are lit up, little shadow and all is visible.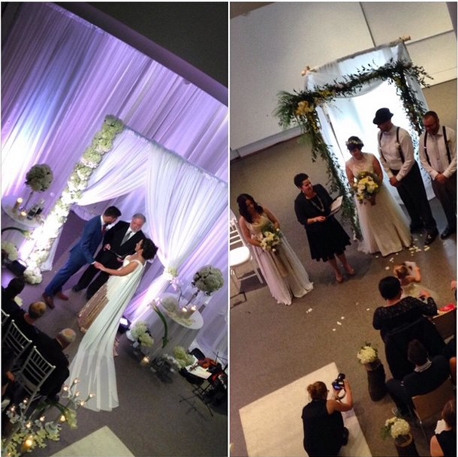 2. To set mood. The combination of color and shadow set the emotional tone of the scene. With LEDs, you can program any variety of colors. The lighting can be set to match or complement your theme colors. In the photo below, I designed the Rainbow Flag as a lighting effect for the end of La Cage aux Folles.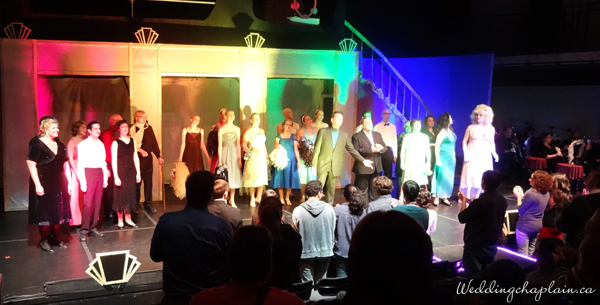 A combination of LED lights with gobo specials can have a spectacular effect on your reception. To achieve this mood requires planning. It also means that your DJ provider must have the equipment and expertise to execute your vision.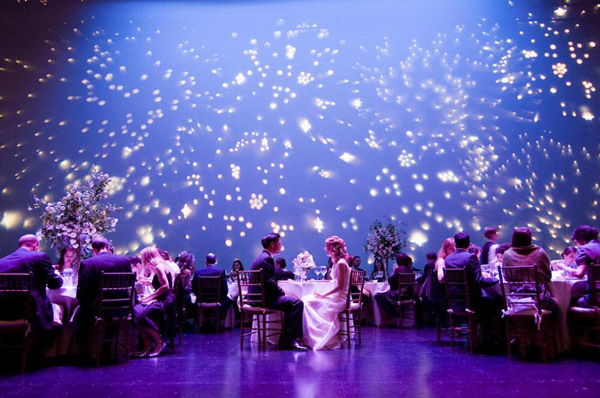 3. To provide focus. General lighting is great. One other function is to provide an area of focus for the audience. You can see in the ceremony photo above that my bride and groom were highlighted from the surrounding decor. One of the techniques that I use in theatre is to have the area of focus in a "white" light while the rest of the background is in color.
Many weddings could benefit from extra lighting to ensure that the bride and groom are always highlighted. It also will guarantee that important areas, such as around the MC, are also in focus. Lighting makes a show through illumination, mood setting and focus. Planning for lighting will add dazzle to your event that will impress.