3 Ways Engaged Couples Can Share Their Memories With Loved Ones
After dating for some time, you finally have a fabulous fiance, a beautiful ring and a memorable wedding to plan. While your close friends and family know all the details, it can be harder to share special memories with loved ones who live out of town. Fortunately, thanks to a little creativity and technology, it's easy and fun to keep everyone up to date on your personal love story.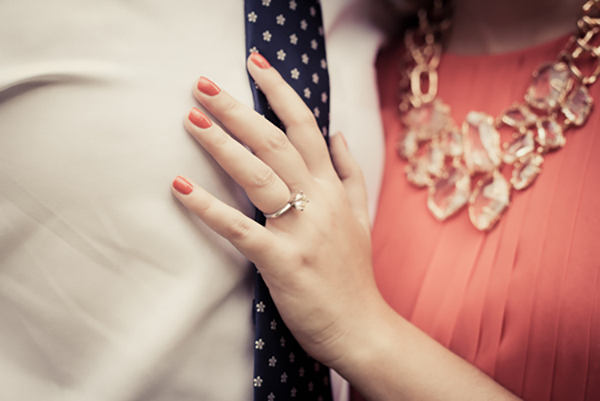 Start a Wedding Website and Blog
A wedding website is a perfect way to share stories about you and your fiance. Include important information like the date, time and place of your upcoming nuptials as well as a blog filled with posts about you as a couple. Describe where and how you met, how long you dated, some of your fun adventures together and, of course, your proposal. This is also a wonderful place to post a timeline of photos that tell your love story, ranging from that shaky selfie you took during your first coffee date to pictures of your gorgeous ring and wedding venue.
Create a Digital Photo Album
You probably have dozens of photos of the two of you stored on your phone or laptop. Share some of these pictures with friends and loved ones who live far away with an online photo album. Once you select which photos you want to include, visit a website like Snapfish to create a digital photo album. And if you have printed photos that you want to include, iMemories can turn them into a digital format so they can be added to your scrapbook.
One word of advice, though — as you relive your memories, ensure they will never be lost by saving everything to the cloud. You don't want to run the risk of losing irreplaceable photos if your hard drive crashes or your phone is stolen. If you are not sure which cloud provider to use, Top10CloudStorage offers helpful reviews of some of the best cloud servers. As a bonus, once your library of photos is safely stored in the cloud, you can easily share them with your wedding guests.
Give Your Guests a Personalized DVD
Another wonderful way to share your story with your friends and family members is to give them a DVD that includes a slideshow of your love story. Times of Your Life DVDs can take your printed and digital photos, videos and other memorabilia and transform them into a customized DVD slideshow. The company can add captions and music to truly personalize your story as well. In the DVD, you can re-enact your first date, revisit some of the places you went while you were dating and then act out the romantic proposal in a humorous way. The DVD can even be played at your reception, and everyone can take a copy home.
Your friends and family are excited for you and your fiance and want to be kept in the loop as much as possible. From learning about your journey together to getting wedding details, these three ideas will make them feel included in your big day.