4 Theme Ideas for an Intimate Wedding
Homespun barn weddings have become increasingly popular and the rustic look is in high demand. Pinterest is filled with lanterns hanging from tree branches, burlap table runners and layers upon layers of lace. Whether your style is rustic or you're going for something more beachy or classic, create an intimate feel for your special day.
Here are a handful of theme ideas, along with tips to make them extra special: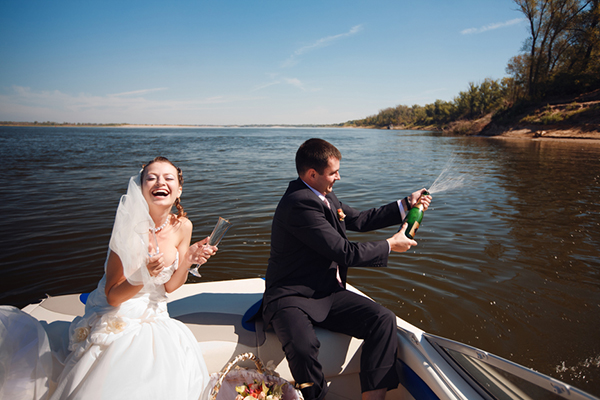 1. Destination Wedding on the Water
Getting married on a cruise ship is a popular choice, but may not offer the intimacy you're seeking. Instead, charter a yacht or boat and create a weekend of water-inspired fun. Hire a chef or wait staff to treat guests to appetizers and cake on a yacht. Check the local calendar of events to coordinate your wedding with a fireworks display or live music on the beach.
On the flip side, skip the tropics, and head to Canada for a rustic, cozy wedding right on the water. Get married on a boat or a nearby dock, and go cruising at sunset after the ceremony. Spend the evening cruising, swimming, fishing, and skiing with your loved ones as you celebrate your new life together. Remember to secure your boat operator card online and direct guests to do the same.
2. An Exotic "I Do"
Make your beach wedding unique by getting married in an exotic location like Turtle Island in Fiji, or the rainforest of Costa Rica. Team up with a local lodge or resort to help arrange accommodations in the treetops, along with a memorable butterfly release.
Seek out a venue that offers an on-site coordinator who can assist with both stateside and exotic location details, including where to get your marriage license, what food to serve, and where to find the best fresh-cut flowers.
Give your ceremony an original touch by arranging for local entertainers to perform for your guests.
3. Movie Theme
A tastefully-executed movie-themed wedding can infuse magic and wonder into your intimate ceremony. Pick a favorite classic like The Wizard of Oz and transform a tranquil garden into a venue that would make the Great Oz proud. A blanket of yellow rose petals could represent the yellow brick road, and wildflowers in mason jars could symbolize Dorothy's childhood home. In this case, the bride could wow guests as she walks down the aisle in ruby red heels.
For a more sophisticated wedding option, try a Breakfast at Tiffany's wedding. Gather inspiration from the infamous eggshell blue Tiffany & Co. boxes, and incorporate the color throughout your event—from your bridesmaids' shoes and groomsmen's ties, to embellishments on your cake.
Bridesmaids can wear the perfect Audrey Hepburn black dress with swept-up hair and dark eyeliner; the untraditional bride can even consider wearing black too!
4. Small Town Historic
Head to the countryside for a small town, historic wedding. Opt for a vintage style wedding in an antiqued boutique hotel, and adorn outdoor tables with shabby chic furniture, mismatched vintage dishware, and crisp linens.
If the vintage look isn't your cup of tea, consider a Roaring '20s theme and ask guests to participate with themed attire. Add a long strand of pearls to your wedding attire and find a flattering fedora for the groom to wear with his three-piece suit.
Regardless of the theme you select, remember the best way to keep the event intimate is to focus on your loved ones and your new life together as a couple.