By Dr. Alan Viau
In Ontario, you are required to purchase a Marriage License so that the marriage can be legally recognized. It is important that all the information on the license be accurate. Lately, I've seen mistakes on the license that could have been corrected at the time of purchase.
During the wedding ceremony, we all sign the Marriage License. I then send the completed license to the Provincial Registrar who registers the marriage. This completes the process to have a legally recognized marriage in the Province of Ontario.
It is important that the license contain the correct information. The Registrar has no way of knowing if the supplied information is accurate and will enter the data into the system as is. Subsequently when the couple sends their application for a Marriage Certificate, the Province may not find their entry because the information supplied does not match what is in the system. I strongly recommend that couples carefully check the information that is on their marriage license at the time of purchase.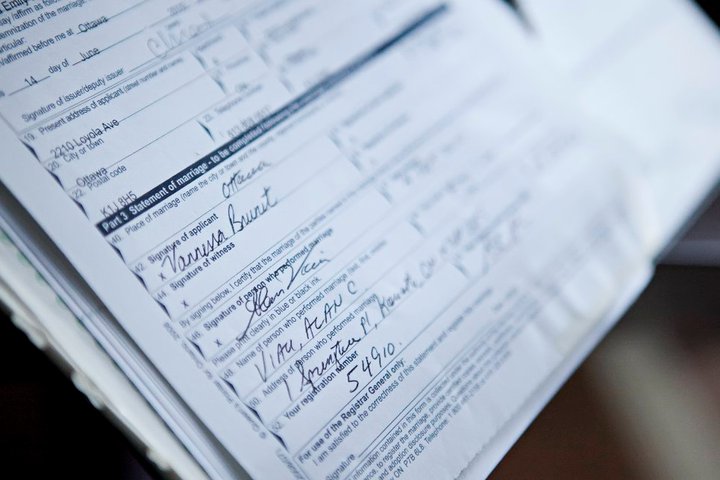 Here are some common mistakes:
1- Dates are reversed. For example February 1, 2010 could be entered as 1/2/2010 or 2/1/2010. Make sure it is the right format. Same applies for Date of Birth.
2- Address and City of residence. Couples can purchase their license from any City Hall in Ontario. The clerk often assumes that the city of residence is wherever they are. For example, a couple from Cornwall will purchase their license in Ottawa and the clerk enters their city of residence as Ottawa. By the way, the City of Ottawa charges the most ($163) for Marriage Licenses in Ontario. You can purchase your license at any other City Hall in Ontario and save some money.
3- First and Last Names are correctly spelled and in right order. When the form asks for First and Last Name ensure that if your name is Robert Allen it is not put down as Alan Roberts.
4- Date of purchase and Proposed Date of Marriage are accurate. A license is only valid for 3 months. Ensure that the dates are correct.
My final recommendation is that the couple keep a copy of the license for their records. Do not send your application for Marriage Certificate until 12 weeks after your wedding date because it takes them that long to register your marriage. Every year I conduct about 100 weddings and I have couples where the Province has no record that their marriage was registered. A copy of the license makes it easier to resolve registering the marriage after the fact.