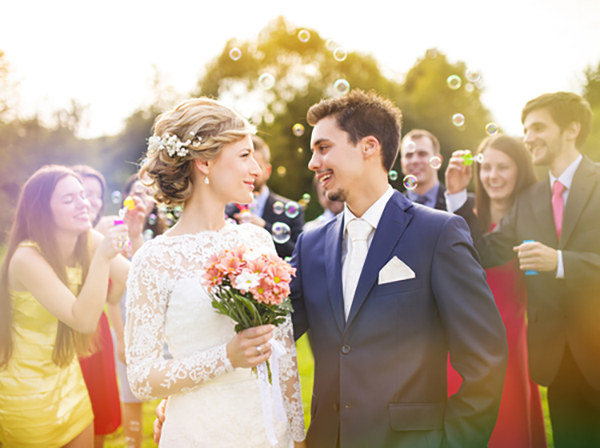 Backyard weddings are wonderful for many reasons. In addition to being an economical (read: "free") place to hold your ceremony, they offer the beauty of the outdoors, space for guests to mingle and access to the house for getting dressed. While backyard nuptials are often casual affairs, they don't have to be. With some imagination and accessories, you can transform the space into a classy and beautiful spot for your wedding.
Hang lanterns from trees
If the backyard features trees, take advantage of their branches and use them to hang multiple lanterns. If you are exchanging your I do's under a large tree, hang most of the lanterns there. For a do-it-yourself approach, consider collecting and buying dozens of Mason jars and placing a votive tea light inside each one. Hang these homemade lanterns from trees and maybe even use them to line the aisle. This idea will look especially gorgeous if you are planning a sunset wedding; as the sun goes down the glowing trees will look ethereal.
Decorate the pool
Incorporate a swimming pool into your wedding decorating plans. If you are planning an evening ceremony, add some floating solar pool lights that charge up during the day and then glow at night. These lights from PoolProducts.com feature a rotating color wheel featuring seven colors. You can also use the floating lights in your spa, backyard pond or as tabletop decorations during the reception.
Choose natural-looking flower arrangements
Those tall and expensive pedestal flower arrangements might look nice in churches, but they don't really work in a backyard wedding. Choose containers that are more natural looking, like vintage vases, metal pails, Mason jars, wooden boxes or woven baskets. Hobby Lobby sells a variety of earthy baskets that you could reuse later in your new home. Fill them with sturdy flowers like sunflowers, calla lilies, and carnations and choose colors that complement any flowering bushes and trees that are blooming in the backyard. After the ceremony is over, move the floral arrangements to the reception area and use them to decorate the tables.
Line the garden aisle with petals or pine needles
Instead of a traditional paper aisle runner, consider using something from Mother Nature to line your walk to your groom. For example, take advantage of the towering pine trees that are found throughout Canada and sprinkle buckets full of green pine needles along the aisle. You can also use the more traditional rose petals. For a more budget-friendly option, line the grassy aisle with colorful twisted strands of crepe paper. Another idea is to place pots of fragrant herbs on the sides of the aisle and then use fresh rosemary leaves to create a huge monogram with your new last initial near the garden altar.
Stand under a floral arch
If there is not an obvious space to stand and exchange your vows, create an archway at the front of the chairs and decorate it with flowers. Choose a mix of the colors from your bouquet and your attendants' dresses and add some greenery. Then either hang candles from the arch or wind strands of small white lights around the arch; if you are getting married in the evening this will make the arch look absolutely magical.