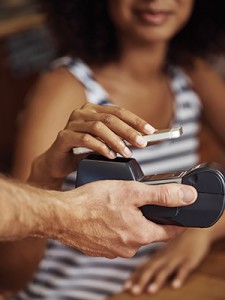 Research shows that Canadians are increasingly using their mobile phones and other devices to make retail purchases. But as with every new form of payment, there are risks associated with these methods.
How secure are mobile payment systems? According to the Government of Canada, consumers need to take steps to protect their personal information and financial accounts. Here's how:
5 tips to protect yourself when using mobile payments
• Make sure to protect the mobile device you use for payments with a password or personal identification number (PIN).
• Download mobile payment apps and updates from a trusted source, such as directly from a financial institution's website or from an app store that you trust, and make sure you always have the latest version.
• Check the terms and conditions before you use mobile payments. Companies that provide "digital wallets" or mobile payment systems need your personal information, including your identity and credit card or bank account numbers. Some can track your daily purchases, locations visited and other information, and some may use this information to send you advertising. Be sure you are comfortable sharing this personal information.
• Keep your passwords safe and secure. Choose a password that you can remember but that no one else can guess. Use a combination of letter, numbers, special characters and at least one capital letter. And never tell anyone else your password or PIN. Doing so may cancel anti-fraud protection offered by your financial institution or service provider.
• Check monthly statements carefully to ensure that every transaction listed is one that you authorized, and contact your financial institution or credit card company immediately if there are any you do not recognize.
More information on protecting your security online is available at ItPaysToKnow.gc.ca.
www.newscanada.com