One of your best friends is getting married soon, and you cannot wait to celebrate with her at her bachelorette party. While you know some of your friends are planning on giving her the traditional gifts, you want to go with something a bit more fun and true to who she is as a person. With that in mind, check out these following classy tips and ideas:
Bachelorette party shopping 101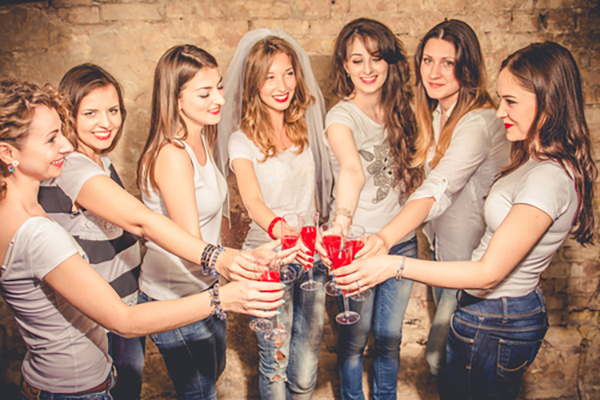 When shopping for a bachelorette gift, Wedding Chicks advises staying within a reasonable budget, and keeping the bride's personality in mind. If she is quiet and shy, she might wish the floor would open up and swallow her whole if she gets edible undies in front of everyone. Also, if you plan on getting her clothing, make sure you know her size, so you don't have to guess and end up getting the wrong size.
Spa day
Planning a wedding is exciting, but it also can be stressful and exhausting. Reward your friend with a spa day. Give her a gift certificate to a local spa to use whenever she has time or to her favorite mani/pedi place.
Pretty lingerie
If your friend is pretty outgoing and won't mind opening gifts of lingerie in front of others, give her a couple sexy bras that she can take along on her honeymoon. A great place to shop for affordable and pretty bras is Kmart. For example, the Vassarette Women's Lace Overlay Push-Up Bra is a lovely and sultry option that costs less than $12.
Tote of beauty products
To help the bride-to-be get ready for her honeymoon, give her a small tote filled with essential beauty products. Pack the bag with some of her favorite hand and body lotions, bubble baths, massage oils and — if they are going to someplace tropical — sunscreen.
Champagne flutes and bubbly
If you know there will be a champagne toast at the bridal shower, surprise her with a pair of personalized champagne flutes. You also can add a bottle of bubbly for the two of them to enjoy together.
Hangover bag
If the bachelorette party promises to have plenty of fun and fruity adult beverages, the bride-to-be will probably get a kick out of a hangover bag filled with needed essentials to help her feel better the day after the party. Etsy sells a great bag for $1.40 that you can fill with whatever you want. Suggestions include pain relievers, mints, Tums, Vitamin B complex tablets, scrunchies, Alka-Seltzer and gum. Throw in a gift card to Starbucks so she can get a few strong cups of coffee and you will be all set.
Favorite makeup
You can never have enough of your favorite mascara and lip gloss. Give the bride-to-be a pretty gift bag filled with some basic beauty staples, and then tuck in a gift card to a department store that has an extensive cosmetics department. This way she can add to her assortment of beauty products, or she can schedule an appointment with one of the cosmetics ladies to have her makeup professionally applied, either before the wedding or on the big day.