For those guys who are so in love that they just can't wait to pop the Big Question — about marriage, that is — know this: a diamond engagement ring definitely counts as her Christmas or Hannukah present.
"If a guy's gonna pop the question eventually, he might as well use the opportunity to avoid shopping for a holiday gift and kill two birds with — ahem — one stone," the Washington Post declared.
And you won't be alone: While 39 percent of all marriage proposals occur between Thanksgiving and Valentine's Day, what man wants to be the one who waited until February to give his girlfriend a ring she was expecting in December?
To make the process easier, the following myths and facts can help you with buying the ultimate engagement ring. (For those not quite ready to propose — or, for that matter, who have other diamond jewelry lovers on their list to buy for — we've also got you covered.)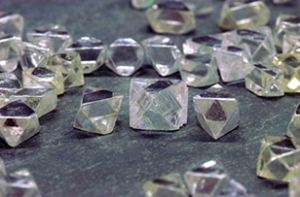 MYTH: You need to be prepared to spend two months' salary on a ring.
FACT: That's just a rule of thumb. Your financial circumstances — and your girlfriend or fiancee's taste — ultimately win out.
MYTH: There's no way of telling whether a diamond has been produced "ethically" or not.
FACT: This is an important issue for some couples, so know that the Diavik mine in Canada's North West Territories, for one, has done its utmost to provide buyers with proof that it's adhering to international standards of labor, health, safety and environmental practices in producing the nicely sized diamonds of good color and gem quality it's famous for.
"Each certified gem is laser-etched with a unique number that indicates the date mined, and each gem's unique optical fingerprint is recorded in an international database so that it can be positively identified," says an expert in the field, noting that many insurance companies offer discounted rates in such cases.
MYTH: Most women want a pear-shaped or princess-cut diamond engagement ring.
FACT: Round is the most popular.
MYTH: You must pick the ring out yourself to maximize the effect.
FACT: Thankfully, this is not always the case. But if you prefer shopping solo, at least keep your girlfriend's hints in mind.
Finally, about those other diamond jewelry gift-giving tips we promised.
"Classic diamond stud earrings will never go out of fashion," says jewelry and style ex-pert Michael O'Connor, "and diamond line bracelets can be worn with any outfit."