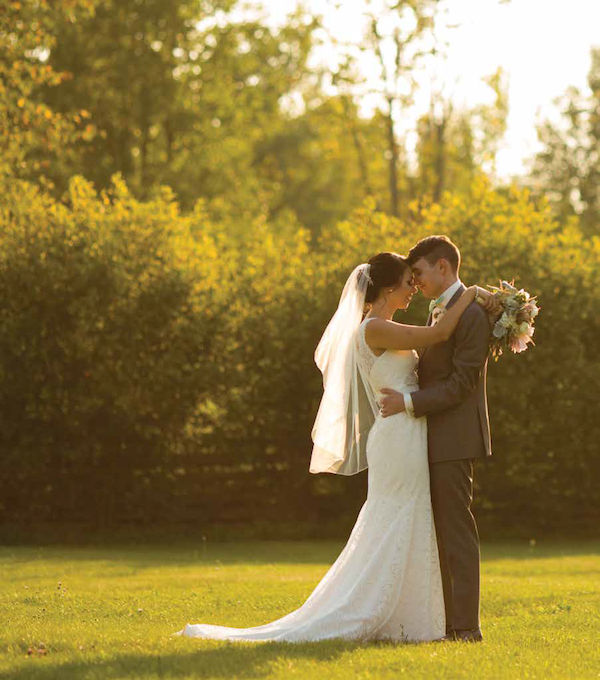 Say your "I do's" under a canopy of trees and amongst all the beauty that an outdoor setting has to offer
Oh, to celebrate outside! The bright blue skies, the au naturel decor, the romantic breezes. At least that's how you envision the day. The reality is that an outdoor affair requires great attention to detail that is often taken for granted in a brick and mortar location. The first step is to choose the right venue for your dream day.
We spoke with the experts at Stonefields in Carleton Place and gathered our top tips for planning a gorgeous outdoor wedding.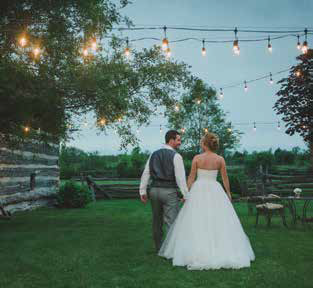 Upscale country
Country weddings have always been in style. But the modern version of a country wedding is a far cry from the hay bale, sunflower bouquet and cowgirl boot ways of days gone by. Today's couples are looking for chic and elegant affairs that embrace the organic side of the great outdoors – elegant barns, towering trees, natural greenery, soft, muted tones, loose garden- inspired florals, and rustic wooden accents. Achieve this look by choosing a country setting and surrounding yourself with pure, natural elements.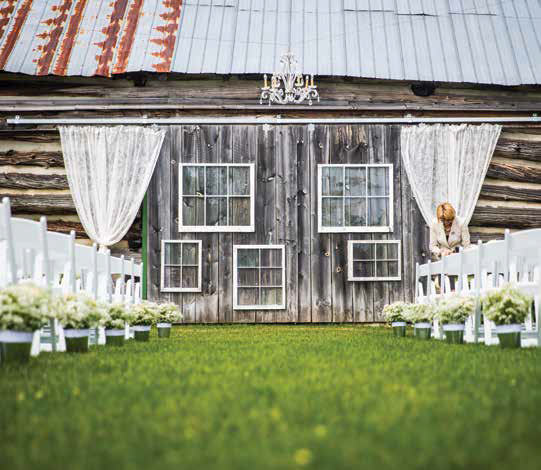 photo: Green Tea Photography by Martin McMahon
Goin' to the (outdoor) chapel
Country weddings and outdoor ceremonies go hand-in-hand. Stunning tree-lined settings, heritage stone houses and century-old barns create the perfect country backdrop for chic flowing drapery and sparkling chandeliers. Large statement floral arrangements with overflowing country blooms and rustic arbours with greenery dominate an outdoor ceremony altar – framing the wedding couple without taking away from the surrounding natural beauty. Wood is the decor element of choice. Use it in natural tones to anchor your arrangements, in birch to bring in the elegant white which is so synonymous with weddings, or in antique wooden pieces to hold your programs, fans or signage.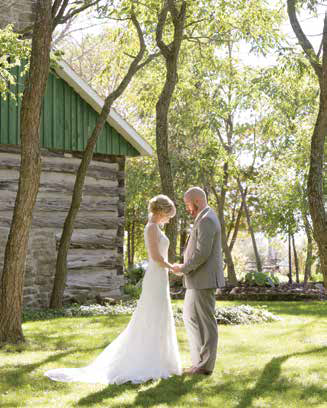 Photo: Joelle Martin, Studio G.R. Martin Photography
Bring the outdoors in
Indoors or out, a glowing tablescape pulls everything together. Stunning florals and DIY wooden accents take the lead on table decor. Consider rustic wooden cupcake (or donut!) stands made from an old fallen tree in your backyard, or more refined wooden boxes for your head table arrangements. Mason jars and soft, muted florals are still on trend, but consider including them with a variety of vintage bottles filled with single or loose wild flowers, or paint them white for a classic touch. Don't be afraid to add metallics and sequins for drama! Sparkling table runners and gold, silver and rose tones bring an upscale element to your country affair.
Garden-inspired
Looking for something different from the classic, structured wedding bouquet? Take a cue from your flower garden. Loosen up your bouquet with greenery and cascading flowers. Tie in your boutonnieres with garden succulents. Go with a mix of classic and wild flowers to add interest, and the sky is the limit when it comes to colour choices – whites, soft pastels, bright pinks and deep burgundy all complement the organic backdrop beautifully.
Have a good plan B
We get it—the last thing you want to do while planning your country wedding is plan another wedding. But worst-case scenarios happen, and you'll want to be organized. Talk to your venue about their Plan B and determine how quickly it can be executed. Some venues can accommodate last-minute changes based on temperamental weather conditions. But don't tempt fate (and major day-of meltdowns). If there's no indoor option, put a deposit on a tent, just in case. W
The photos for this feature were shot on location at Stonefields, a full-service pre-confederation elegant rural estate in Carleton Place.