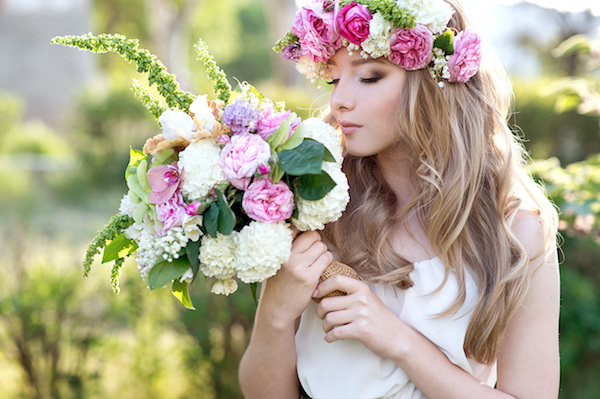 Do you want to be a flower crown bride? Whether you're going for a boho-chic look, vintage glam, drama, whimsy, sophistication or a romantic, princess style, a flower crown is a lovely, show-stopping accessory that's versatile too.
Flower crowns are the hottest go-to accessory nowadays, because, quite frankly, they're stunning. With the power to make any bride feel like a total goddess, and ability to bring Snapchat filters to real life, it is no wonder they go all the way back to ancient Greece.
"A flower crown is what's 'in' right now," says Jesseline Gough from pickOntario. From your own wedding and showers to bachelorette parties and lunch with the gals, "you can quite literally make a statement anywhere you go."
Learn how to build your own beautiful flower crown by watching pickOntario's 2-minute tutorial video, or following these easy steps:
What you'll need: 
Ontario grown ivy
Florist wire
Scissors
Ontario grown bouquet, potted plants, flowers, bedding plants
Step 1: Have about 2 feet of Ontario grown ivy ready
Step 2: Level 1 inch of stem
Step 3: Wrap the wire around the top of the branch to secure it
Step 4: Wrap the wire around the flower stem several times
Step 5: Repeat wrapping with the remaining flowers
Step 6: Wrap in the same direction working down the branch and continue adding until you see the look you want
Step 6: Bring the ends together and wrap firmly
Step 7: Now, wear your crown like the queen you are!
Step 8: Snap some selfies, and share with on Twitter, Facebook and Instagram using #pickOntario
"The best thing about this flawless accessory is that it never goes out of style," adds Jesseline.
Ready to make your flower crown? Visit pickOntario for more possibilities and supplies. You can also check out the Floral Market and Flower Crown Bar at Canada Blooms, taking place March 10-19, 2017.
For more information, please visit www.pickontario.ca. Follow @pickOntario on Twitter and Instagram, and like them on Facebook.
About pickOntario
pickOntario is an initiative developed by Flowers Canada (Ontario) Inc. to raise awareness, interest and demand for Ontario-grown cut flowers and potted plants. When you pick Ontario, you are supporting the more than 200 greenhouse farmers who employ approximately 9,000 people in our province. The growers in Ontario work hard to produce quality flowers and use the latest trends in technology and growing techniques to ensure their products are delivered fresh to local retail establishments, daily.