Looking for some wedding style inspiration and eye candy? In the spring '15 print issue of Ottawa Wedding, Lindsay Ruck presented a captivating list of all things bridal making a splash. The calendar may have fast-forwarded a year, but the tips and details are still compelling and well worth the read! Check out 2015's bridal hits.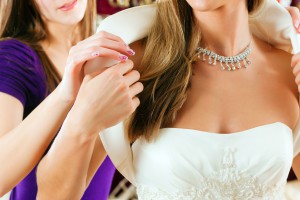 by Lindsay Ruck
Wedding season is once again upon us, and that means new bridal looks, seasonal colour palettes and fun DIY decor that is sure to impress. While rummaging through pic upon pic of all things bridal may be the best Saturday afternoon ever for some, there are those future weds that just don't have the time, and that's where we come in.
We've compiled a list of all things bridal that are hitting the top of the charts this season. We've fallen head over heels in love with these looks and we're sure you will too.
Fashion first
No list would be complete without talking wedding gowns and this season there sure is a lot to talk about. We've elaborated on a few below, but check out a lengthier list in our honourable mentions.
Starting at the top, off-the-shoulder necklines were peppered all over the bridal runways for spring. This look is pretty, elegant, romantic and sexy all rolled into one. (Not a bad combo, ladies!) Opposite of that look is the comeback of collars for a more covered-up style.
The blush, rose, champagne and ivory of seasons past are taking a backseat to more dramatic hues of blue, grey and yes, even mint green. These are subtle shades that don't drift too far away from the white gown, but just enough to be declared the fashion-forward look in bridal. Monique Lhuillier premiered a stunning strapless mint green ball gown with a tiered skirt along with a strapless blue silk gauze A-line wedding gown with a floral skirt. Other designers presenting subtle yet colourful hues are Jenny Packham, Naeem Khan and Hayley Paige.
Tulle is taking top spot for the fabric of spring, making appearances as soft overlays and floral skirts. Vera Wang created dramatic tulle designs this season, along with Amsale and Marchesa.
For an added touch of drama, capes also floated down this season's runways. From a hooded beauty to a dainty cover up, a cape is a bonus accessory that adds a uniqueness to the bridal look. Theia, Carolina Herrera and Mira Zwillinger all featured capes as part of the 2015 spring line-up.
Here comes the bridesmaid
Bridesmaids are no longer taking a backseat in bridal fashion. The days of frumpy or puffy sleeves and bland satin dresses are long gone. This season's bride wants her girls looking fun and fabulous. From hue, to fabric, to silhouette, bridesmaids' dresses are taking a turn for the better.
Popular shades for the upcoming season include pastels, peach, pinks, greys, and yellows. These are all soft shades that really allow the woman in the dress to shine and not become overpowered by a bright block of colour or print.
Just like bridal gowns, off-the-shoulder dresses are sweeping bridesmaid dresses. The halter, asymmetrical and strapless gowns are also still in contention. More brides are leaning towards longer lengths and maxi styles.
Because of these longer gowns, many designers are adding a little touch of sexy with a slit (or two) in the skirt of the dress. Nothing too dramatic, but just enough to give the gown added movement.
For the men
The classic black tux is still alive and well, and fingers crossed that this look will never fade away. It's clean, sharp and can turn your flip-flop wearing, sport short guy into the dapper gentleman waiting for you at the end of the aisle.
On the other end of the spectrum is the casual day suit, which may still be a huge step up from your man's every day wear. This less-formal look still stays true to the classic structured jacket and straight-leg pant, but no tie required and most likely the first button of that crisp shirt is popped open. Guys have been having fun with this look and drifting away from perhaps the more serious black or grey. Navy, beige and softer greys are great colours for the suit. These lighter colours are usually associated with an earlier wedding start time and not so much for an evening celebration.
Colour wheel
Wedding colours really set the tone for the entire day and all other decisions are based off of those selected hues. This season, the du jour shades are soft and creamy. Think of your favourite fruity ice cream flavours and that's what you'll see dominating the colour wheel this season.
Think soft lemon paired beautifully with whites and light blues. A fun and flirty watermelon pink pops when surrounded by multiple shades of the rosy hue, not to mention greens, oranges and richer yellows. Leaf green is great for an earthy decor and complements pinks and browns beautifully.
Softer colour palettes really have a "pretty" effect on style and decor and add another touch of romance and whimsy to the day.
Floral fever
Couples are getting more and more creative with their florals this season. While certain colour palettes are dominating, no one style is reigning over the rest.
Floral colours are very reflective of what's trending in attire. Peach, lemon and pink are sweeping the blooms being groomed for that special day.
The classic and clean look is still quite popular, as brides and maids hold bouquets of white or ivory roses and calla lilies. For a more organic style, couples are embracing the "just- picked-from-the-garden" look, an arrangement that was popular in 2014 and still going strong for 2015. The bouquet is not as compact and no one flower dominates the bunch. Gentle tones abound in this mix of florals, and the added touch of sprigs and twigs give it that wild garden look.
Non-floral materials, such as wool, burlap, lace and silk are also featured on arrangements this season. These earthy materials complement an arrangement such as the wild garden bouquet.
And flowers aren't just for bouquets and centrepieces. Brides are opting for floral crowns to tie their entire look together. Beautiful blooms like gypsophila, roses and hydrangeas weaved together to make a bridal headpiece is a beautiful accessory to complement a softer, more whimsical, bridal style.
There's lots to explore in the spring- summer bridal world of 2015, which means the options are endless. Find what styles and designs work best for you. As long as you're happy, you'll be #winning all the way down the aisle!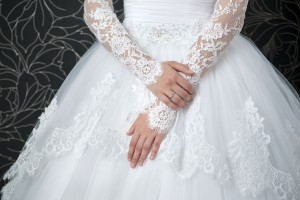 In Review
Here's a recap of what was trending for the 2015 spring-summer wedding season.
Wedding gowns
Off-the-shoulder necklines, collars, 
capes and cover-ups;
Blues, greys, mint green
Honourable mentions
Oversized ruffles, slinky shift dresses, delicate sleeves
Maids
Off-the-shoulder
, halter
, strapless, 
longer gowns (some with slits)
Asymmetrical, 
peach, pinks, greys, yellows
Groom
Classic tux Casual day suit
Colours
Soft and creamy Soft lemon Watermelon pink Leaf green
Flowers
Peach, lemon, pink; 
clean and classic: ivory or white roses and calla lilies, wild garden arrangements; non-floral materials; floral bridal crown.