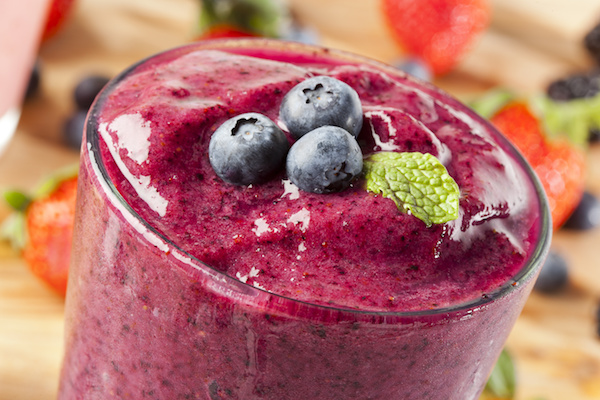 Want glowing skin? An energy boost for all those pre-wedding tasks and responsibilities? A way to take the best care of yourself you can, daily, so you feel like a million bucks on your wedding day?
Nurture yourself with plenty of rest, exercise, health food and an excellent, daily beauty routine. That can include a smoothie. Whether you have one to start the day or mix one up later when your energy is flagging, you can be sure you're getting a dose of nutritional goodness.
There are lots of combinations and options. Choose what works best depending on the items you have on hand and the outcome you're hoping to achieve. The Wedding Guru lists choices and recipes for stress relief, for energy, and for glowing skin.
But it's easy to concoct your own delicious potion too.
Here's a basic recipe. (It makes about three good-sized drinks, so you'll have leftovers to share with your fiance.)
1/2 cup of water, coconut water, juice, milk or almond milk
1/2 cup of yogurt (optional)
1/2 a banana (optional)
2 cups spinach, packed
1 cup frozen tropical fruit mix (mango, strawberries and papaya)
1/2 cup frozen pineapple
1 cup frozen peaches
Put the liquid in the blender first, then add the spinach, followed by the rest of the ingredients. As you pulse the blender, adjust the ingredients to reach the thickness you want.
If you have athletes in the household or health-conscious family members, they may appreciate additions such as protein powder, chia, flax, spirulina or wheat germ. Be aware, though, that items such as protein powder with alter the flavour.
There's no wrong way to make a smoothie. And the nice thing is that you can add items such as spinach or kale or other greens without the taste being perceptible. If you've got enough yummy frozen fruit or berries in there, you can't tell!
Berry Delicious
1 cup cranberry juice
1 cup kale
1 cup spinach
2 cups frozen raspberries
1 cup frozen blueberries
1 cup frozen strawberries
This blend is tart and delicious. Feel free to toss in some frozen mango or peaches to give it some creaminess.