Cherished Forever
photos by Chantal Benoit Photography
shot on location at the Orchard View Wedding & Conference Centre
Stephanie and Amine got married on a gorgeous August day. Their outdoor-themed wedding was the most beautiful detailed event I have ever seen. Stephanie looked radiant and Amine looked ruggedly handsome. The love shared was oh, so noticeable, and the perfect topper to a pristine wedding day.
The overall vision of the wedding was classy and elegant, and so the décor focused on fine details, with the bride investing most of her time on making sure every detail was covered.
From the cocktail bar to the dessert bar, to the display of photos, the photo booth, the flower arrangements, the handkerchief, the ceremony programs, the menu cards, the name tags — every single detail was breathtaking. A large part of the theme centered on the florals. Beautiful arrangements were placed throughout the entire venue, making the space appear elegant and held together at every turn.
The couple also wanted to embrace their romantic and playful personalities. The ceremony was light-hearted but sentimental and the reception was a fun party.
Stephanie took special care with making most of her own décor elements, including antiquing some larger furniture pieces, and designing and building a personalized photo booth. Although there were some pieces of décor rented, the bride actually made or bought the majority of the décor pieces on her own and mapped out all of the décor layouts for the wedding.
The colour scheme was burgundy, gold and ivory, which complemented the vintage chic theme. The bridesmaids wore burgundy dresses that complemented the groomsmen's burgundy bowties. The burgundy and ivory can also be found in the floral arrangements and linens throughout the venue. The couple also had gold Chiavari chairs, gold charger plates and other gold accents throughout the venue.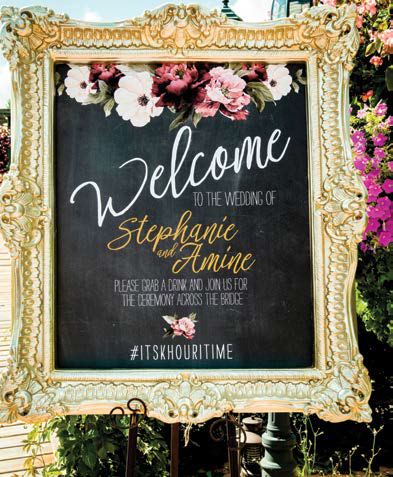 The bride
The gown designer is Essence of Australia. The style of the dress is an ivory, French-inspired, long sleeve wedding gown with intricate lace details. The gown features an open back and long train that give the gown a romantic and vintage feel.
A blue pin for the something old and blue, which was given to the bride by Amine's dad, has been in Amine's family for generations. She had a special rhinestone beaded sash sewn into the gown that gave it that special touch. Topping it off was couture bridal earrings made with Swarovski crystals by Meg Bridal Jewellery.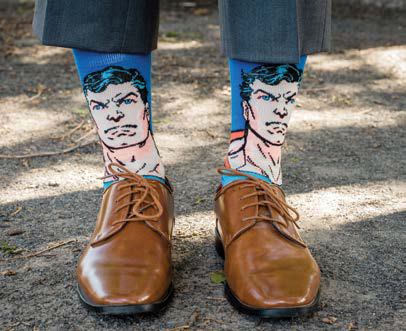 The groom
Custom cufflinks that were a gift from the bride were engraved: "Let's do this! 08.26.2016"and "I love you — Steph."
Complementing the groom's outfit were superhero socks for him and all of his groomsmen. He wore Superman. Adding to the detail was a custom lapel pin — also a gift from the bride — to honour Amine's mother who had passed away. Finally, a custom-engraved pocket watches for the groom and his groomsmen that said, "Best Day Ever! 08.26.2016."
THE PLAYERS