Complete The Look with Perfect Finishing Touches
Most brides spend countless hours choosing the more significant aspects of their special day: their gown, the reception hall, entertainment, photographer, and transportation. These are, without doubt, some of the most important decisions a bride can make. What often happens, however, is that brides overlook their bridal accessories, leaving them little time to complete their look.
Bridal accessories fall into three main categories: heirloom pieces, store-bought items, and custom work. Heirloom pieces are items of jewellery passed on by a family member to a bride, often taking the form of an inheritance, a gift, or a borrowed piece. Heirloom pieces hold a great deal of family and sentimental value, but rarely reflect a bride's taste or style. Store-bought items can be either genuine or cosmetic jewellery pieces. The greatest advantages of store-bought accessories are the ease of purchase and, depending on each store's policy, the ability to change your mind and return an item. Custom work, which can be a more expensive option, depending on the artisan you select, allows for the greatest level of flexibility, choice and individual style. Depending on the complexity and size of your order, custom work should be initiated between eight and 12 weeks before your wedding date.
Accessories encompass three main groups: bridal accessories, attendants' or bridesmaids' accessories, and mother of the bride accessories.
Bridal accessories
As a bride, you are the centre of attention, and of course you want to look your best. Your dress, hair, and makeup are all aspects of your look that will benefit from accessories.
Hair
Brides have several choices when it comes to hair accessories. The least expensive option is the use of decorated hair pins. Most hair stylists will use plain or decorated hair pins when setting your up-do or other salon style. Hair pins can be purchased from a variety of accessory stores or can be custom made. They can be scattered throughout your hair or grouped together, depending on the look you and your stylist hope to attain. Hair pins range in price and brides usually require six to 10 pins depending on the style and thickness of hair.
A more expensive option is a fancy hair comb. Hair combs are usually used by stylists to finish the look of an up-do, or to replace a tiara. Hair combs can be store-bought or custom made and are usually decorated with a combination of crystals and pearls. Hair combs come in a variety of sizes and can also be used to secure your veil in place. The most expensive option is a tiara. Tiaras can be anything from simple wire and beads to gold and diamonds used by celebrities. Tiaras can be purchased at wedding gown stores, boutiques, jewellery stores, accessory stores, or can be custom made. Tiaras can be a very creative aspect of your look, from a traditional to a more whimsical style, and use a variety of materials, ranging from Austrian crystals to seashells.
Jewellery
Aside from your hair, jewellery is another major aspect of your look. From a necklace to earrings, bracelets to brooches, the most important aspect of choosing your jewellery is to make sure it matches and suits the style of your gown. Often times, if you first see your gown in a magazine or online, the photos include jewellery worn by the model. These designer pieces are perfect for your gown and can usually be reproduced by a retailer specializing in custom jewellery. As most brides wear a shade of white, crystal and pearls are the most common materials used to make bridal jewellery.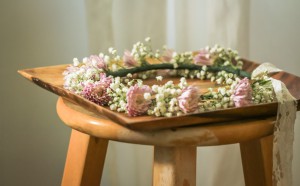 Bridesmaids
After you've finished deciding on your accessories, why not consider outfitting your bridal party with a matching set? Brides spend hours of time and hundreds of dollars on their bridesmaids' dresses, but often leave the jewellery up to their bridesmaids. Having a matching set gives your bridesmaids that completed look. Be sure to carry a swatch of the dress material and a picture or sketch of the design when shopping around or looking into custom work. You may not be able to find an exact match at a retail outlet, but most custom designers can order materials to match any swatch. For brides on a budget, a beaded set of necklaces and earrings will do the trick. A more expensive option can include coloured Austrian crystals and semi-precious stones. Jewellery for your bridesmaids is an excellent gift and gives your girls that finished look.
Mother of the bride
Last, but certainly not least, is the mother of the bride. Moms usually buy a new dress for their daughter's big day, but will wear their traditional "good" jewellery. An increasingly popular option for mothers of the bride is to have custom jewellery made to match their new dress.
Overall, your bridal accessories are an easily overlooked but important finishing touch. You have many choices to make, and have a number of different avenues to explore. Bridal accessories will provide you with the final exclamation point on your special day. W
Compiled by R. Legault from Ottawa Wedding Magazine.