Epic Adventure with Pure Romance
By Michele Peterson
An island tucked in the middle of the North Atlantic Ocean may not be the first place that comes to mind as a honeymoon or wedding destination but the Azores, a lush island archipelago that's an autonomous region of Portugal, is actually the perfect place for adventurous bridal couples who want to celebrate their big day in one of the most beautiful settings on earth. You'd need a lifetime to make even a small dent in the Azores bucket list of steaming hot springs, waterfalls, sky-high lakes and other geological wonders, but you can easily get a taste of its surreal beauty in a week.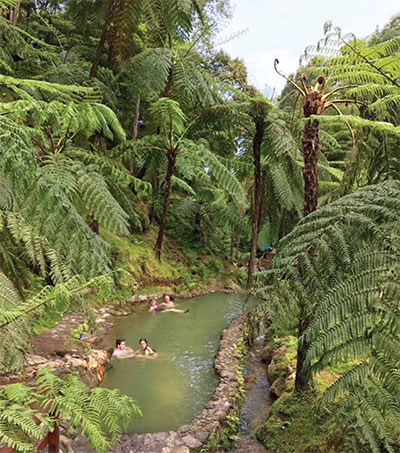 Natural Wonders
While all of the nine islands in the Azores archipelago are blissfully off the tourist path, the largest island of São Miguel offers the best mix of attractions, luxury hotels and breathtaking scenery. Founded in 1546, its pretty capital city of Ponta Delgada features a seaside promenade, distinctive white and black basalt architecture, a Renaissance fortress and many public plazas.
Home to the João Paulo II International Airport, it makes the ideal base for explorations. When it comes to romantic backdrops, there's no better place to begin than Lagoa das Sete Cidades, one of the seven natural wonders of Portugal. The largest freshwater lake in the Azores, this beauty is situated within a crater at the top of a dormant volcano on the western point of São Miguel island. Ancient legends say that this twin set of turquoise blue and bottle green lagoons was formed from the tears of a green-eyed shepherd and a blue-eyed princess who shared a forbidden love.
In modern days, it's known as a perfect setting for couples' photography shoots. The best viewpoint (and backdrop for enchanting photos) can be found at Vista do Ri Lookout (King's View) named after King D. Carlos and Queen D. Amelia to commemorate their visit to Sao Miguel island in 1901. The last monarchs of Portugal, they were known for their love of the sea, floral gardens and beauty.
A must-see on the nearby coast is Ponta da Ferraria, a natural thermal pool set in the sea among basalt rocks. Enjoyed by lovers since the 15th century, its attraction is the unique opportunity to bathe in steaming volcanic waters in the ocean at low tide. For an especially magical afternoon, be sure to book a couple's massage at Termas da Ferraria, a full-service spa featuring serene indoor and outdoor baths, hydrotherapy pools and private treatment rooms.
Nature lovers will also appreciate stunning Lagoa do Fogo (Fogo Lake), the highest lake on the island of São Miguel. This mirrored lake, set within the caldera of a young volcano, is poised 575 metres (1,886 feet) above sea level in the middle of the island. Hiking Fogo Lake's well-marked trails is a scenic way to experience its unique beauty as the easy paths meander through mossy channels and beneath fragrant forests of juniper, laurel and heather.
After a Fogo Lake hike, relaxing pleasures await at Caldeira Velha, a waterfall and hot springs on the northern slope of Fogo Volcano. Here you can soak in iron-rich waters or plunge beneath a cascading waterfall set within the Azores UNESCO Global Geopark, a protected area of volcanoes, calderas, lakes, lava fields, fumaroles, thermal waters and volcanic caves.
Outdoor Adventures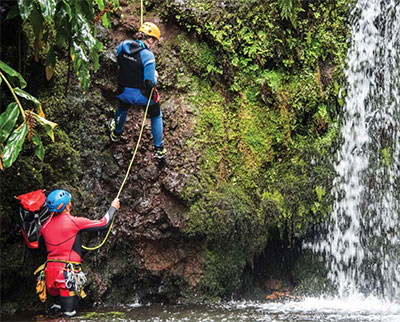 For a rewarding immersion into the volcanic history of the Azores head to the Furnas Valley, home to a jade green lake, thermal springs and fumarolic fields with openings in the ground where hot, sulphurous steams escape. Couples will enjoy roaming hand in hand through this otherworldly landscape, sipping pure, mineral-rich waters from drinking fountains along the way.
Adventurous couples looking for the ultimate in high-adrenaline thrills should plan a guided canyoning excursion through the Ribeira dos Caldeirões Natural Park. Wild ginger, Japanese cedars and giant tree ferns create a picturesque backdrop as you rappel, jump and slide down cliffs and through the crystal-clear waterfalls of a meandering river canyon. A romantic picnic for two in this Eden wraps up this memorable day.
To experience the scenic splendour of the Azores coastline, it's also worth planning to do some whale and dolphin watching. The Azores are one of the world's largest whale sanctuaries and it's possible to spot more than 20 different resident and migratory species, including the rare right whale and giant blue whale.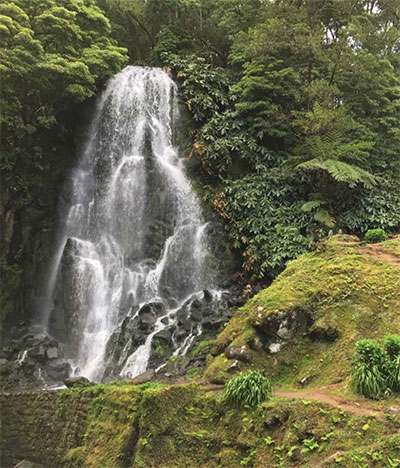 Honeymoon Havens
All this rugged natural beauty doesn't mean you'll be roughing it. Across the island of São Miguel, there's a fine selection of upscale hotels offering dreamy settings at surprisingly affordable prices. One of the most centrally located boutique hotels is the modern Azor Hotel overlooking the marina and seaside promenade in Ponta Delgada. Opened in 2016, this luxury hotel features rooms with sea views, sleek washrooms with rain showers, and a rooftop swimming pool.
There's plenty of inspiration to get outside and go exploring as mountain bikes, canyoning equipment and other outdoor gear is incorporated into the lobby decor in a playful way. Foodie couples won't be disappointed with a stay at the Azor. Its acclaimed kitchen features a bakery, a wood-fired oven and carefully prepared regional specialties. Guests fuel up with São Jorge cheese, locally-grown pineapple and bolo lêvedo, the popular saucer-sized sweet muffin drizzled with honey.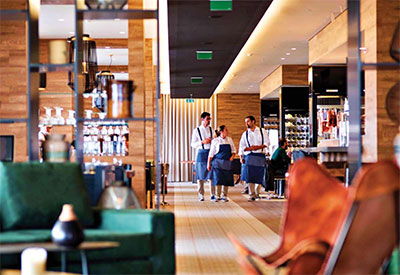 After a full day of fresh air, indulge in cocktails at the rooftop lounge where the sunset puts on a spectacular display. Later, stroll to the Historic Centre of Ponta Delgada for an intimate candlelit dinner at Alcides restaurant set within a historic wine cellar, or opt for a romantic evening at the Casa do Bacalhau where entertainment includes Fado, the soulful Portuguese love ballads performed by singers accompanied by classical guitarists.
For bridal couples looking for a secluded retreat, the Santa Barbara Eco-Beach Resort on the north shore offers plenty of big wave action, a surf school and beachside bliss. The sophisticated design uses natural elements of wood, granite and stone to give the space sleek, fresh appeal. The onsite Asian-inspired restaurant features the island's best sushi. Another charming base for honeymooners is the atmospheric village of Furnas set in a valley dotted with hydrangea, green pastures and cobalt lakes.
Here, set among cobblestone streets in the heart of town, the art deco Terra Nostra Garden Hotel is a classic choice. This also happens to be the top place to sample Cozido das Furnas, a regional dish of beef, chicken, chorizo and kale steamed underground by volcanic heat. Each chef's recipe is different and Terra Nostra's version is deservedly the island's most famous.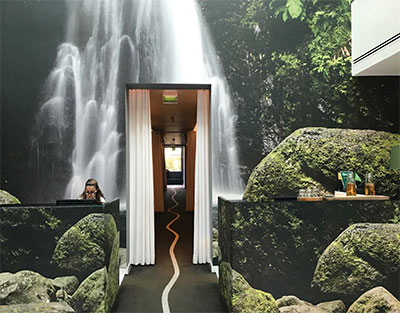 The Terra Nostra Garden Hotel also happens to be located next to Terra Nostra Park, 18th century botanical gardens where thermal waters cascade from fountains into an enchanting open-air bathing pool. An indoor swimming pool and spa round out the sybaritic offerings. Another luxury hotel with hot springs is Furnas Boutique Hotel, a sister resort to the Azor Hotel in Ponta Delgada. Here, the volcanic waters emerge from their subterranean source at such fiery temperatures the healing waters must be cooled before being filtered into the pool.
A modern outdoor swimming pool and an indoor swimming pool set within an airy atrium offer couples opportunities for relaxation and rejuvenation in an idyllic setting. Whether it's basking on a black sand beach or hiking through cedar-scented forest, the island of São Miguel within the Azores island archipelago offers a uniquely romantic setting for a nature-inspired destination wedding, honeymoon or couples engagement getaway.
Travel Planner
When to go: Azores is a year-round destination with spring-like temperatures. Winter temperatures never drop below 10°C and although summer months have the most sunshine, temperatures rarely rise above 30°C. Getting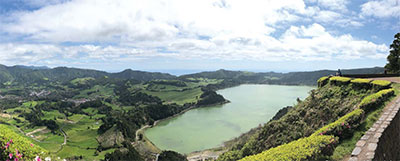 there: The islands of the Azores are closer to Canada than most people think. Located in the North Atlantic Ocean, they are two hours from mainland Portugal and a little over five hours from the North American continent via Azores Airlines (formerly SATA).
Azores Airlines offers flights to Ponta Delgada on São Miguel Azores, three to five times a week direct from Toronto as well as direct from Montreal from June to September. Worth the splurge is an upgrade to Executive Class service where you'll enjoy fully reclining seats, fine-dining with Portuguese wines, airport lounge access and an elevated service that will whisk you to island bliss in style. azoresairlines.pt
Accommodation
Azor Hotel: azorhotel.com
Santa Barbara Eco-Beach Resort: santabarbaraazores.com
Furnas Boutique Hotel & Spa: furnasboutiquehotel.com
Terra Nostra Garden Hotel: bensaude.pt
Termas da Ferraria: termasdaferraria.com
Ribeira dos Caldeirões Natural Park: ribeiradoscaldeiroes.com
Tourism resources: Azores Tourism Board: visitazores.com
Picos de Aventura: Whale-watching, hiking and dolphin excursions can be booked at the kiosk located in the marina. picosdeaventura.com
Azores Adventure Islands: A wide range of canyoning adventures and more. azoresadventureislands.com Azores GreenMark: Eco-friendly tours and guided adventure experiences. azoresgreenmark.com
Weddings in Portugal
If you're planning a legal civil wedding ceremony in the Azores or elsewhere in Portugal, note that one of you must reside in the country for a minimum of 30 days before notice of your intended marriage can be given to authorities. Legal requirements vary by jurisdiction so check with local authorities before making plans. A good option is a symbolic wedding ceremony following a civil ceremony in Canada.
While symbolic wedding ceremonies are not legally recognized marriages, they are meaningful celebrations that give couples the opportunity to express their individuality, personal values and commitment in the location of their choice, such as outdoors or in a luxury resort. Katja Simon Photography provides onsite photo services throughout Europe including the Azores. katjasimon.com
Michele Peterson is an award-winning travel writer based in Cobourg, Ontario. Contact her at michelepeterson.com