My first outdoor wedding of this season was basking in bright sunshine. It was a perfect day for Annalisa and Brian at Strathmere Inn.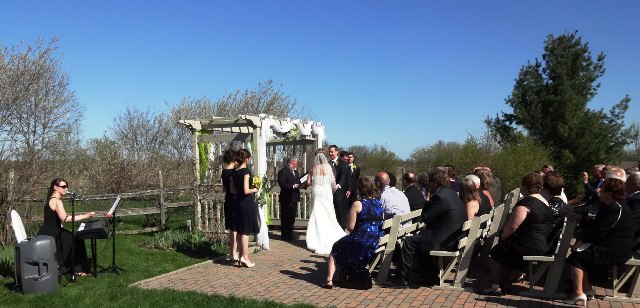 The bright sky was very deceptive. It also meant that the UV index was high. I was concerned that the bride would get a sunburn. Turns out that the talented pianist/singer Kimberley Dunn did!
Annalisa walked down the aisle with her father who presented her. I interspersed some Italian in the ceremony to honor her side of the family. Annalisa got all excited and displayed a huge smile when Brian during his vows said he took her as his wife. I love moments like those. Moments when their emotions for each other remind us why we are there as witnesses. To remind us that life is about love, hope and happiness.
Annalisa and Brian sealed a bottle of wine with love letters to each other as part of the wine box ritual. This ritual is gaining momentum in weddings.
My favorite part is always declaring a couple married… which is followed by a kiss. And on this bright day, it just seemed to make them glow.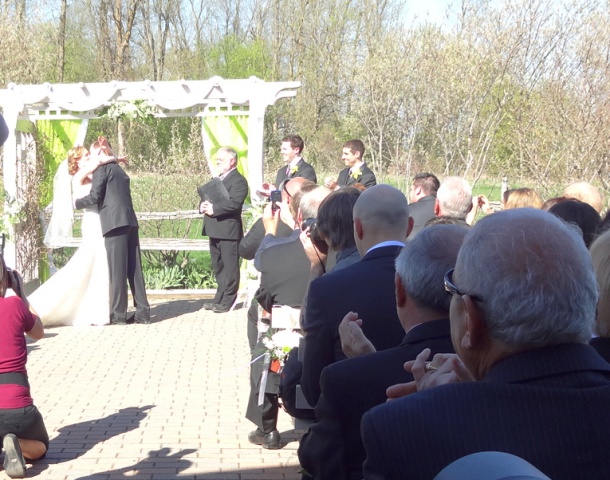 As I noted in a previous post, using draping at the ceremony can add a Wow factor. You can see that they did exactly that for their wedding. It coordinated with the decor on the inside as well. It made for an integrated theme that was carried through from the beginning to the end.