Handmade accessories and elegant country designs are the perfect ingredients for sealing your vows
photos by Elenora Luberto, J E M M A N Photography
Newly launched as a wedding venue in the fall of 2014, little-known Stonehedge Farm in the hamlet of Oxford Mills is home to an orchard, rose garden, peony walk, perennial gardens, potager, Japanese-inspired water garden, and its pièce de résistance – a century timber frame barn.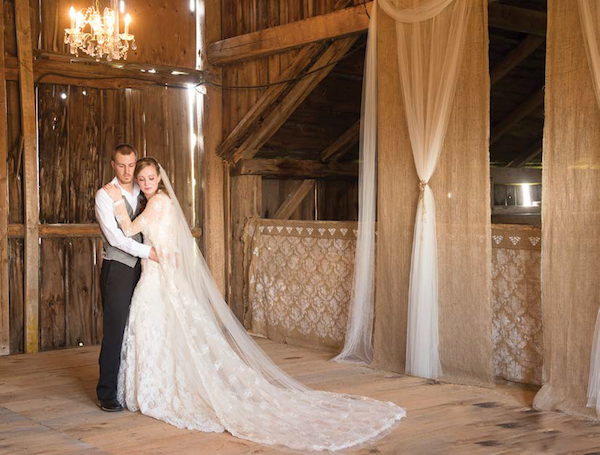 It is this backdrop that inspired our stylized shoot. The goal was to put a refreshing spin on the popular barn wedding and showcase the sophisticated potential of Stonehedge Farm. Some of the very best wedding professionals joined forces to prove that both the rustic and the elegant can come together in a perfect blend.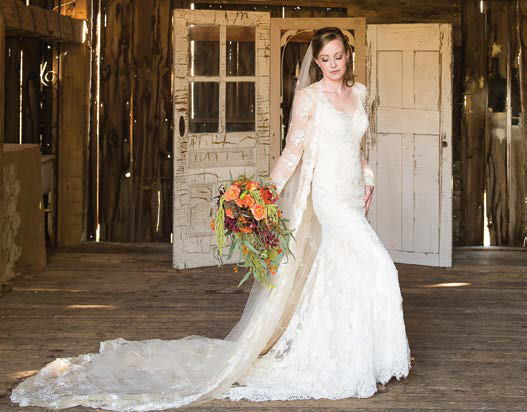 The clothing
The bride's apparel was a mix of country and regal elegance. Real bride Lindsay Snowdon wore her stunningly simple ivory lace gown by Essence of Australia underneath an oh-so-gorgeous long-sleeve, full-length, sheer lace ivory cloak. Topped by a full-length trailing ivory veil, the combination was pure magic. Underneath the gown? Cowboy boots of course!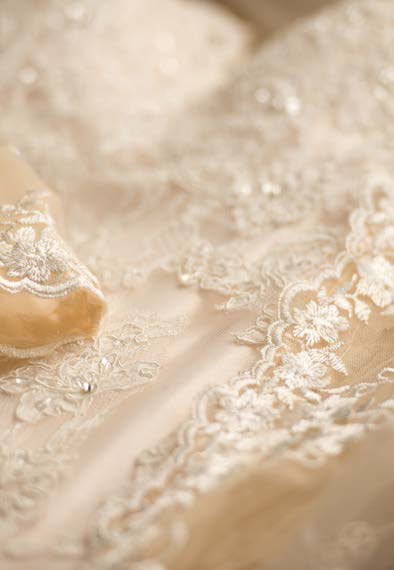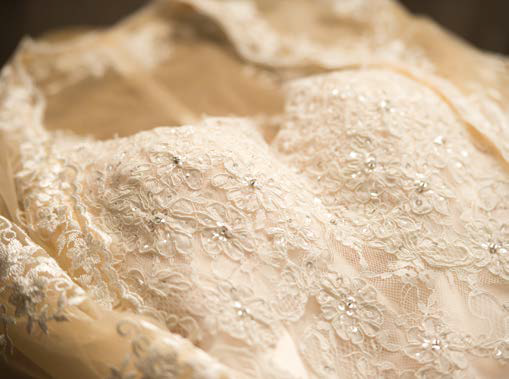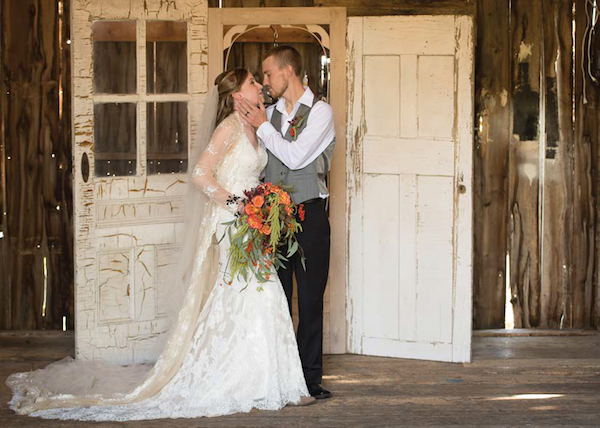 Lindsay's husband, Kyle, wore a simple combo of a white dress shirt, a vest and black dress pants. Nothing could compete with – or deter from – the beauty of his bride.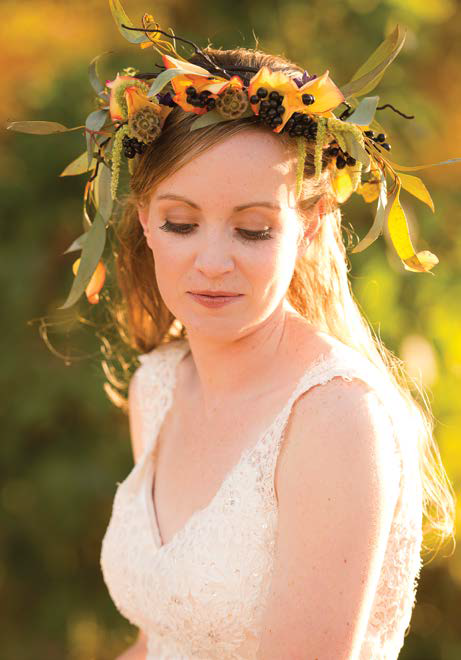 Hair and makeup
"Some brides get a little nervous in their bridal trials for makeup. Many have concerns that they are not going to look or feel like themselves, so we wanted to keep this application light, focusing on the natural beauty of the bride and highlighting those features," says Cheryl Pomposelli Gabriele of Spa Jada. "The hair was designed in keeping with an elegant, yet natural look. The half up/ half down look complements the trending lace gown. Less structure and more free-flowing was the concept behind the look."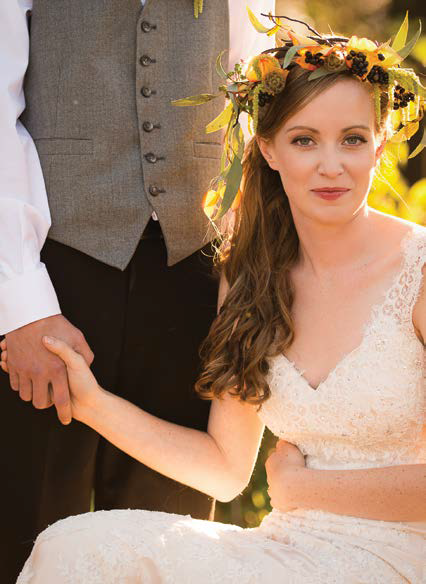 Florals
A selection of gorgeous berries, vines, orange roses and marsala-toned orchids were arranged with a nature-based style. The bridal bouquet was an unstructured design, as opposed to the packed posy of a high fashion wedding. A floral crown for our bride was the perfect touch for this outdoor wedding with orchids, eucalyptus berries and rose petals featuring our autumnal hues. The groom's boutonniere, with a marsala-toned orchid, amaranthus and berries, was the perfect complement to his bride's bouquet.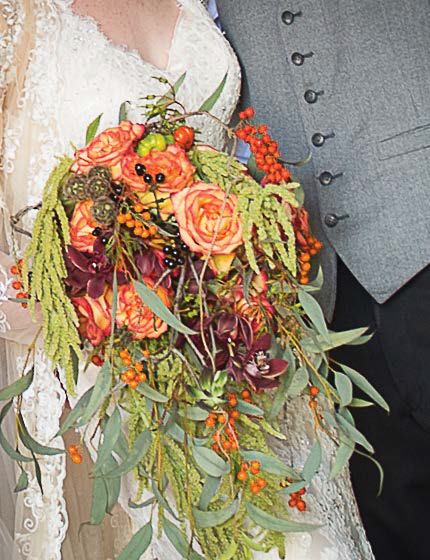 Sweet things
Kate Green Cakes provided two classic white Lambeth-style wedding cakes with intricate royal icing work. These sweet treats provided the stylists a blank canvas and resulted in a playful juxtaposition between elegance and whimsy with the unconventional use of casual berries, branches and succulents.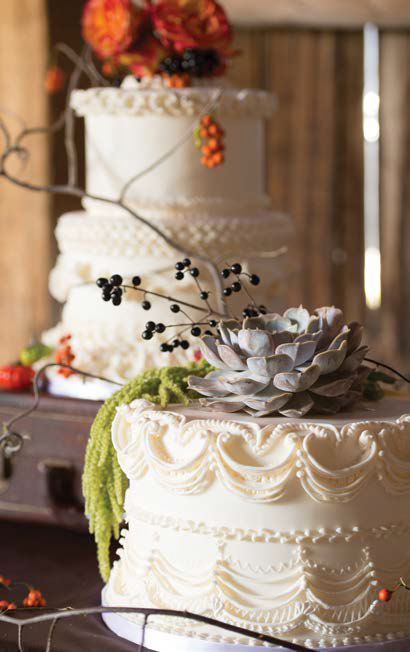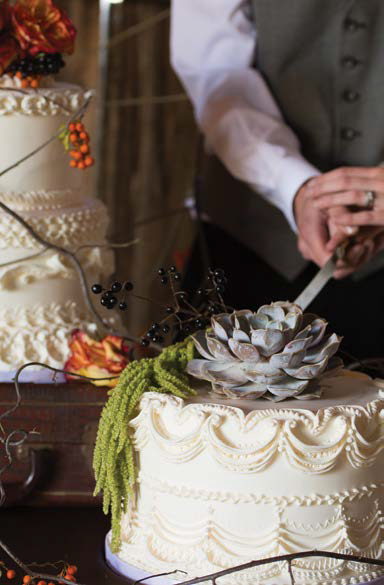 Décor
The chosen décor and linens were in keeping with popular trends and the idea of the less structured table setting. These elements showcase the use of natural elements intertwined with the contemporary looks of the season. Painted off-white mason jars paired with fall- inspired wild flowers and greenery accentuate the historic barn backdrop. The delicate lace bridal gown creates a stunning contrast to the rustic table setting, creating harmony amidst classic style and the essence of nature.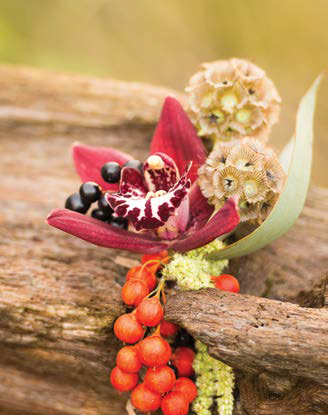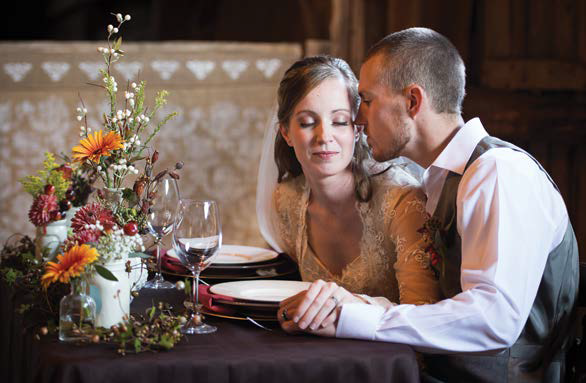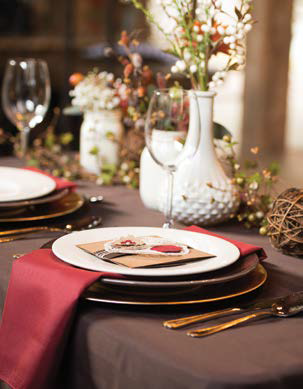 Stationery included handmade invitations. With the image of a wedding in the country amidst gorgeous fall colours, invitations were assembled using romantic elements like lace doilies, flowers and pearls, and a country-chic touch of burlap and twine. W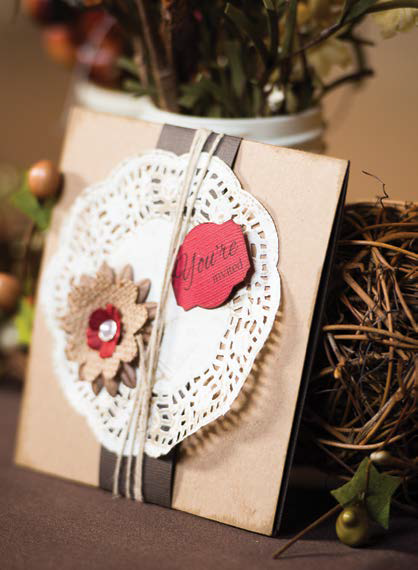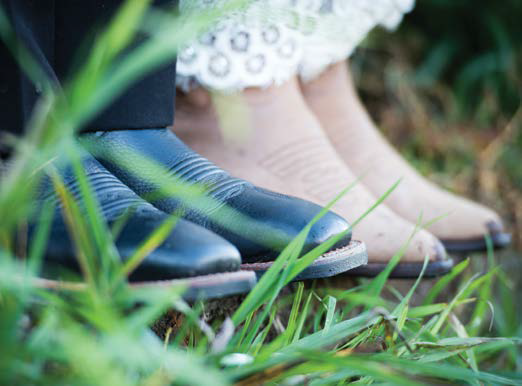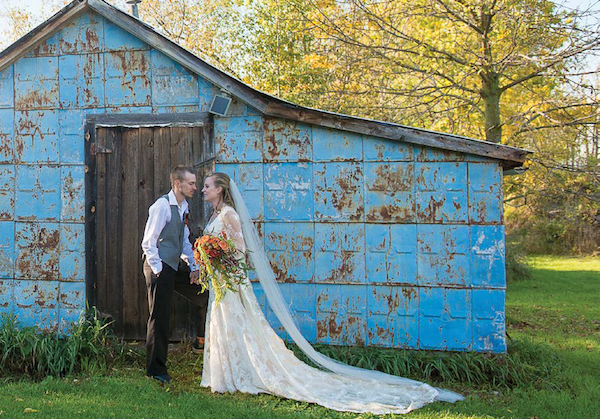 The Players
 Stonehedge Farm is located on the outskirts of the hamlet of Oxford Mills. The farm is home to Jim and Nora deVette. "As keen gardeners and members of the local Horticultural Society we have been developing our property over the past 13 years. Each year adds a new project, and the garden is constantly expanding and growing as we add new features. Our front lawn offers respite from the hot sun under the shade of century-old maple trees."