Bachelor parties can be a great way for the groom and his buddies to bond, but often times a weekend in Montreal or one alcohol soaked party just isn't the best option. When the groomsmen consist of outdoorsmen and adventure types, sometimes the best bachelor party can be an outdoor adventure filled with travel, adrenaline and excitement.
Get your groomsmen ready, pack your passports and head out on one of these outdoorsy retreats: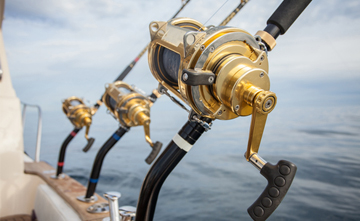 Diving
The tiny island of Cozumel located off the tip of the Yucatan Peninsula in Mexico boasts some of the most beautiful and unique diving and snorkeling in all of the world. With levels ranging from beginner dives to expert swims with sharks, divers of all abilities can enjoy the beauty and majesty of the underwater world. Companies like Deep Blue can provide complete packages groups at incredibly reasonable prices. Getting certified is easier than most people expect and can be completed online with the help of PADI eLearning.
Hunting
Going hunting with your best friends and family can be an amazing experience and one of the most popular destinations is California. Cottrell Ranch, located in the northern part of the state, has hunting packages available for both black-tail deer as well as black bear and all of the hunting takes place on private land which increases your chances of bagging a trophy. Be aware that to hunt in California you will be required to have a hunting certificate. These can be easily obtained online via HUNTERcourse and will allow you to hunt anywhere in the state of California.
Fishing
Deep sea fishing is like no other adventure in the world. Going toe-to-toe with a fish that outweighs you is an adrenaline rush that every man should experience at least once. Cowboy Charters in Galveston, Texas has a variety of charters into some of the best fishing spots in the Gulf of Mexico. Working with experienced guides, you will be taken to the best spots to find the fish of your choice, whether it be grouper, kingfish or red snapper. In addition, Galveston offers some of the most unique and incredible museums and sightseeing spots in the state of Texas.
Rafting
There's few things in the world like whitewater rafting. Holding on for your life as you speed down a rushing river, yelling with excitement at the top of your lungs with your best friends next to you doing the same is an experience you will easily remember for the rest of your life. With a charter from a company like Rafting.com, you can experience one of the best rivers for rafting in the Unites States, the Colorado River. You will also be a stone's throw from the Grand Canyon—a must-see. You can easily find yourself speeding down the whitewater of the river one day, and the next be relaxing at the bottom of the Grand Canyon in the one of a kind scenery of Havasupai Falls.
This is your special day and your bachelor party, make it memorable!