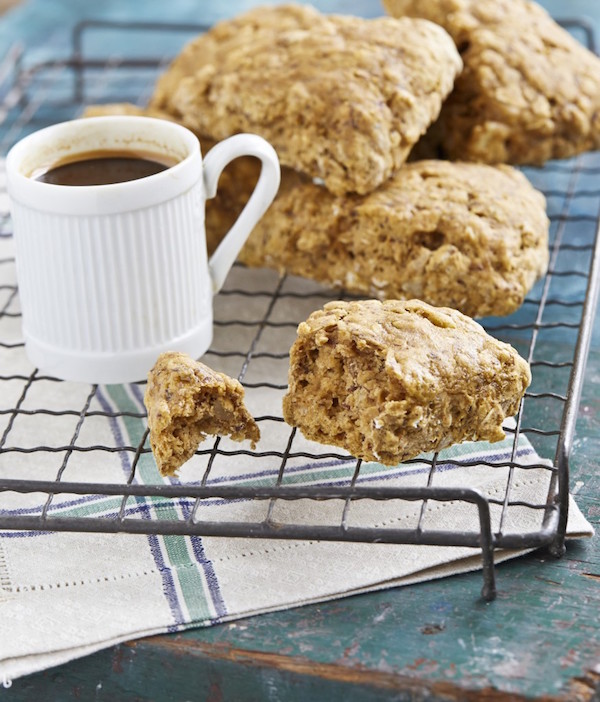 Here's an easy and comforting recipe to enjoy with your sweetheart. It's good in all the right ways. Enjoy!
Butternut Squash Maple Walnut Scones
Makes 12 Scones
Dry Ingredients:
1½ cups whole wheat pastry flour
¾ cup rolled oats
¼ cup coconut sugar or brown sugar
1 tablespoon baking powder
1 teaspoon cinnamon
¼ teaspoon nutmeg
½ teaspoon salt
Wet Ingredients:
½ cup butternut squash purée
2 tablespoons ground flax seed, mixed with 4 tablespoons warm water
¼ cup nondairy milk
¼ cup maple syrup
1 teaspoon maple extract
½ cup chopped walnuts 
Preheat the oven to 350°F and line a large cookie sheet with parchment paper. Mix the dry ingredients in a large mixing bowl. Mix the wet ingredients in a smaller bowl. Right before baking, add the wet ingredients to the dry ones and mix until thoroughly combined, then mix in the walnuts.
Scoop out the batter to the middle of your prepared cookie sheet and pat it into a big circle about ¾-inch thick. Using a chef's knife, score into 12 triangles by cutting halfway through the dough.
Bake for 25 to 30 minutes until golden brown.
NOTE:  You can use canned pumpkin in place of the butternut squash if that's what you have on hand.
Recipe reprinted from OATRAGEOUS OATMEALS by Kathy Hester
Page Street Publishing/September 2014