Give your grilled chicken big flavour
Grilled chicken on the barbecue is a summertime staple that's great for pre-wedding entertaining. And Canada Day weekend guests! Not only does grilling on the open flame add a smoky taste, it makes clean-up a breeze. This tangy lemon marinade as seen in Walmart Live Better magazine is going to turn everyone's favourite bird into a juicy and flavourful feast that is sure to please.
Lemon & Garlic Grilled Chicken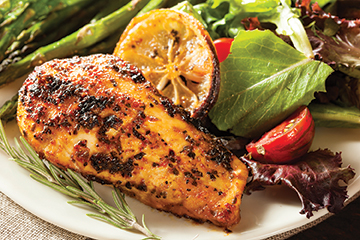 Preparation time: 10 minutes
Total time: 1 hour
Serves: 6
Ingredients
• 8 skin-on, bone-in chicken pieces
• 1/2 cup lemon juice
• 3 tbsp Great Value Olive Oil
• 1 tbsp Great Value Garlic Powder
• 1 tbsp Great Value Dried Oregano Leaves
• 1 1/2 tsp Great Value Basil Leaves
• 1/2 tsp salt
• 1/2 tsp black pepper
Directions
1. Trim excess fat from chicken skin (this will prevent flare-ups on the grill). Make several shallow cuts in the chicken to allow marinade to infuse.
2. Whisk lemon juice with oil, garlic powder, herbs and salt in a large bowl. Season with pepper.
3. Add chicken and turn to coat. Marinate at room temperature for 20 minutes or refrigerate up to 4 hours.
5. Preheat barbecue to medium-low. Oil grill.
6. Remove chicken from marinade (do not discard marinade). Barbecue with lid closed for 15 minutes then baste chicken with remaining marinade.
7. Flip chicken and continue grilling with lid closed until chicken feels springy when pressed, 15 to 20 more minutes.
Look for additional recipes and barbecue ideas at www.walmart.ca/recipes.