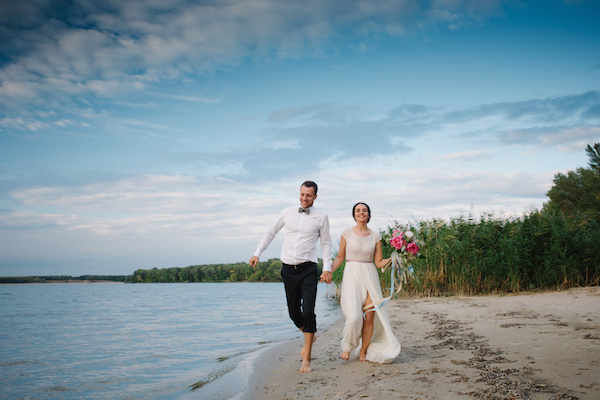 Today, many busy couples find they are rushed for time and short on cash when it comes to planning and financing their wedding. Beach weddings offer a sensible yet elegant solution to the expense and stress that some couples associate with a traditional wedding. Typically, a beach wedding is easier to plan, less expensive, and a lot of fun for everyone involved! If you see a beach wedding in your future, there are certain things to keep in mind when planning the big day.
Choose your location wisely.
Beaches are usually breezy. Try to pick a cove or area protected from direct winds for your ceremony. Be mindful of the tides.
Determine how many guests will be in attendance.
Most beaches do not require a special permit for small, informal weddings. Check with local authorities to be sure.
Find a wedding officiate local to the beach to perform your ceremony.
Often they specialize in beach weddings and can provide useful tips as well as very affordable package deals. Wedding packages are becoming very popular and are ideal for busy couples. Often they include everything you need, from the bouquet and the photography, to the filing of your marriage licence.
Minimize your reception expenses by planning a sunset ceremony followed by a wine and cheese reception on the beach.
Remember that public beaches seldom allow alcohol to be served and police may become unwanted guests.
Rent an outdoor canopy to protect your reception area from rain showers and uninvited seagulls.
For a tropical flare, decorate the canopy with tulle, twinkling mini lights and silk flowers. Use hurricane candles for lighting. Keep in mind that most public beaches don't allow tents and other structures, and some don't permit chairs to be pre-set, so have your guests set up their own. Due to lack of security, rental companies will seldom deliver chairs to a public beach… you're on your own for this one.
Remember your guests' comfort and safety.
Provide seating for the elderly, along with sunscreen and insect repellent. Remember to attend to those with allergies. If someone is allergic to a certain type of sunscreen, choose an alternative. If some of your guests have mobility impairments, recognize that it's nearly impossible to push a wheelchair in the sand. Many beaches have walkways or platforms. Use these accordingly.
Thank your guests for sharing your day.
Present loved ones with beach favours, such as personalized sand dollars, seashell candles or Hawaiian silk leis. W
From the files of Ottawa Wedding Magazine.