Before starting to plan your own wedding, you may have served as a bridesmaid or a maid of honour in somebody else's wedding party. It's an honour to be asked to serve as someone's attendant for the most special day of their life. It can also be a huge financial and practical commitment, especially if the festivities are taking place in a location that isn't where you live, or if it's a destination wedding.
Sometimes time off work is required. A dress, shoes, hair, makeup and possibly a hotel stay are also usually part of the equation. So if you ask a friend to be your bridesmaid and she says no, don't be offended. Not everybody can afford it. But when your besties say yes, it can be a whole lot of fun getting ready for the big day and getting all dolled up to enjoy it together.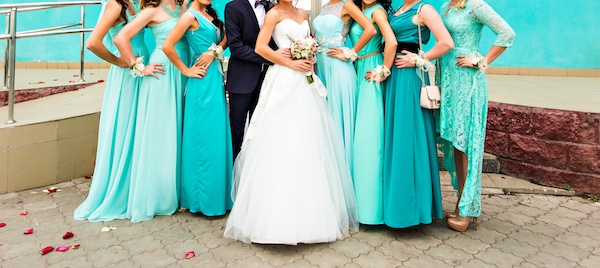 One of the nicest things about fashions for today's bridesmaids is that there is so much flexibility and variety. That means three or four or six women of vastly different shapes and sizes don't necessarily have to wear the exact same dress. At some weddings, bridesmaids wear the same colour and fabric, but the style of the dress is one that suits their individual body types. At other weddings, the colours aren't even the same; instead, they are variations of the same shade or colour tone. At yet other weddings, the colours are different (to flatter different skin tones), but the cut of the dress is the same.
It's well worth being thoughtful about these factors, because you want your attendants to feel and look great. There's nothing less appealing than having to spend hundreds of dollars on a dress that's not flattering or attractive. That being  said, it is your day so don't let attendants or anybody else talk you out of the colours or style you want. Be aware, though, that if you do want  everybody to wear the same jewelry or shoes, you may have to help pay for them.