Be Wedding Ready
Whether you're high maintenance or low key, everyone should have some sort of beauty regime on their wedding day. It doesn't have to be complicated and it doesn't have to cost a lot of money, but it should give you that added boost of confidence and have you feeling and looking great from morning to night. And beauty isn't just for the bride anymore. It's time to realize, guys, that those three minutes a day to get ready just isn't going to cut it on this day. So add these few simple steps to your list and you'll be feeling beautiful (and handsome) in no time.
Hands and feet
When you're showing off the stunner on your finger or meeting and greeting guests in the receiving line, your hands are on display all day long, so having them not only look great but also feel fabulous is important.
Bride: A professional manicure and pedicure will give your hands and feet that clean and polished look. Most salons use a quality base and top coat to prolong the life of your polish and also give the nail a smooth finish so the polish can glide on easily. If you are going with colour, be sure to purchase the bottle. This way you'll be ready for touch-ups throughout the day.
Groom: Men are also frequenting salons to ensure the upkeep of their hands and feet. If a day at the spa is not for you, then some simple grooming at home should have you wedding-ready in no time. To remove roughness around the feet, files, pumice stones or sanding blocks are great tools that work wonders. After showering, wet your scrubber of choice and gently buff the toes and heels until the foot feels smooth. Once clean, apply a moisturizer to eliminate dryness throughout the day. Consider purchasing a small nail kit to make sure your nails are trimmed evenly and the excess cuticle has been removed. Flip the cuticle tool over to clean under your nails, which can sometimes be forgotten, especially on such a busy day!
Tip: Leading up to the day, try to incorporate more olive, sunflower seed, grape seed, coconut and fish oils into your diet. They contain essential fatty acids that help to keep skin smooth and supple. Creams that contain shea butter or argan oil are great moisturizers for the hands and feet and last through multiple washings.
Teeth
If professional tooth whitening isn't in the budget, there are things you can do at home that will have you showing off your pearly whites with confidence.
Bride: The right choice of lip colour is an instant whitener for the teeth. Avoid oranges, salmons, peaches, browns and corals as they give the teeth a yellowish tinge. But reds and pinks with cool or blue undertones can make your smile look shades brighter. Creamy lipsticks with shine or shimmer are preferred to a matte formula. Although the matte may last longer, it tends to absorb more light, leaving the teeth looking darker. A cream or gloss will reflect the light and give you a whiter, brighter smile.
Groom: For cracked or dry lips, a lip balm is recommended. Have some on hand at all times to keep your lips refreshed day and night.
Tip: Leading up to the day, try to stay away from deeply pigmented drinks, such as pop, coffee, dark tea and red wine. Foods such as blueberries, cherries and soya sauce can also stain the teeth. Keep in mind that all vino, red or colourless, can roughen up the enamel and make the teeth more susceptible to stains.
Face
When prepping your face for a photo finish, there are steps to follow before the makeup is even applied. Cleansing the face will not only give you a glowing result on the day, but will also ensure healthy skin for years to come.
Bride: Don't leave everything to the last day. Pluck your eyebrows and any other facial hair at least one day before the wedding to ensure there is no redness where the hair used to be. Cleanse the skin with an exfoliator, followed by a toner. Apply a good moisturizer that doesn't leave a greasy finish under your makeup. Too oily will leave you shiny for photographs; too dry will have your makeup cracking and bunching on the day.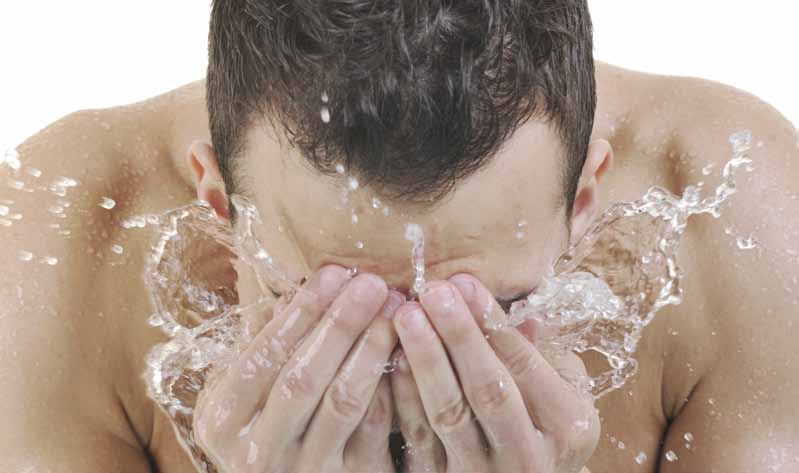 Groom: More males are seeing and enjoying the benefits of looking after their skin. Men have 15 per cent oilier skin than women, so deep cleansing is the key to keeping pores clean and healthy. To remove dead skin cells that form daily, opt for a cleanser with an exfoliating agent, followed by a toner that removes residue left from the cleanser and prepares the skin for moisture. The toner also helps to prevent ingrown hairs. After shaving, avoid the heavy or fragrant after-shave lotions and creams as they can irritate the skin. Also look for products with SPF to protect your skin from harmful UV rays.
Tip: If you do opt for a facial, be sure to schedule the appointment a day or two before your wedding. This gives you time to heal if your skin reacts to a peel or lotion used during the treatment. Also, always try new products before the big day to ensure they are right for your skin type.
For all things bridal beauty-related, visit: www.marthastewartweddings.com.
For more tips on men's grooming prep, check out:
www.weddingchaos.co.uk/GroomsArea/groom-health-skin-care.asp.
Article By Lindsay Ruck