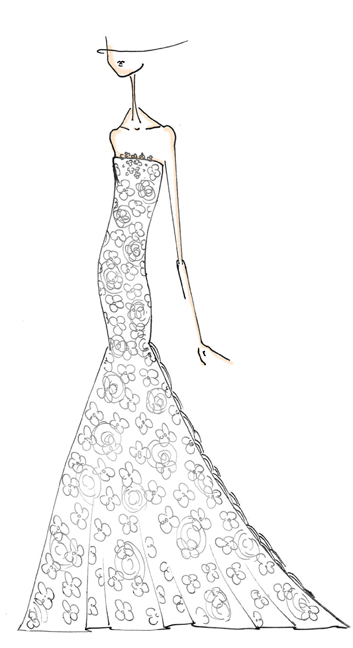 Behind the Dress | Olivia
Content derived from the Vera Wang Blog, Vera Unveiled.
Ivory strapless mermaid gown with hand-appliqué lace, flower embroidery and silk organza crescent technique.
I'm always drawn back to lace in bridal. Visually, it's simply such a powerful symbol of the covenant of sanctity and purity. There's a reason why it's been around in our bridal vocabulary for so long.
Olivia begins with a base of Chantilly lace, which is layered over with another type of lace constructed especially for this dress. This is a very elaborate take on a favorite motif of mine: three-dimensional lace. Here, we've taken Chantilly and embroidery and layered it with pieces of lace cording, producing an effect so soft and whispery it's like a little private incantation or magic spell. You can see, close up, how it takes on a three-dimensional shape in space, while remaining weightless and transparent. It's just a beautiful, fine complication on a dress that's so straightforward in terms of silhouette.
Olivia has a classic full mermaid shape, and then the lace embroidery takes over, moving from the side and around to the back of the gown, and swirling around in big, generous crescent leaves. This is one of my favorite ways to work. You have the contrast between the clean, minimal line of the silhouette, and then you have the close-up splendor of all this magnificent hand-worked artistic detail, just spiraling and weaving its way around. There's movement, there's allure, there's playfulness.
Floating at the neckline are flowers made of organza, and inside each flower you'll find a perfect little crystal. In meditation you hear about 'the jewel in the lotus' — well, here it is.