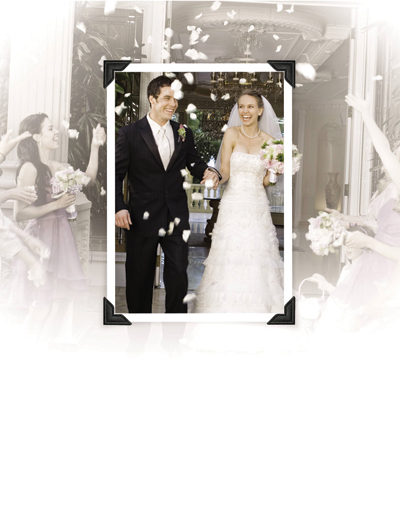 (NC) Ten minutes ago via mobile: "We did it! I was shamefully late, he forgot the ring, but nothing stopped us from getting hitched, so on to the party!"
Every day we deliver updates and observations to our Facebook friends, so why wouldn't you post real-time status updates of your wedding?
With a quarter of Canadian couples getting engaged between Thanksgiving and New Year's Eve, the details leading up to the pending nuptials seem tailor-made for social media sharing. According to the findings from a David's Bridal poll of over 1,200 Canadian brides, we may soon be seeing more couples logging into Facebook or tweeting from the church or honeymoon.
"Planning a wedding is one of the most exciting times for a couple, and it's only natural that some brides want to share the news and all the details with friends, family and followers through their social media channels," says Victoria Rucks at leading wedding retailer, David's Bridal Canada. "While some couples are more private about their weddings, our poll shows that technology may be turning a traditional wedding on its head. Social media tools and apps are not only used for wedding planning, brides today are actually integrating social sharing into their wedding day. "
This is what they are doing:
Announcing their engagement: The majority of Canadian brides think it's okay to first announce their engagement via Facebook (68%), email (67%) or text (59%). They draw the line at Twitter and Instagram, as approximately 6 in 10 thought it was tacky to "engage" these media when announcing their pending "Mrs." status.
Staying online during the wedding:  It may be surprising to know that a whopping 1 in 5 (21%) plan on logging into their social networks and sharing their updates with everyone on the big day.
Sharing their honeymoon:  The traditional getaway retreat where couples can disconnect from the world may be a thing of the past. Surprisingly, one-third of brides plan to log into their networks while vacationing, and 1 in 5 plan to share status updates during their time away.
Live streaming: While only 9% of poll respondents said they streamed their wedding to have everyone involved, 30% are open to the idea. You may also see a Twitter station at your next reception, as 14% of respondents said they wished they knew about it or thought of it before. In the coming years, use of these technological tools may continue to grow amongst brides.