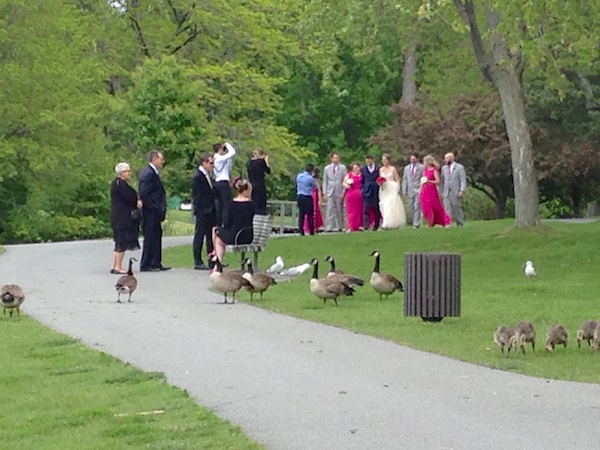 Everybody loves a wedding. That's why strangers stop on the sidewalk to watch as the wedding party and guests emerge, in all their finery, from an urban or suburban venue after the ceremony.
That's why cars honk in salute as your bridal vehicle makes its way to its next wedding-day destination, and why passersby in public places ooh and ahh over wedding parties posing for photographs. It's a joyful time in life, full of beauty and love, fun and promise.
Besides, those pretty dresses, lovely hairdos, beautiful flowers and snazzy suits are bound to draw lots of attention. That's the intent. So don't be surprised if your wedding photo session draws a surreptitious .. and delighted .. audience. On any given Saturday, from about May through October, there's apt to be a wedding party or two (plus random, curious onlookers) at many of the numerous scenic and striking landmarks in the area, from Parliament Hill and the Arboretum to the Museum of Nature and the Maman sculpture outside the National Gallery of Canada.
At any number of outdoor locales, such as at Strathcona or Petrie Island or Andrew Haydon Park, some of the onlookers might even have feathers. That's part of the charm. It's also part of the challenge for wedding photographers: birds, kids, rain, stiff breezes, kites, frisbees — there's no telling what little quirk or obstacle might pop up or influence the proceedings. Photobombers? Sometimes they happen too.
So it's comforting and pleasurable to work with a photographer who's experienced, dynamic, flexible and creative. If your expert can manage with whatever unfolds, you're more apt to be relaxed and genuinely smiling. Talk beforehand so that he or she knows the style and sentiment you're hoping to achieve. Be clear about what you want and expect.
At the same time, realize that birds, bystanders and stiff breezes do happen. It's often the slightly off-kilter, more spontaneous images that wind up being most treasured. So smile wide and enjoy every second.