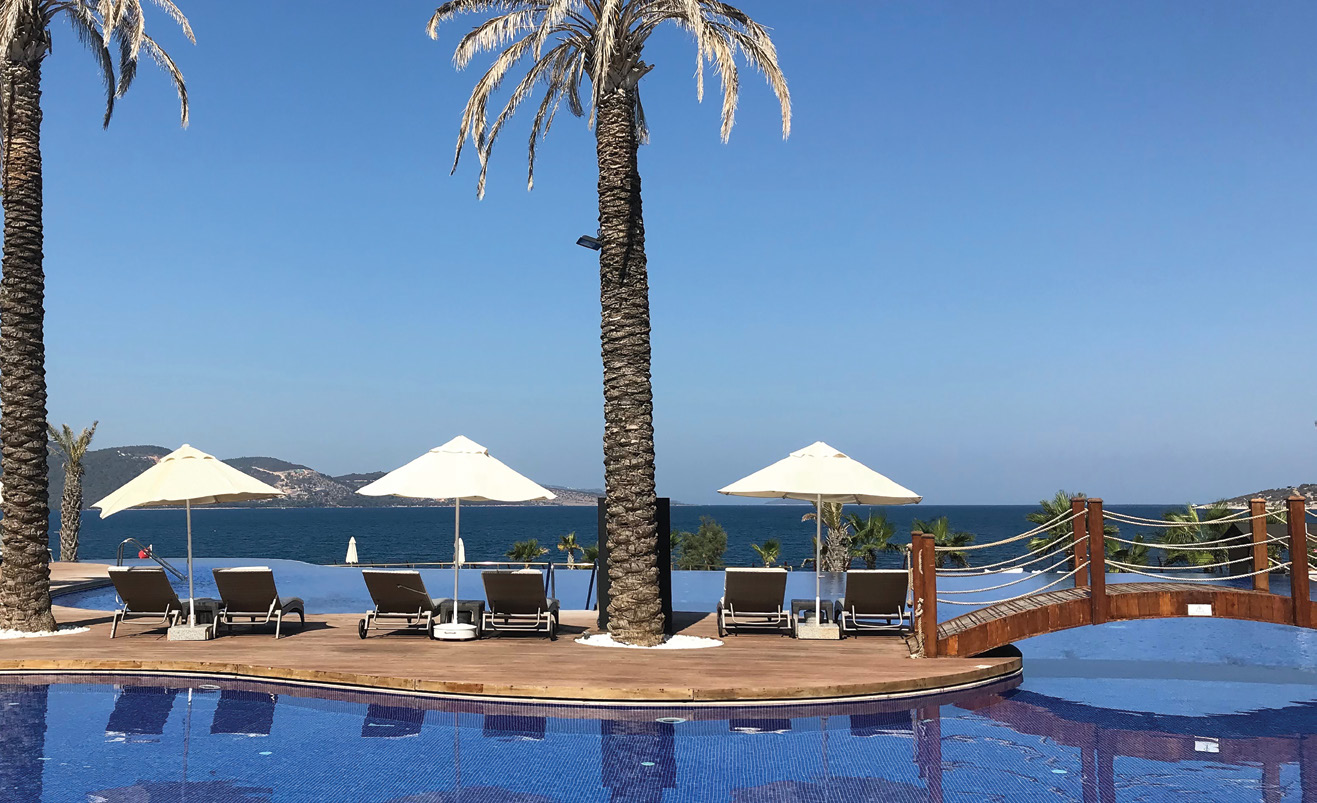 Romantic Bodrum, Turkey tops the list for honeymooning couples seeking seclusion
By Michele Peterson
While the Greek islands have traditionally been the top spot for honeymooning couples, they're also hugely popular among tour groups and cruise ship crowds.
Discerning couples seeking seclusion away from the masses are looking eastward to the Aegean Coast of Turkey to create a more intimate honeymoon escape. And they've set their sights on the Bodrum Peninsula, a series of scalloped bays in the Mugla province on the southwest coast.
Homer, the Greek poet, called Bodrum "the land of eternal blue" and today this dramatic peninsula fringed with glittering sapphire waters, is fast becoming one of the world's most fashionable and sought-after destinations.
Known as the Saint Tropez of Turkey, it's already a magnet for celebrities such as Uma Thurman, Kate Moss and Michael Douglas and Catherine Zeta-Jones, who have been drawn to its chic combination of old-world appeal and modern-day glamour.
Here's what to consider when planning a honeymoon on this alluring turquoise coastline.
POSH HONEYMOON HIDEAWAYS
Private plunge pools, overwater bungalows and unmatched personal service are hallmarks of the posh hideaways dotted through-out the peninsula. The selection of great hotels easily rivals those you can find on the famously popular Greek islands of Mykonos and Santorini.
Options include the Mandarin Oriental overlooking the aptly-named Paradise Bay, while the Kempinski Hotel Barbaros Bay Bodrum features a quiet location overlooking Gokova Bay. Beyoncé stayed at Hotel Rixos Bodrum in Torba Bay, known for its private white sand beaches and azure waters.
Also, nearby in the Torba Bay area is The Bodrum by Paramount Hotels & Resorts, a five-star resort set amid the natural beauty of Zeytinlikahve Cove. The world's first property branded by the venerable Hollywood picture company—Nicole Kidman came to the launch—this collection of 134 rooms comprised of suites and exclusive villas offers a breathtaking hilltop setting with its own private beach.
All guest rooms feature sea views, many with private Jacuzzis, swim-up or private infinity pools and other unique individual characteristics. Four a la carte restaurants, a main buffet restaurant, two poolside and snack restaurants, four bars and a patisserie round out the offerings, available on a breakfast only or all-inclusive basis.
Couples who opt for one of the Maldivian-style villas will enjoy access to butler service, their own private swimming pool, exclusive use of an overwater beach cabana as well as many other perks ideal for honeymooners.
ANCIENT TIMELESS APPEAL
While it might be tempting to stay in your hideaway lingering over a leisurely Turkish breakfast gazing at the Aegean Sea, diversions within the town of Bodrum itself are sophisticated yet relaxed, and well worth exploring.
A highlight of the town's waterfront is the imposing Bodrum Castle (built in 1402) and its Underwater Archeology Museum, both scheduled to reopen in 2019 after extensive renovations. This castle towers over the marina with its pretty promenade lined with outdoor restaurants, nightclubs and boutiques. The most romantic spot to wine and dine is La Pasion Restaurant, where you can enjoy upscale tapas in a leafy, candlelit courtyard.
The shops within the winding streets of town are packed with handcrafted Turkish and Greek treasures such as blown glass, cotton hammam towels and olive oil soap—just a few of the finds. Handmade Bodrum sandals are a favourite of celebrities such as Mick Jagger and Donna Karan.
History looms large here. Formerly known as the Greek city of Halicarnassus, Bodrum was home to the Carians, the Greeks, and the Ottomans before becoming part of modern Turkey. The town features many ancient ruins that are well worth a visit.
Begin your explorations west of Bodrum's town centre at the impressive Myndos Gate, constructed in the fourth-century B.C. by King Mausolos. Walk in the footsteps of Alexander the Great as you step through the monumental gate, which once formed part of the ancient city wall that surrounded Halicarnassus.
At the nearby Mausoleum of Mausolus, considered one of the Seven Wonders of the Ancient World, you'll marvel at this testament to love. The white marble tomb was built between 353 and 350 B.C. by Artemisia in honour of her husband, but destroyed by earth-quake and centuries of war. While the original decorative sculptures are now housed in the British Museum, it's possible to see a scale version of the monument, and combined with the podium and column fragments remaining at the archeological site, get a sense of its impressive scale and size.
A short walk away is the Bodrum Amphitheatre, a coliseum that once hosted gladiator fights. Today, it's a popular venue for summer concerts by visiting international musical groups, theatre and artistic performances. If you climb to the top of the amphitheatre's audience seating, you can catch Instagram-worthy views of Bodrum's sparkling harbour.
Another top spot for honeymoon photo-ops is the hilltop overlook-ing Bodrum and Gumbet Bays. Facing northwest, to catch the coastal winds, stand 18th-century stone windmills. In use until the 1970s, they are now in ruin but add to the atmospheric views of sunrise and sunset.
FURTHER AFIELD
Another memorable honeymoon experience includes sailing on a luxury gullet (wooden boat) through the secret coves of the Aegean Sea on a multi-day cruise. Several charter companies based in Bodrum offer Blue Cruises through Turkey or the Northern and Southern Dodecanese Islands of Greece.
Shorter cruise options include day-trip sailing excursions that include stops to explore ninth-century rock-cut tombs of the Kings of Kaunos, a therapeutic mud bath and a swim at a hidden beach. The Greek island of Kos is just 14 kilometres by boat.
Or head inland to the Bodrum Peninsula's interior, a timeless landscape dotted with olive trees and the unique white-domed water cisterns used for collecting rainwater. Sample the extra-virgin olive oil, sip Turkish wine in picturesque vineyards and visit tiny towns where traditions such as rug weaving have been preserved.
Here, it's even possible to purchase a new or vintage Turkish wedding dowry kilim (rug), part of a time-honoured Turkish wedding gift tradition. Kilims vary in size, colour and artistry, drawing inspiration from the weaver's creativity, nature and classic motifs. Your work of art will be safely shipped to your home, woven into it the memories of your unforgettable Aegean honeymoon.
TRAVEL PLANNER
Getting there: A member of the Star Alliance network, Turkish Airlines offers direct flights to Istanbul from Toronto and Montreal, one of 304 destinations served in 122 countries. Business Class passengers enjoy Skychef-prepared meals, priority check-in, access to the award-winning Turkish Airlines Airport Lounge, the latest in-flight entertainment system, fully-reclining seats and many other advantages. It's a quick 80-minute flight from Istanbul to Milas-Bodrum Airport. turkishairlines.com
Visa requirements: Canadians need a visa to travel to Turkey. Get an e-visa easily and quickly online at evisa.gov.tr/en
Crystal Concepts: Offers travel services, tours and resources for individual, group and corporate and special interest visitors in Bodrum. crystalcon-cepts.com.tr/us.html
The Bodrum by Paramount Hotels and Resorts: This luxury resort villa hotel with swimming pools, private beach and spa is located on Bodrum's Torba Bay and offers breakfast as well as all-inclusive special packages. thebodrumbyphr.com