Color Me Married: The Stress-Free Way to the Big Day
By Maggie Lord
Little, Brown And Company
Adult colouring books are the hottest trend these days, promoted as an ideal way to de-stress. And when do you need de-stressing more than during the wedding planning process, which can bring some seriously stressful moments? Color Me Married combines the romance and beauty of weddings and the joy of colouring together into a fun activity. It's a great engagement party or bridal shower gift for a bride-to-be, or for anyone who loves all things weddings. From floral bouquets and rings to centrepieces and cakes, you can now bring to life the wedding you dreamed of as a little girl. Break out your coloured pencils and start colouring your wedding stresses away!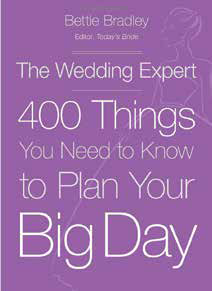 The Wedding Expert: 400 Things You Need to Know to Plan Your Big Day
By Bettie Bradley Appetite by Random House
Bettie Bradley knows a thing or two about weddings, having spent 35 years as editor of Today's Bride. The Wedding Expert: 400 Things You Need to Know to Plan Your Big Day takes the reader step-by-step through the entire wedding process. Peppered with signature "Bettiequette" tips, this book is a helpful handbook for any bride-to-be who is feeling overwhelmed. The chapter, "How to Avoid the 10 Most Common Mistakes" highlights some of the most important things about planning a wedding, like not losing sight of why you're getting married in the first place! Trust the wedding expert; she knows what she's talking about.

Weddings in Color: 500 Creative Ideas for Designing a Modern Wedding
By Vané Broussard and Minhee Cho Chronicle Books
Not all brides want to be traditional. Weddings in Color: 500 Creative Ideas for Designing a Modern Wedding is a Pinterest lover's dream, presenting imaginative suggestions that will guarantee an Instagram-worthy wedding, including floral crowns, die-cut invitations, and altars made of balloons. Authors Vané Broussard and Minhee Cho subscribe to the maxim that the most defining aspect of a wedding, especially a modern wedding, is colour. To that end, the pair have created a visually-appealing book filled with hundreds of ideas on how to put a trendy twist on classics. The book offers fun and creative DIY suggestions, and industry experts give tips and insider information on all aspects of wedding planning. With eight chapters, each devoted to a colour and featuring dazzling palettes, this book is quite literally eye candy.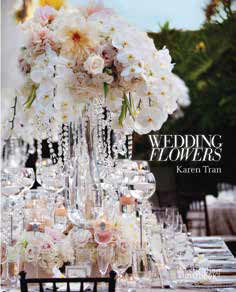 Wedding Flowers
By Karen Tran Stichting Kunstboak
If you're in need of floral inspiration for your wedding, look no further than this stylish new book by Karen Tran, a celebrated American wedding and event designer. Wedding Flowers draws on Karen's 20 years of experience as an event planner and walks the reader through the wedding design and planning process. Created as an inspirational guide, the book offers advice on choosing the right theme and creating an ideal and unforgettable mood and ambience for your event. Karen is known for planning spectacular events, and it is showcased here with gorgeous photography of her stunning and creative floral arrangements. This gem is guaranteed to give you fresh floral inspiration for your wedding celebration. W
To source or purchase any of the books we have listed in this column; simply take the ISBN number and author's name to any bookstore for a special order. Libraries may not carry all books listed on this page.