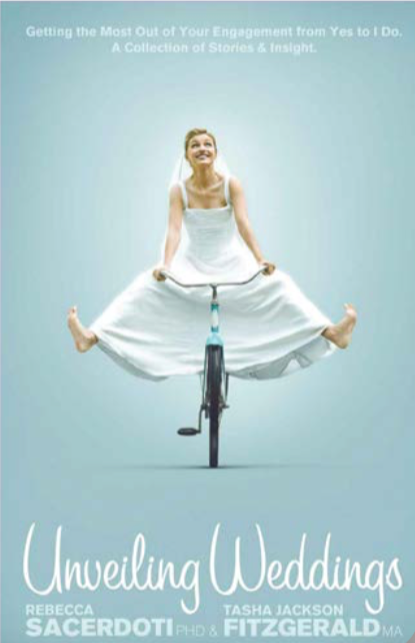 Unveiling Weddings: Getting the Most Out of Your Engagement from Yes to I Do!
By Tasha Jackson Fitzgerald and Rebecca Sacerdoit Titanium Books
If you are looking for the perfect bridal gift or a treat for yourself, Unveiling Weddings is it. It's your girlfriends' guide that supports the bride about everything. The book will entertain you with stories and insight into the emotional hurdles and family dramas that are often hidden from the public eye. Although it is written in a fun and sassy manner, don't be fooled. The words can be life-changing. These two seasoned psychotherapists understand that a wedding is a rare opportunity to get the most out of your life and your engagement. Whether it is staying connected to your fiancé, negotiating dessert choices with your mom, or pulling off the wedding day of your dreams, Unveiling Weddings will guide you through it. While the authors invite the reader to do everything from finding her fil to dealing with rude and ridiculous members of the bridal party, the bridal tell-all stories will make you laugh, cry and feel at ease. Sit back and enjoy.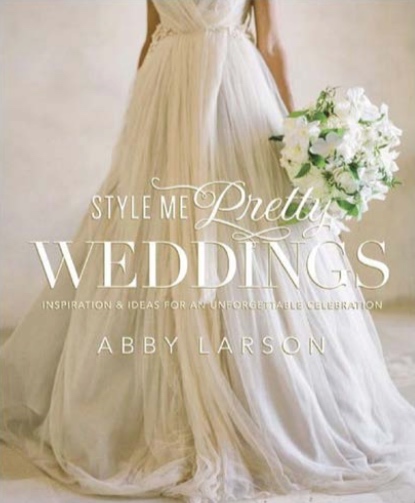 Style Me Pretty Weddings: Inspiration and Ideas for an Unforgettable Celebration
By Abby Larson Potter Style
For all brides looking for fresh new inspiration, it offers an entirely unique, and gorgeously photo-rich wedding resource. Joyful, love-filled weddings are created with the details that make the couple unique. These touches — letter-pressed table cards with a pet bulldog cameo; a chandelier to which the bride and groom tied hundreds of colorful ribbons; a photograph of the bride's grandparents fastened around her bouquet — elevate a beautiful day into a deeply personal, unforgettable celebration. Style Me Pretty has become a go-to destination for planning your own ecstatic wedding, which includes:
– determining your couple style, gathering inspiration, and threading it through each element of the celebration
– real-life weddings with details on all their special and handcrafted touches, and advice from the brides
-five style blueprints to help you custom-craft your own classic, rustic, whimsical, modern, or al fresco wedding, from paper goods to the cake
-15 do-it-yourself projects, such as glittered vases, linen favour bags, and dip-dyed ombré napkins
Full of lively and more than 250 photographs, it will help you distill wedding inspiration into the most meaningful, utterly original day you can imagine. W
To source or purchase any of the books we have listed in this column; simply take the ISBN number and author's name to any bookstore for a special order. Libraries may not carry all books listed on this page.