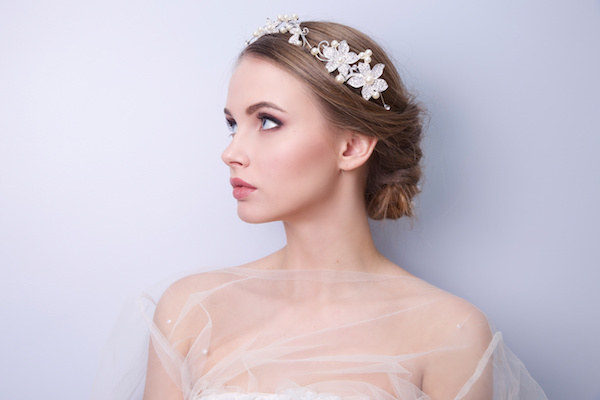 What bride does not want to look radiant on her wedding day? Of course, your joy will shine on your face on that most happy of days, but there are also plenty of things that a bride can do to nudge Mother Nature in the right direction. To ensure that you look nothing short of stunning on your wedding day, take a look at these pre-wedding beauty secrets.
Secret Number One:
Have your eyebrows professionally shaped. A pair of perfectly polished brows will give you that absolutely flawless look in your wedding pictures. On the other hand, scraggly brows will detract from even the most artfully applied makeup. There are a number of techniques for eyebrow grooming available, including plucking, waxing, and threading. Whatever method you choose to neaten up your brows, just be sure to have it done by a professional. Waxing, in particular, can leave redness, so have your eyebrows shaped a couple of days before the wedding.
Secret Number Two:
Wear makeup! Seriously, no matter how natural and low key your everyday style may be, you need to wear makeup on your wedding day. This is not to say that you need to look like you are wearing tons of makeup, just that it should be there. If you do nothing else, use a sheer foundation to even out your complexion, use waterproof mascara to define your eyes, and put on a pretty kiss-proof lipstick. A softly tinted blush to enhance your natural bridal glow would not be a bad idea either. Always try out all products before the wedding day to see how well they wear over the course of many hours.
Secret Number Three:
Do not attempt to do your own hair for the wedding. This means seeing a professional for a really good looking highlights if you color your hair and having a professional style your hair for the wedding itself. Be sure to have a trial run before your wedding to make sure you and the hair stylist are on the same page. Bring along any accessories you will be wearing like your headpiece and Swarovski crystal earrings so the stylist can design a hairstyle that works with the rest of your look. Besides, if you have selected a really fabulous pair of Swarovski crystal earrings, you want to be sure that they are not covered up by your hairdo.
Secret Number Four:
Get a paraffin manicure the day before your ceremony. There is nothing quite like dipping your hands in hot wax to slough away dead skin and make them baby smooth. When your groom takes your hand to slip on your wedding ring, you don't want to present him with a scratchy hand, after all! By the way, grooms can also benefit from a paraffin hand treatment and a no-polish manicure. The guys who may be least likely to seek such a service on their own are often the ones whose hands need the most TLC, so it may be up to the bride to drag her fiance to the spa kicking and screaming!
Secret Number Five:
Underarm waxing. This is a beauty treatment which few brides ever consider, but the reality is that most bridal gowns are strapless or sleeveless. The last thing you want is to have visible stubble or razor burn when you raise your arms over your head to toss the bouquet! Underarm waxing can be fairly irritating, especially at first, so it is a good idea to start doing it a few months before your wedding so your skin can get used to it. Have the final wax done a few days before your ceremony to avoid any lingering redness. Now that you are perfect from head to toe, you will be ready to walk down the aisle with full confidence!
Laura is interested in wedding planning and wedding trends including jewelry,receptions and gifts. Treat yourself to sparkling Swarovski crystal earrings, necklaces, and bracelets from http://silverlandjewelry.com/. Order today and receive complimentary shipping on your jewelry order over $99.
Article Source: http://EzineArticles.com/?expert=Laura_Firenze
Article Source: http://EzineArticles.com/4830443