Simply Stunning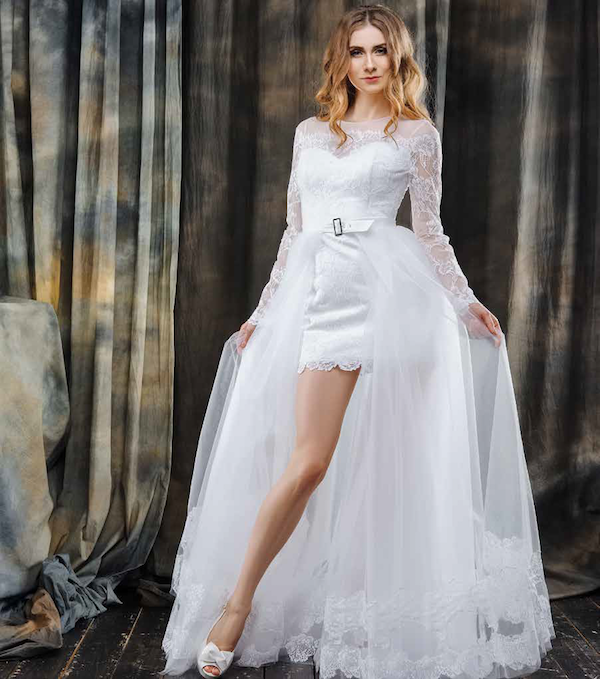 by Lindsay Ruck
A variety of silhouettes and design trends graced the runways in anticipation for fall 2016, giving this season's bride an abundance of choices when selecting the dress of her dreams. While there were many swoon- worthy over-the-top designs for those well-heeled weddings, we've opted to highlight the simpler of silhouettes that were taken to the next level with a little extra something special. From high slits and detachable skirts to off-the-shoulder and fluttery sleeves, this season, less is most definitely more.
Detachable skirts
Detachable skirts are designed from the school of thought that two is always better than one. If you're a bride who would like two separate looks on her day, then the detachable skirt was designed for you. Instead of buying two gowns, a more demure look for the ceremony is dramatically taken up a notch for the reception once the top layer is released.
Detachable skirts come in a variety of styles and colours and brides can have fun customizing their ultimate look. J. Mendel presented a striking elongated detachable skirt this season which floated softly over an equally-long form-fitting beaded gown. More daring designs came from Monique Lhuillier and Vera Wang, as both fashion moguls created full-length detachable skirts draped over a shorter, sexier under-skirt.
This two-in-one design trend takes a simple and classic style to the next level, allowing brides to showcase the best of both worlds on their special day. An extra benefit of the convertible gown: no need to bustle for the reception!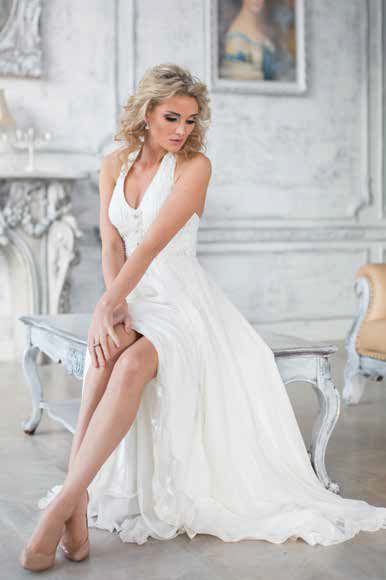 High slits
Ever since Angelina Jolie popped her right leg out of her black velvet Atelier Versace gown at the 2012 Academy Awards, designers have included the high slit into several of their most coveted creations, and this season, bridal is no exception.
Similar to the detachable skirt, a gown featuring a high slit can look quite simple and demure upon first glance, but a little movement will reveal a sexier side to your bridal style. Slits on the side or the centre are apparent not only for the bride, but also the bridesmaid.
Ines di Santo and Inbal Dror both featured the thigh-high slits in their collections, turning what would be simple bridal gowns into sexy haute couture styles.
While the high slit adds extra movement to what would otherwise be a structured dress, keep in mind it could also showcase a little more than perhaps desired. If you're tying the knot in a generally windy climate and plan on having the ceremony or photos taken outdoors, then the high slit may not be for you. No bride wants to have to keep her hands by her sides the entire day to avoid an embarrassing flash following an unexpected gust of wind.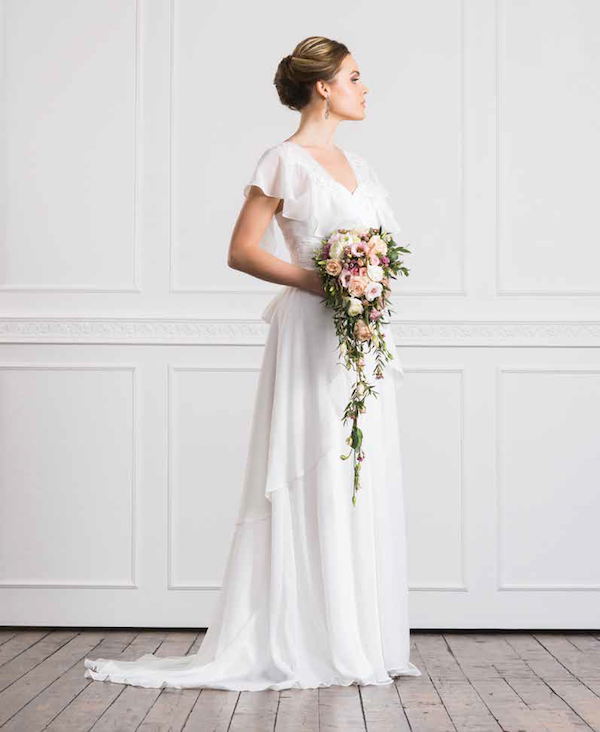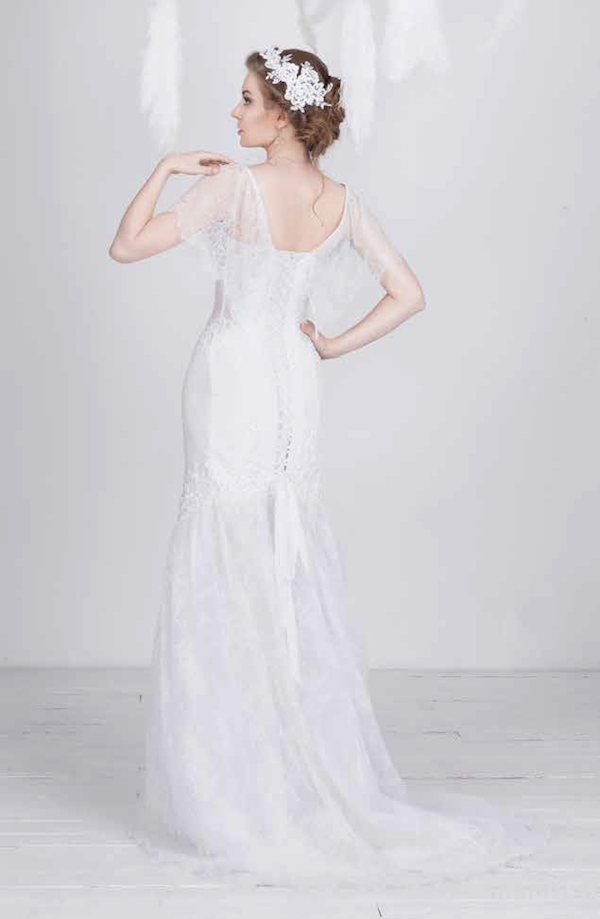 Flutter sleeves
This design trend harks back to the retro days of all things flowing and free. Flutter sleeves are a whimsical bridal element which fits in nicely with a simple silhouette.
Lightweight fabrics, including lace and gossamer, are key to creating this flirty flutter. Intricate details in the sleeves kick the look up a notch and create a Secret Garden vibe to an otherwise dull detail.
US-based designer, Sarah Seven, and North American bridal retailer, David's Bridal, featured flutter sleeves in their designs. The fairy-like gowns attract the casual yet contemporary bride who desire a simple yet stylish and romantic alternative to the traditional plain gown.
Several designers, including Claire Pettibone and Alon Livne, pair the flutter sleeve with a deep-V neckline to include a sensual element to what would otherwise be a more covered-up bridal look.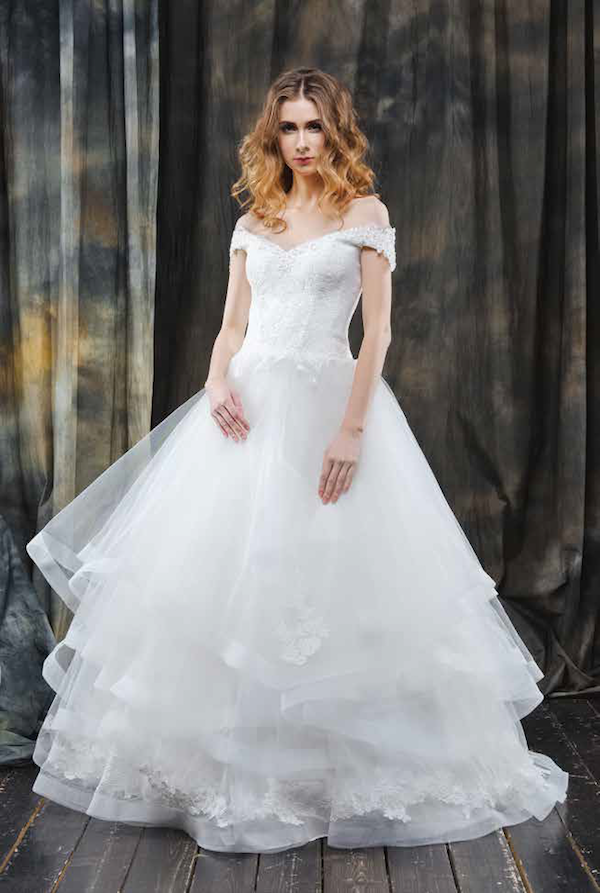 Off-the-shoulder
Off-the-shoulder gowns are once again sweeping the bridal fashion world and we are big fans of this sexy yet sophisticated style. This trend dates back to the Victorian era when bridal royalty would enter the large cathedral hallows donning a shoulder- bearing, elegant, one-of-a-kind gown.
Fast-forward to modern day as top designers of 2016, including Anne Barge, Monique Lhuillier and Lela Rose, all wowed the runways in off-the- shoulder styles. From the classic princess ball gown to a simple A-line style, off-the-shoulder works on a number of silhouettes and adds an element of timeless elegance.
Necklines also vary with off-the- shoulder gowns, and this season we're loving the plunging-V and the contrasting straight-across structured styles.
Simple is no longer boring and there's something for everyone in this season's most swoon-worthy designs. Daring yet demure top our bridal charts and we're loving the added elements to once simple silhouettes. Explore your options to find the gown that is simply sexy, simply sophisticated, and, most importantly, simply "you." W