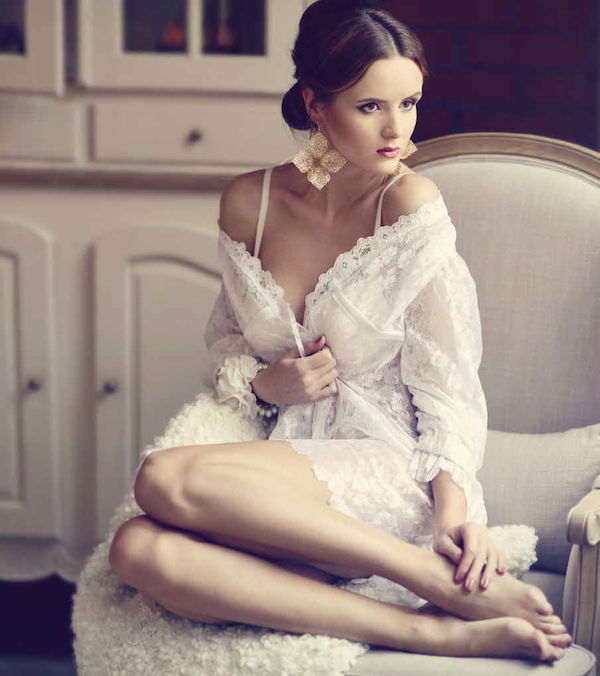 by Lindsay Ruck
There's no question the wedding gown trumps all other fashion decisions for the big day. But there are other selections to be made. From simple and structured to silky and sultry, bridal lingerie is a fun element to the day and the options are endless.
We've highlighted a few of our lingerie loves and are sharing what works when and who should wear what. So let's talk lingerie!
A.M.
The getting ready outfit for you and your maids has become almost as important as your other bridal wardrobe selections (almost!).
Online and storefront boutiques such as Plum Pretty Sugar and curated and customized Etsy shops offer several options for the now-essential bridal robe. From bold floral prints to crisp white robes with "Bride" etched on the back, these soft and silky cover- ups make getting ready for that walk down the aisle feel even more special. Morning robes are also a great gift for your girls and it's something they can wear again and again. Anyone can rock this fun and flirty look and slipping out of the robe and into the dress will be a breeze.
Depending on your gown, the undergarments worn to prep the morning of your wedding may be just as important as your full day lingerie. If your dress features a low back, keep in mind the unsightly lines a bra can leave if worn for just a few hours. If you know you require support 24-7 and going bra-less is just not an option, consider a loose, cloth bandeau which won't push into your skin as much as a regular wired or elastic bra.
MIDDAY
Your dress determines which undergarments will work best for you, and your body will tell you which areas need a little more nip and tuck than others.
Shapewear has come a long way, and the once one-note, structured garments have evolved into sexy underthings that not only feel great, but look fantastic.
If you're opting for a strapless gown, brides with a larger bust will need to ensure they're well supported to avoid spillage. Those brides who may not be as well- endowed will need to ensure they can actually fill the bust area. Some bridal gowns come with cups already sewn into the fabric. If this is not the case, there are skilled tailors who will sew cups directly into the dress, therefore eliminating the need for a separate bra.
Seamless underwear is the best option when wearing a more form-fitting gown. Smooth and sheer dresses tend to show everything, so the less lines, the better.
A full corset or one piece leotard are also options. But keep in mind, wearing a leotard without any detachments throughout the ceremony and reception will make going to the washroom even more of a task than it already is while wearing a full-length gown.
The ideal lingerie to complement any body type is a strapless, smooth body shaper – there are no lines to worry about and the structure adds shape and creates a visible waistline. With a wide variety of shapewear available, select the best form for the gown. Cut outs or sheer sides will require a little more creativity and a one-piece may not be your best option. Separates are ideal for the more elaborately-cut gowns.
P.M.
Depending on what works best with the gown, brides may choose a separate lingerie look post- reception. Simple seamless underwear and a nude strapless bra may not be exactly what you had in mind. Now is the time to get creative and have fun choosing pieces you may not necessarily wear on a regular basis.
From sweet and sexy babydoll slips to lace-up corsets with garters, stockings, and hold-ups, your evening bridal lingerie should make you feel over- the-top gorgeous. Creative doesn't have to mean uncomfortable. If you're pulling and tugging, then you won't feel sexy. Select items that look and feel amazing and give you the confidence to strut your stuff.
Ottawa holds a handful of lingerie gems backed by undergarment experts who are ready and willing to find your perfect match. Check out these local retailers for your perfect bridal underthings. W
203 Dalhousie Street (ByWard Market) amandamay.ca
Bayshore Shopping Centre Rideau Centre victoriassecret.com
Rideau Centre Nordstrom.com