By Molly Hanzidiakou
After months of preparation, the moment is here and,  lined up with her wedding party, the bride is flooded with emotions as she approaches her groom.  Have you ever wondered what brides are thinking as they are about to walk the aisle into their future?
Here are some quotes from women, some who took their walk down the aisle a few years ago, to tell us what thoughts were going through their minds.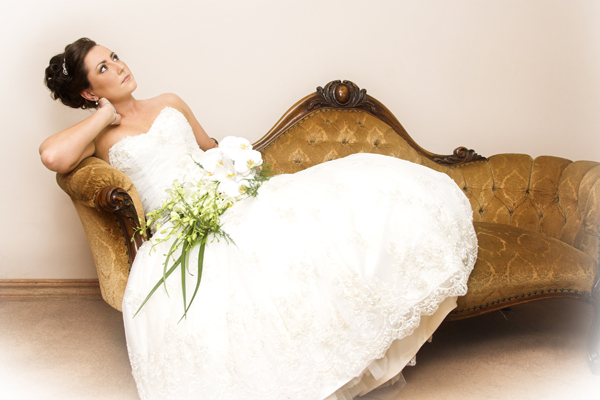 "Don't cry. Keep eye contact with Matt, my husband!"
"I know this sounds vain but I think every bride thinks, "Is everything perfect?"  I double checked my train, hair and flowers right before." –April, 2010
"I thought to myself, "It wasn't a big deal and my Dad looked so handsome."  I was fine lining up.  I put my arm with my Dad's, turned the corner and lost my breath because I saw all the people.  It hit me then what was about to happen.  My dad said, "Breath. It's just another day."  I was fine after that". –Jo-Ann, 2003
"I felt a lot of different emotions.  It was a very overwhelming moment.  I was thinking how everyone would be looking at me and I hoped I looked good.  I was also thinking how the burn on the side of my head hurt where the hair dresser burnt me with the curling iron". –Laurel, 1998
"My whole life I was a very anxious child.  I missed my First Communion because I got sick to my stomach.  When my dad's company had Christmas parties, I could never go because I always got sick.  I'd have lost my mind if my kids were like that.  So when I was planning the wedding, I was worried I'd be terribly nervous.  However, when the day arrived I was as calm as could be.  I guess I was so sure of who I had chosen to spend the rest of my life with, I had no qualms.  I was just at peace and very happy to walk down the aisle on my Dad's arm and join Mike to begin our life together". –Catherine, 1987
"Oh my gosh I'm late!  I was all worried with being 15 minutes late.  And my father-in-law to be was not impressed". –Stacey, 1992
"This is the next chapter in my life.  Scary, but exciting" –Mary, 1977
"I got married at the Ottawa Hunt and Golf Club.  The Hunt Club has this long staircase that my Dad and I had to walk down as part of our aisle.  My biggest fear was falling down the stairs, so I held onto my Dad and the stair rail for dear life.  I don't think I thought of much else until I got to the last step. I was so relieved.  The rest was easy!" –Jennifer, 2012.