There is a bridezilla in every bride but the question remains if it is controlled or not. All of us have different personality types and perhaps that may play a role in becoming a bridezilla or not.  Any stressful situation can bring the worst out of us whether it's a death, financial problems or planning a wedding.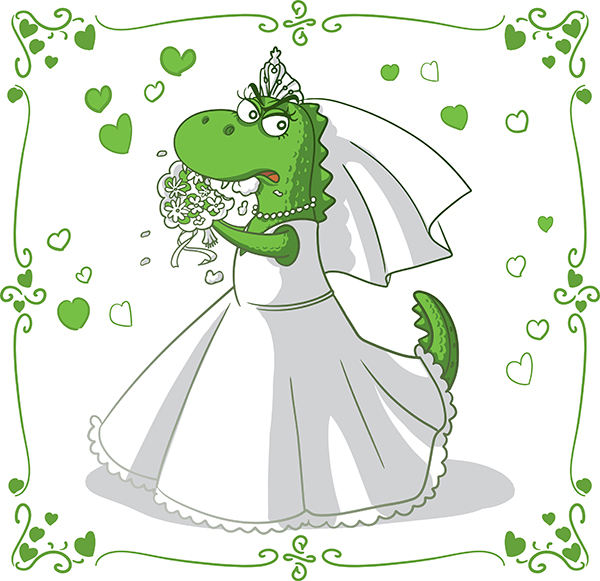 Your wedding day is one of the most important days of your lives and you want everything to be perfect.  I guess the key word here is "perfection".  To reach perfection is virtually impossible and we must learn to cope with some of the ups and downs that you will cross along the way.
Are you a bride in the green zone? Green being very relaxed and you just go with the flow.  You don't obsess about the wedding 24/7  and openly accept help from others.  You know what you want and plan everything in it's appropriate time  frame.
There are subtle warning signs of becoming a bridezilla which I call the yellow zone.  What are some of these signs you ask?  Well, do you think, live and breath wedding details?  Are you constantly on-line looking up information for hours on end? Do you find that you are spending less time with your fiance? Are you acting selfish and only talk about the wedding to every person you see or meet?  If you are answering yes to two or more of these questions you may be entering the yellow zone meaning "proceed with caution".  If you don't proceed with caution then you are allowing yourself to enter the red zone.
The red zone is full blown bridezilla tendencies and most likely you have gone to far.
Are you angry or edgy all the time? Has a bridesmaid dropped out from your wedding party?  Are you friends staying away from you more than usual?  Do you fight more with your fiance?  Are you having disagreements or changing vendors on a regular basis? Do you react very quickly to the slightest problem or change in your wedding planning?   If you have answered yes to two or more of these questions than you need to stop, take a deep breath and remember what your wedding is really all about.
As a wedding planner, I can tell within my first 10 minute consultation what type of bride she will be.  My job is to make them feel as comfortable as possible.  Since I am not part of their family, they find it very easy to speak with me about problems or questions as I will not judge them.
Brides, you don't have to do it alone.   You don't have to control every little detail.  Put some trust in your family, friends and fiance to help you along the way.  The more relaxed and calmer you are the better the wedding day will be.  Always remember….. if something  should go wrong, you are the only one who will knows as the guests were not privy to your planning process information.
You know what financial situation your families are in so if you feel this would put too much pressure on them don't ask for help and let them come to you.  Keep in mind though if you are asking for help they will have something to say about certain costs and you will most likely hear "do you really need that"?
If you are one of those lucky brides where Daddy is paying for it all then that is great.   If things don't work out that way and you both are paying for the entire bill, you will receive gifts of money from your guests that you can certainly put towards all of your purchases.  Having a wedding is not a way to make money anymore.  Most couples are just happy to break even and enjoy the  celebration!