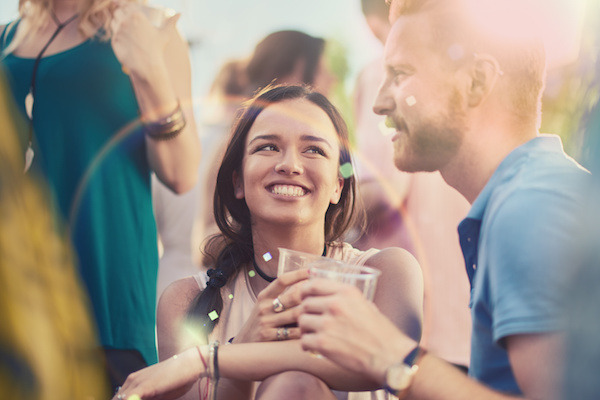 Whether you do it on Canada Day or Canada Day weekend, the August long weekend, Labour Day weekend or anytime before your tie the knot, make the effort to bring your families together for a barbecue or brunch or dinner (or all three, plus plus).
Even if your family dynamics are complicated, it's worth the prep-time to round up your loved ones (in whatever family configurations are manageable), connect and share your excitement and pleasure about the upcoming wedding day.
After all, when you say your I Do's, you'll be bringing your families together in official and significant, long-term ways. The more you get to know each other and enjoy each other's company, the more fun and inclusive your festivities will be.
Besides, it's official. The survey says: meals bring people together!
Ninety per cent of Canadians agree: Nothing brings people together like eating together
New research reveals that many of us struggle to actually sit down and enjoy a meal with others — and the key to more meal gatherings could lie in the food we serve.
Although a whopping 83 per cent of Canadians agree that families should eat together every night, only one in three are able to do so. Reasons for this include competing calendars of family members, busy work schedules and technology. These reasons are even more prevalent among the younger generation, indicating that the speed and complexity of modern life may be inhibiting family and community moments.
"We know that when people eat together, good things happen," says Tom Fillipou, executive chef from President's Choice. "But in a world where fast-paced technologies and busy lifestyles can easily take over, it can be difficult to carve out time to enjoy meals with family and friends."
If you want to bring your loved ones to the table, it's clear that the menu plays an essential role. In fact, 92 per cent of survey respondents agreed that food is a common thread that ties people together.
The food itself varies by region, as Canadians embrace diverse flavours and ingredients. For example, nearly half of Ontarians believe that pancakes and maple syrup bring people together, while people from Nova Scotia are more inclined to enjoy seafood like lobster and chowder with others. In Quebec, Canadians believe tourtière, a dish steeped in history, has the power to unite. Along the west coast, BC residents enjoy eating Pacific salmon at a communal table.
"Food has a unique ability to create common ground and facilitate shared experiences," says Fillipou. "When we acknowledge that fact and consciously select ingredients and dishes that we like to eat together, it becomes much easier to reap all the benefits associated with sharing a meal with others."