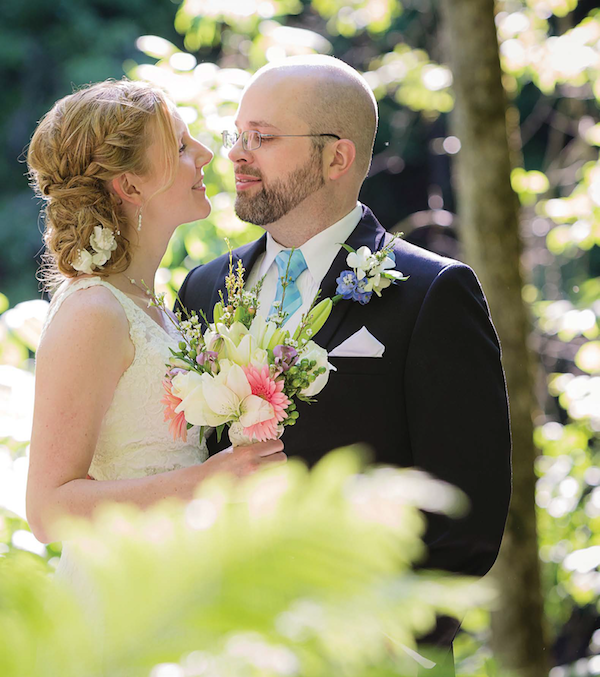 Allison on her wedding day. Photo by Troy St. Louis.
by Allison Forsythe
You know that kid who loves posing for the camera? That kid who jumps at the chance to be in a photo and will ham it up with a grin or silly face without hesitation? I was that kid.
Years of dance lessons (and costumes that de ed reason with their sequins) made me comfortable—even happy—in front of an audience, and I had no problem being the centre of attention. I never shied away from a camera. I took sel es in the '90s for crying out loud, and even kept the photos after I had them developed at the drugstore.
Then I became a teenager. For whatever reason, I started to think the camera was no longer my friend. It captured the things I'd hoped weren't noticeable. I never looked quite right, even when I followed the posing tips from the teeny-bopper magazine of the day. I avoided cameras so much so that I was totally out of practise by the time I reached my 20s. When I didn't grin maniacally for a photo, I often did the dreaded "Chandler Bing Face" (CBF) from Friends. After reading Tina Fey's Bossypants, I was also pretty sure that I too might have what could be described as "dead shark eyes." After my husband proposed, I laughed thinking about the poor sap who would end up as our wedding photographer.
Over the years, I'd look through my friends' wedding photos, which were always beautiful, and the bride inevitably gushed about how much she loved them.
I assumed such photo-happiness could only come from someone who actually enjoyed being in photos. And doesn't someone have to be comfortable being photographed in order to achieve photogenic success? According to wedding photographers, the answer is a resounding "no."
Wedding Pictures Can Be Fun
"Pretty much everyone is uncomfortable in front of a camera, so we're used to getting people to relax," says Andrew Geddes, one of the founders of Union Eleven Photographers in Ottawa. "Wedding days are so exciting and action-packed that having a photographer around is not nearly as big a deal as it would be on any other day. Most of the time we're shooting candidly and ninja-like from the shadows, so you won't even notice us."
I was surprised, to say the least, when I received a similar answer from Troy St. Louis, of Troy St. Louis Photography in Ottawa, during our consultation. I expressed some concern about the photos (if I'm being honest, I think I blamed it on the fact that my mom and mother-in-law are also not fans of the camera) and Troy just smiled. He assured us he could easily take candid photos from across the room and our mothers wouldn't even realize it was happening.
I was intrigued. I suspected the danger of CBF would be minimized if I didn't realize a camera was pointed my way. My husband and I had also looked through Troy's online portfolio and we both really liked the photos that weren't quite candid, but also weren't quite posed. "I usually just say, 'Wander over there and be cute,'" Troy says. Inevitably, the couples kiss, laugh, or cuddle, so the photo captures a natural moment of happiness—without even a hint of dead shark eye.
I have to admit I felt better after that consultation, particularly since I no longer thought I'd have to stare down a camera lens the whole day. When I shared my relief with others however, one of my friends mentioned the sheer number of photos her wedding day entailed. By the end of the night, she was sure she looked like a velociraptor, as she was too exhausted to do anything except keep her eyes open and "show a few teeth" for each picture. (If any of her friends or family members did snap some velociraptor shots, they have wisely kept those photos to themselves.) She suggested an engagement photo shoot might calm my nerves, especially if the tips and poses from that session helped me with the onslaught of photos taken by our guests. Although we didn't opt for an engagement shoot, I suspect she was right. In fact, one of the main reasons photographers recommend an engagement shoot is to put the couple at ease in front of the camera.
"The biggest benefit of an engagement shoot—other than getting the images—is the opportunity for the couple and their photographer to get to know one another better before the wedding day," explains Andrew. "This familiarity can definitely help couples look forward to being photographed as opposed to feeling nervous about it."
Anna Jones, of Anna Jones Photography in Ottawa, agrees, noting that couples who have done engagement sessions are usually able to relax and enjoy the process more because they know what to expect. "Most importantly, I highly encourage my couples to use the engagement sessions as a means to provide me with feedback about the types of images they liked and didn't like. That way, I can customize the [wedding day] shooting to meet the specific needs of my couples."
It can be tough to forget all of the stress and pressures of your wedding day, especially if, like me, you'd rather pay someone to be your bride-double than pose for a photo. But you can cross "worry about the photos because of my weird face/fatness/thinness/chicken arms/ third eye" off of your stress list. Simply meet with your photographer and have a chat. The candid photos and the "being cute" moments worked for me, and your photographer will surely have additional ideas. You are going to look fantastic. Trust me.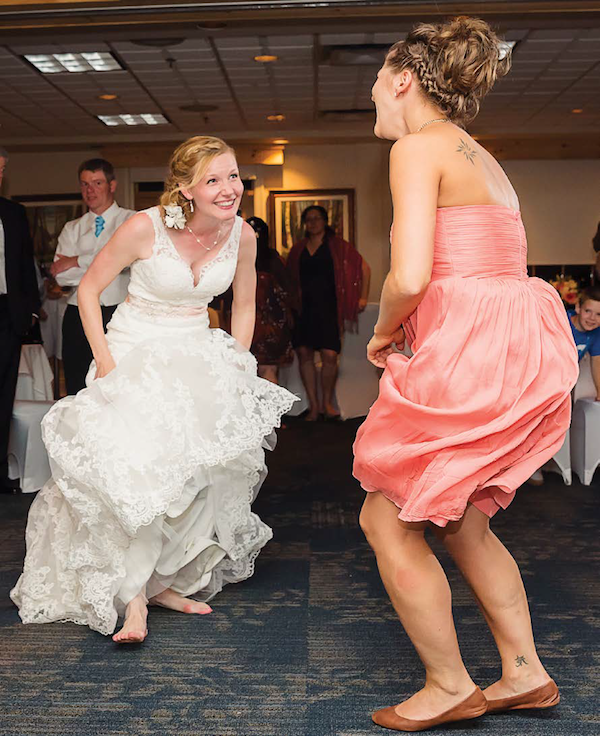 Camera shy? Allison certainly isn't in this capture. Photo by Troy St. Louis.
Advice from the Pros
"The best thing a couple can do is hire a professional that they feel comfortable with, and that they trust to do a good job no matter the circumstances. Part of our job is making people who aren't used to having their photo taken look amazing in photos. Just try to relax and leave everything to us!"
"Many couples are camera-shy and, for the most part, their wedding day is the first time they have been photographed professionally. It's natural! My advice is to choose a shooting location that they both feel comfortable with. A quiet nature trail versus the ByWard Market, for example, as eliminating an audience helps make couples feel more at ease. Also, choose a photographer you are comfortable with. Most of my brides spend more time with me during the wedding day than they do with their husband, so it's important that I am a good fit for the couple on a personal as well as a professional level."