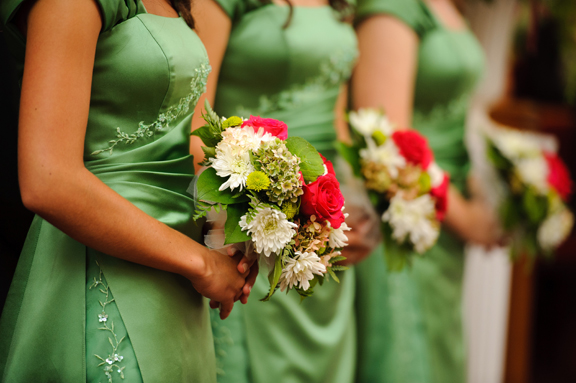 By: Diane Farquhar courtesy of I Just Said Yes
Most commonly, couples get married around one year from the time of their engagement.  Lately, however, there seems to be a trend of couples deciding to hold their ceremony and reception within six months of their engagement.  Since the average age for getting married is between 25-30, usually there has been a long period of dating, and the couple may be living together or is at least financially secure.  When it's time to say "I do" they are opting to just get right to it.  Can you get married within six months or less?  Absolutely you can, but it will take a little organization and a whole lot of patience.
There are so many vendors, florists and decorators to choose from that finding one on short notice should not be that difficult.  Linens and seat covers won't be hard to find and most vendors will be happy to take a last-minute booking.  One area you may run into an issue with is flowers. Should you select something exotic that needs a special order, make sure you confirm the delivery time frame before you make your decision.  Immediately book your disc jockey/band, limo, photographer, wedding cake baker, and your ceremony and reception site.
If you have a very busy schedule, and your budget allows, hire a wedding planner who can do all the leg work on your behalf.  This will free up plenty of time to shop for wedding dresses!!  Don't be scared that you won't find a wedding dress either.  Visit large chain stores and check with your local bridal boutiques as well.  There is an abundance of bridal dresses you can buy online but watch for how long delivery will take and reliability.  The girls' dresses will be an easy find too, as many of the chain stores, local boutiques, or online shops are at your disposal.
One area that may be disappointing is your preferred facility to host your reception.  If you have had your heart set on a certain venue be aware that they may not be available.  Before tossing the idea out of the window, call and see if a Friday evening is available or possibly a Sunday.  Friday and Sunday weddings are becoming very popular now and it is okay to book these days too.  Consider holding your ceremony and reception in the same place, this way, you can work with one venue to organize everything and save yourself time.
The wedding invitations don't have to go out until six weeks before the wedding so you have plenty of time to meet with your printing company.  You can even do them yourself which is a nice personal touch, or send out digital invitations via email.
To book your wedding in a shorter time frame means organization on your part, and knowing exactly what you want.  You will need to make contact quickly with vendors and book your items as soon as possible.  Remember you don't have the leisurely year for "I will keep checking around".  Just be prepared to be flexible as you may not be able to get everything you want.
Probably one of the biggest bonuses to booking your wedding quickly is you won't have to worry about constantly changing your mind.  You won't have a year or two to ponder and go through magazine after magazine looking at different things.  This is a good thing though.  The stress level may seem a little high at first but that's because you are working so hard to get everything in place.
This may not be for everyone especially if finances or schooling are an issue.  Should you decide though to take this route, ask for a helping hand from family, friends and your bridal party.  They will all be eager to help!