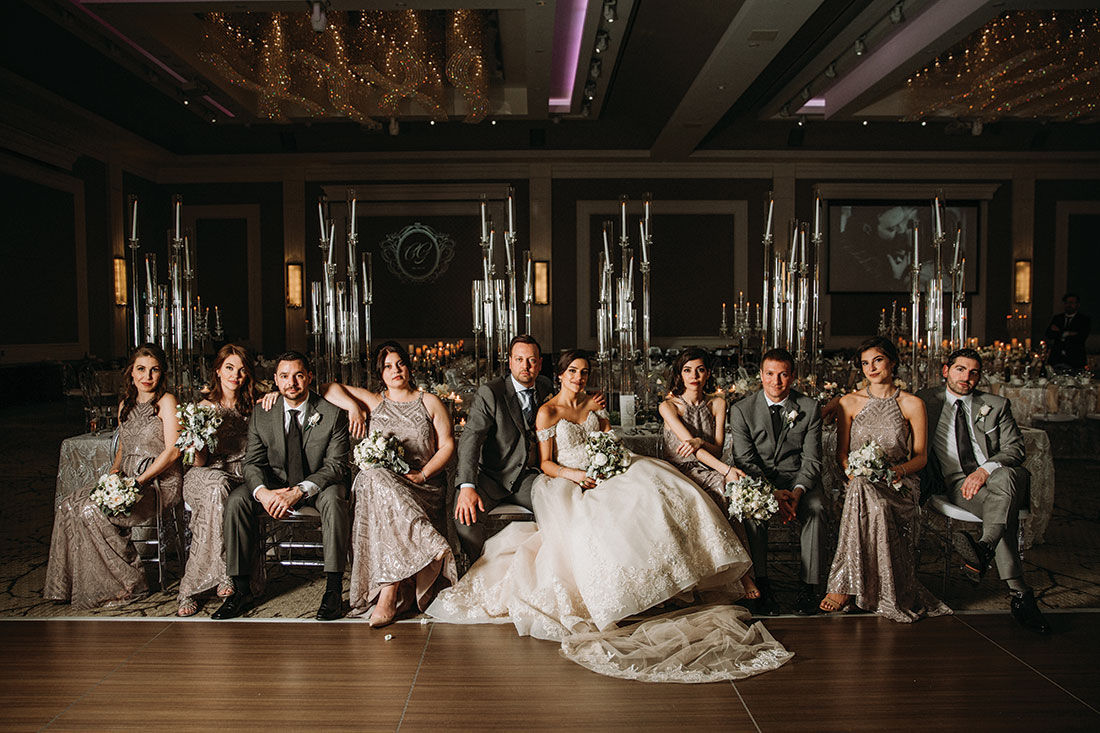 Family Affair
A match that was designed to be
By Iris Winston | Photos by Bianca Diorio | Wedding Date: May 12, 2018
It seems that Cassandra Petrella and Gino Urbisci were destined to marry long before their first date.
Both from traditional Italian families, they met frequently in large gatherings. Both of them had been baptized in St. Anthony of Padua Church in Ottawa, the church where both sets of parents were married and where they too were to marry on May 12, 2018.
"We call our love story a forever crush," says Cassandra, now 31. "We've known each other for over 10 years, but the stars didn't align for us back then. We both went on with our lives, but we often wondered and thought about each other."
"Cassandra's family is very social and I often met them at various Italian events and felt so comfortable with both her father and her mother right off the bat," says Gino, now 36. "Through all the years, I thought of Cassandra and wondered, what if…"
Gradually, the pieces leading to romance fell into place. At one point along the way, Cassandra gave Gino a copy of a CD with the titles of two songs highlighted (Every Time We Touch and Show a Little Love).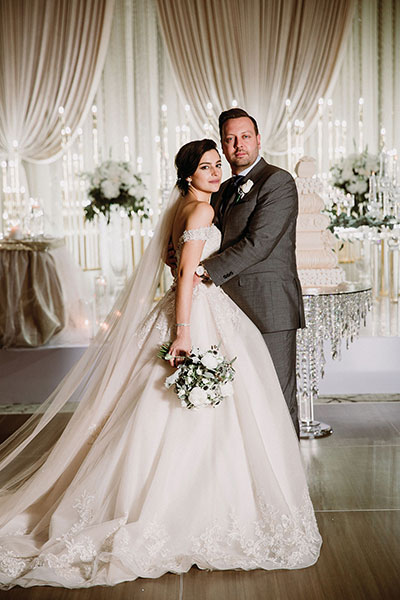 "She meant that she wanted me to listen to those particular songs," says Gino, a federal civil servant in systems security with Transport Canada. "She almost seemed to be sending me a subliminal message. I have had that CD in my car and played it regularly ever since. I still keep it in the car today."
Though the music and the memento were special — Every Time We Touch was the song playing as Cassandra and Gino walked into their wedding reception at the Infinity Convention Centre in Gloucester — they did not start dating until much later.
That happened after Cassandra's parents threw a surprise birthday party for her in December 2015. Gino, a guest at the party, was one of the last to leave and arranged to take her to dinner soon afterwards to continue celebrating her birthday.
"And that's how it began," says Cassandra. "After we started dating, we were always together."
"I always knew that we were really compatible," says Gino. "And there were so many similarities in our backgrounds."
For example, both Cassandra's father and Gino's mother's family came from the Abruzzo region in Italy. Both families had similar traditions, focusing on the importance of family connections.
On a trip to Amalfi, Italy, in August 2017 to attend a friend's wedding and visit extended family, Gino proposed. In keeping with tradition, he had previously asked her father for permission to marry Cassandra and had purchased the engagement ring — a round-cut diamond surrounded by a circle of smaller diamonds with
a white-gold band studded with diamonds.
"I drove down to Birks in Montreal one day without Cassandra knowing," he says.
"I wanted to keep it a secret. I was able to get the right size by checking her jewellery box and seeing where her rings fit on my fingers."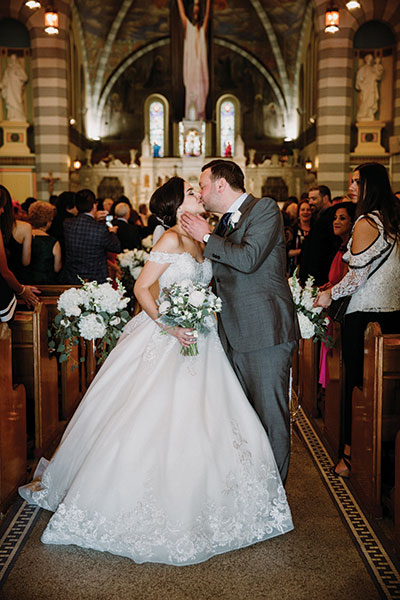 During their time in the Amalfi region, the couple had just one day alone. They chose to spend it on the island of Capri.
"There's a beautiful lookout spot on the island and this was where I decided I would like to propose," says Gino, adding that he co-opted a pair of passing tourists to photograph the special moment.
Still in keeping with tradition, he dropped to one knee, took her hand and asked the all-important question.
"At first, I couldn't answer because I was crying with happiness," says Cassandra.
The day after the newly engaged couple returned to Ottawa, her parents threw a surprise engagement party for them.
Just one day after that joyous occasion, disaster struck. Cassandra was severely injured in a single-vehicle accident when her car hydroplaned and crashed during an extremely heavy rainstorm.
Following her emergency surgery, Cassandra needed 24-hour care. "Gino was with me the whole time," she says. "We went through the 'in sickness and in health' part of the wedding vows early. He and my mom moved in to look after me. I couldn't do anything for about two months, but after I started physiotherapy, things moved along."
"She was amazing and positive through it all," says Gino. "I believe that her attitude and her being in the field of psychology really helped in her recovery. We also had tons of support from family and friends."
By November 2017, Cassandra, a psychotherapist, was well enough for the couple to continue with their wedding plans.
The wedding day on May 12 dawned bright and sunny with bride and groom preparing for the ceremony at their parental homes, in keeping with tradition.
"It was really important to us to include our families in the day and something that they wanted us to do," says Cassandra. "Our wedding was really centred around our family traditions and having everyone included."
Her wedding dress, a designer gown by Martin Thornburg, purchased at La Maison Bridal, was the very first dress she had tried on.
"I loved it from the beginning and didn't want to take it off," says Cassandra. "My mom knew that I wanted a very full, long train with lots of detail and wanted the dress to be off the shoulder. She saw this dress and asked me to try it on first. I did try a few more gowns and go to a couple of other places, but I was back within a week for the dress. I also had a veil custom-designed by the same designer to match the dress."
Topped with a crystal headdress wrapped around her hair, worn in a dramatic bun, and with a fitted lace and beaded underdress below the gown, Cassandra was ready to walk down the aisle to meet her groom.
Gino, too, was proud of his outfit — a medium-grey, custom Canali suit made in Milan, with oxblood leather shoes and belt.
"I had a lot of help from my best man, Rocco Nicastro, and from my friend, Domenic Morgante, who owns Morgante Menswear," says Gino. "Choosing was a lot of fun and the suit was a dream to wear."
Another special moment in outfitting for the wedding was provided by Gino's mother, who gave Cassandra wedding shoes, noting that they were a symbol of the bride stepping into the Urbisci family.
The bilingual wedding service at St. Anthony's Church, conducted by Father Gino Leonardi, was in Italian and English. The banquet for the 435 guests that followed at the Infinity Convention Centre offered a blend of delicacies inspired by the Abruzzo region of Italy with modern touches. One of the wines served at the wedding, for instance, was Castina Tollo Montepulciano D'Abruzzo — a wine made in Gino's father's hometown of Tollo.
"There was a big focus on the menu," says Cassandra. "The whole day was about our food favourites and the chef worked with us to give us exactly what we wanted. The décor was special too."
The main look, provided by Pearl Décor to fulfill Cassandra's vision, was classic, she adds, with big ivory roses featuring hand-opened petals to set a romantic tone, and cream anemones with dark purple centres and some peonies and eucalyptus for contrast.
Cassandra and Gino Urbisci enjoyed a wine tour of the Napa Valley and visits to various parts of California for their honeymoon and are now in the process of renovating their new home and building their lives together in a union that was "meant to be."
Get the Look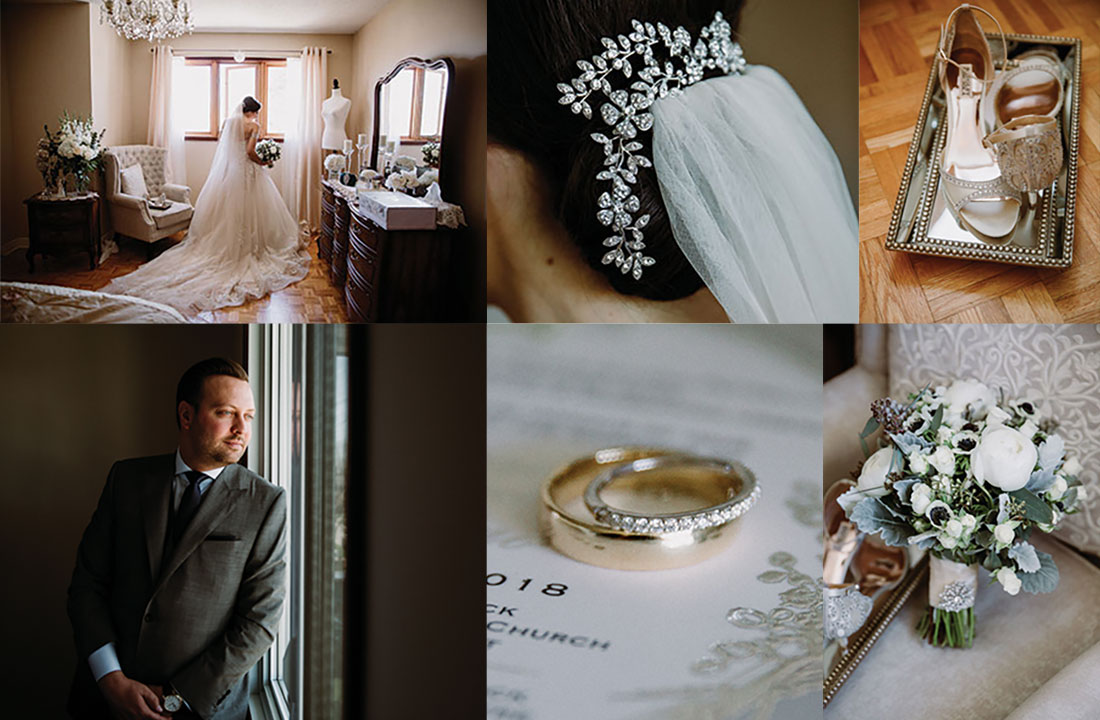 The bride's wedding gown: An ivory designer gown by Martin Thornburg, with custom veil and lace to match. Undergown with lace and beading by the same designer.
A crystal headdress gave a dramatic accent to both the veil and the bride's hairstyle.
The bride's wedding shoes: A gift from Cassandra's mother-in-law, with "something blue" purse by Badgley Mischka.
The groom's suit: A medium grey custom suit by Canali of Milan, with oxblood shoes and belt.
The bride's wedding bands: Two diamond-encrusted white gold bands to accompany the round-cut diamond surrounded by diamonds of the engagement ring.
The flowers were large ivory open roses, ivory anemones with dark purple centres, ivory peonies, ivory spray rose with highlights of Dusty Miller and silver brunia.
Wedding Party
BRIDE: CASSANDRA PETRELLA
GROOM: GINO URBISCI
MAID OF HONOUR: JESSICA PETRELLA (BRIDE'S SISTER)
BEST MAN: ROCCO NICASTRO
FLOWER GIRL: ROSALIE PETRELLA
RING BEARERS: LORENZO MICUCCI AND THEODORE MORTIMER
Family Members
BRIDE'S PARENTS: ROCCO AND LIDIA PETRELLA
GROOM'S PARENTS: BRUNO AND GIUSEPPINA URBISCI
BRIDE'S BROTHER AND SISTER-IN-LAW: VINCENZO AND CARINE PETRELLA
GROOM'S SIBLINGS: ADAMO AND ROSAMARIA URBISCI
BRIDE'S COUSIN: JULIANA DEMEIS
BRIDE'S GRANDMOTHER: MARIA MISSIO
BRIDE'S GRANDFATHER: VINCENZO PETRELLA
GROOM'S GRANDMOTHER: MARIA MICUCCI
BRIDE'S BEST FRIEND: JENNA MORTIMER
MASTER OF CEREMONIES: IAN MORTIMER