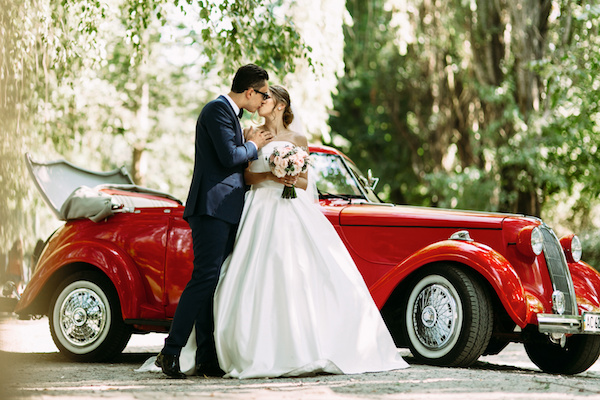 by Sherri Telenko
Plan a wedding of a lifetime and allow your guests to take a trip of a lifetime (or at least the year) at places where the rich and famous select for reasons of nostalgia, seclusion or sometimes even value. Here are four destination wedding locations specializing in planning the perfect nuptials for the not-so-famous, but all have experience doing the same for a few well-known names too.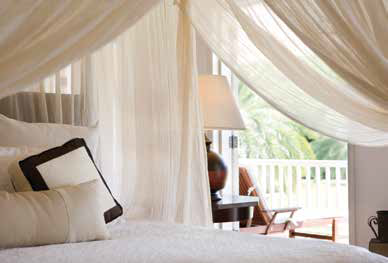 Inside a suite at Four Seasons Lanai at Manele Bay, Hawaii, USA.
Marry Like a Kennedy
Mansion turned exclusive hotel, The Greyfield Inn on Cumberland Island in Georgia was once the reclusive retreat of old money. It was built in 1900 by Thomas and Lucy Carnegie for their daughter Margaret. Today, her daughter oversees the operations of this 16-room historic inn with formal dining room (ties required), a gourmet menu, and family heirloom adorned rooms. The estate is surrounded by a national conservation area where feral horses roam free.
The island is accessible by ferry only (launching from Amelia Island, Florida) and small wedding parties rent the entire inn – like John F. Kennedy Jr. and Carolyn Bessette did in September 1996. The exclusiveness of this elegant inn, with 200 acres (81 hectares) of oceanfront devoted to guest use, allows for a secret marriage location. Elegant but secluded, this resort has no phones in the rooms, and there are a limited number of visitors allowed on Cumberland Island on a daily basis.
Ceremonies are held on the beach or under a canopy of Spanish moss-covered old-growth trees. Wedding packages for up to 75 people include three-day and two-night use of the inn for 32 people (including the bride and groom), with other guests transported to the island. Also included in the package is a rehearsal dinner, buffet at the reception, ceremony, accommodations for 32 people and cake. Photo opportunities are magical – especially if you capture a wild horse in the background. Visit www.greyfieldinn.com.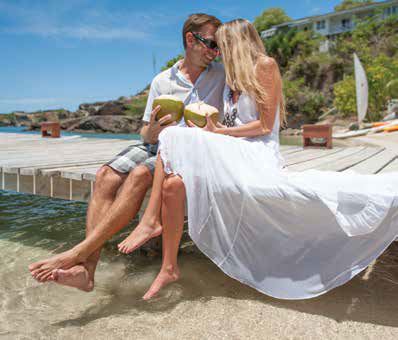 The peer at Moon Dance Cliffs in Negril, Jamaica.
Romance like a bachelorette in Antigua
Antigua and Barbuda, the dual island country north of St. Lucia, is the Caribbean's lesser-travelled sandy white beach and coral reef vacation destination. The small country of about 80,000 people garnered some matrimonial notoriety last year when it was the location of the two-part final episode of the popular Bachelorette reality television series, which saw 27-year-old Desiree Hartsock find the man of her dreams. Three of Antigua's luxury all-inclusive resorts were featured on the show, all equipped to produce a Caribbean destination wedding.
However, there's one resort where you won't get lost among the other tourists, or other wedding parties sharing the amenities. The secluded 28-room beach-side five-star Inn at English Harbour, built in 2000, features colonial-style architecture in keeping with the British past of the island. Three buildings face the central pool in front of the harbour with a long dock jutting into the aqua blue waters.
Wedding packages include four nights in five junior suites (with mahogany floors and draping white linens), daily breakfast and dinner, a romantic evening for the bridal couple on the jetty, photobook, cake, flowers and legal fees. Ceremonies can take place seaside, or in one case the bride boated to the jetty and walked down the pier. Whatever you choose, you'll likely be the only bride on the beach and your guests can spend the rest of their visit lounging in hammocks or participating in tennis, kayaking, or snorkeling, all included with their stay. Also, there's no marriage waiting period in Antigua, so you can get hitched the day you arrive. Check out www.theinnantigua.com.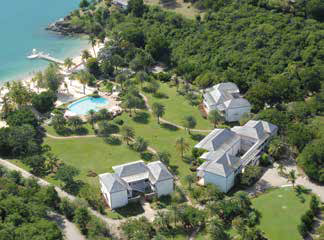 Moon Dance Cliffs pool and hotel in Negril, Jamaica.
Book the entire villa in Jamaica
Take the leap … off a cliff in Jamaica. No, there's no ceremony available cliff side, but you can jump later at the Moon Dance Cliffs Resort and Spa, an exclusive small boutique seaside resort in Negril on the western edge of Jamaica. You can also marry like a celebrity and book the entire resort for your wedding, party and guests' exclusive use. There are 22 rooms in four villas throughout the 5.5-acre (two-hectare) property that houses a pool with waterfalls, swim up bar, on-site spa, and wedding gardens and gazebo. There's a private honeymoon villa for the bride and groom, and guests can select from rooms ranging in size from 480 to 720 square feet (45 to 67 square metres). All villas have living rooms and verandas, which are adjacent to gardens with a private Jacuzzi and butler service.
There's a pool in the centre of the resort, no beach on-site but one nearby, two restaurants (both casual and formal), three bars, putting green and pool tables in many villas. If you buy-out the resort with the purchase of 20 rooms for a minimum of three nights, the wedding ceremony is included. Note that the bride and groom must be in the country 48 hours before they can legally tie the knot. For more information, visit www.moondanceresorts.com.
Binge like a billionaire in Lanai
Hawaii, specifically the big island, or Maui, is the dream wedding destination for many – the romance associated with the far away U.S. state is rivaled perhaps only by Paris. But for those seeking quieter quarters and richer historical reverence, the nearby island of Lanai is the answer. Lanai, a 45-minute ferry ride from Maui, is sexy, secluded and authentic.
Bill and Melinda Gates were married here, and bought every room on the island during the event. That wasn't as hard as it sounds because there are only two resorts and both are managed by The Four Seasons. (Further development is likely now that 98 per cent of the island has been sold to Larry Ellison, co-founder of tech company Oracle.)
The Gates were married at Lanai at Manele Bay, the larger of the two, with only 236 rooms (most more than 600 square feet, or 56 square metres, in size, including marble bathrooms). A beach resort steps from Hulopoe Bay, the Manele is about indulgences such as a health spa, an ocean- view swimming pool and private beach cabanas, and a poolside terrace restaurant. This hotel has a distinct Asian sensibility complemented by Chinese gardens, Kio ponds and Hawaiian foliage that make the walk from elevator to room feel like a stroll through a quiet Ming retreat.
A wedding feature of the hotel is the variety of locations for ceremonies and receptions. Options include beach-side, Asian gardens, cliff's edge along the golf course, or indoors on the Manele Bay hotel property. They also cater weddings anywhere on the island, including a secluded vista along the Munro Trail, a desert ceremony in the Garden of the Gods, accessible by four-wheel drive, or a sunset sail among spinner dolphins that live off the coast. Check out www.fourseasons.com/lanai.W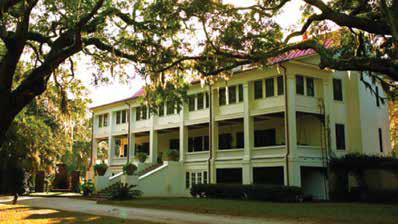 The historic Greyfield Inn on Cumberland Island, Georgia, USA.