Tiny Fashionista
Most little girls look for any excuse to dress like a princess, so being a flower girl is a dream come true. There are generally two schools of thought when it comes to dressing the flower girl: she should match the bride or she should match the bridesmaids. Another option is to meet in the middle and choose a white dress with an embellishment or a sash that complements the bridesmaids.
The style
Flower girl dresses are almost always high- necked and tea- or floor-length.
The accessories
Keep it simple. A basket of petals or a pomander is probably plenty for her to handle. Consider her age and maturity level. What is she really going to be able to wear or carry? If you know a floral crown is going to be off of her head within minutes, you may want to reconsider that particular accessory.
Who pays?
The flower girl's parents traditionally pay for her attire, so unless you're planning on making it a gift, be upfront about this when you ask to include their daughter in your day. W
From the files of Ottawa Wedding Magazine.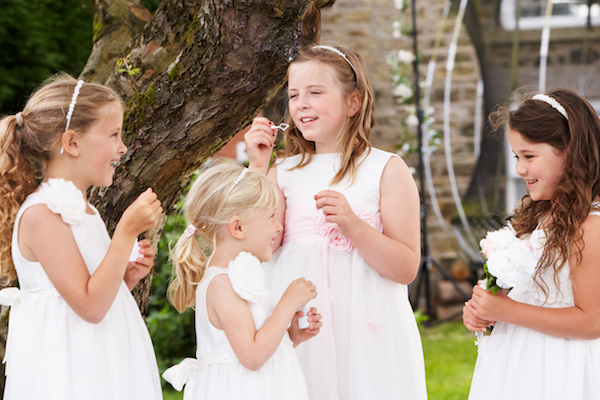 A History of Your Tiniest Attendants
Flower girls
Today, flower girls are dressed in similar colours to the bridesmaids. They usually walk down the aisle ahead of the bride, sometimes accompanied by a ring bearer. Taking a trip down memory lane will explain just why this tradition began.
In earlier times, when marriages were regularly arranged and girls were married in their pre-teens or early teens, a flower girl was viewed as a symbol of innocence and a marker of the transition from childhood to womanhood. The flower girl would lead the bride forward to symbolize her blooming into a wife and mother.
In Ancient Rome and Greece, flower girls carried sheaths of wheat and herbs ahead of the bride and groom to symbolize blessings of fertility and prosperity.
In the medieval era, young wedding attendants of both sexes carried garlic to ward off evil spirits.
In Elizabethan England, the path from the bridal home to the church was carpeted with rose petals and soft rushes. A flower girl would follow musicians in the wedding parade, carrying a silver bride's cup decorated with ribbons and a branch of rosemary. (Across much of Europe, several children were included in the wedding party.)
Flower girls in the Victorian era, usually dressed in white decorated with a coloured silk or satin sash, carried baskets full of rose petals or flowers as a welcome gift to the newly married couple as they came down the aisle from the wedding altar. Flower girls also frequently carried floral hoops — like wedding rings — viewed as symbols of eternal love between the couple.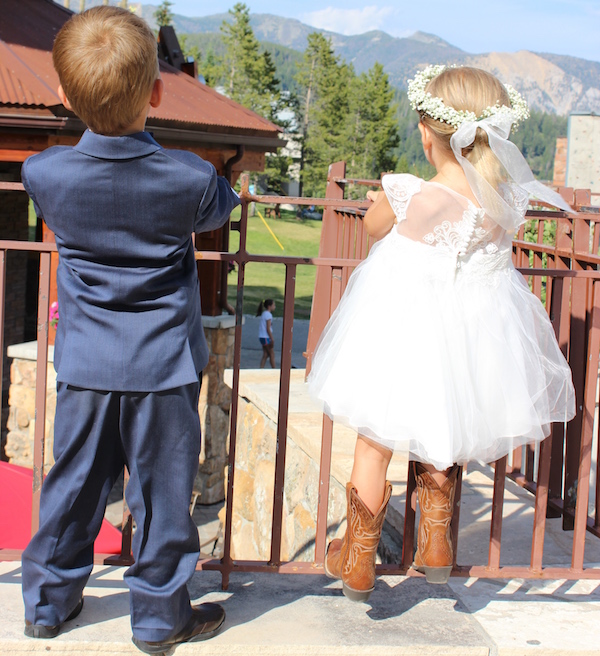 Ring bearers
For many cultures, the rings in the wedding ceremony are symbols of the betrothed couple becoming bound together. In the majority of weddings today, the best man is charged with keeping the rings safe. But in many formal weddings, a young boy carries a pillow on which the rings rest and then passes them to the best man. On occasion, particularly when the ring bearer is very young, the pillow, with a design of embroidered rings, is symbolic only.
The use of a ring pillow is rooted in Ancient Egypt, when jewels were displayed on ornamental pillows during a wedding.
According to medieval European folklore, the wedding ring was presented to the bride on the tip of a sword (possibly intended as a warning against infidelity).
In marriage ceremonies during the Victorian era, a pageboy carrying a pillow became fashionable. Usually, he was dressed in a Lord Fauntleroy-style page's outfit with a lacy collar and sash around his waist and his duty was to carry the bride's train. He also carried her prayer book and the rings.
Today's ring bearers are usually young male family members and are paired with flower girls around the same age (under 10 years old). They walk down the aisle together ahead of the bride.