It is engagement season and I am pleased to share this post by Hana Abaza, co-founder and CEO of Ottawa's
WeddingRepublic. This article was originally posted on
the Huffington Post
and has been modified for this publication. You can see the original article
here
.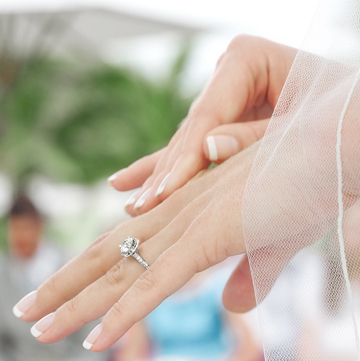 When you fall in love you want to tell the world. And when you're getting married you want to shout it out from the rooftops —
literally
. But does a public proposal guarantee a smooth trip to the altar? Consider this: while a public proposal is intended to impress, inspiring oohs and ahs from onlookers, does the pressure to
just say yes
outweigh any nagging doubts the bride (or groom) to be might have?
Since social and digital media have become more pervasive and more accessible for the average person, countless marriage proposals have gone viral. You no longer need to shout it from the rooftops — just share it on Facebook or
Twitter
. As if the pressure to propose isn't enough, add to that the pressure to outdo the best proposal ever (according to the person who posted it on
YouTube
)…
… and a lot of weight is placed on four little words: "
Will you marry me?
" Even within the multi-billion dollar wedding industry, there is a growing niche dedicated to the proposal, and there are
professionals
who will hold your hand as you plan your big moment. Need a flash mob for your proposal? Yes, there are
people that can do that for you too
.
Public proposals aren't new (remember the good old-fashioned
Jumbotron marriage proposals
on bended knee?) But sharing your proposal online for friends, family and the entire digital world to see makes it a public performance that might reach a larger-than-intended audience. Perhaps the performance, the excitement of "going viral" is part of the appeal? But it might not be as easy as it seems. If you go to the effort of hiring a flash mob, you're not guaranteed a
viral hit
, because even that is becoming more commonplace. With every original
marriage proposal
idea that goes viral, there are a slew of copycats making it less interesting to the general public — sounds like marketing 101, right? Looks like the bar just got a little bit higher.
One proposal that helped nudge the bar up a couple of notches is
New York Times
reporter
David Pogue
's elaborate movie trailer proposal. After creating the trailer, Pogue rented a theatre, showing the proposal to friends and family. Meanwhile, a hidden camera captured his then-girlfriend's reaction and the entire event was tweeted about the next day. The proposal was then followed up with a
"How to Propose Like Pogue"
Q&A on the New York Times website.
Who Are You Trying To Please?
While "how did he propose?" is one of the first questions you might hear, and every couple wants a good story to tell, overdoing the proposal to impress anyone other than your fiancée
might backfire
. It's true that some women will undoubtedly be awed by a public proposal, some might simply be embarrassed feeling pressured to just say yes — regardless of their true feelings. Or worse, their first reaction might be to say no or simply walk away.
Not many of us have the knowhow or cash to pull off a Pogue-like proposal, but I would argue that it's not necessary. There are varying degrees of publicizing your proposal, but whatever you decide, do it for the right reasons. If a private proposal will make you and your future bride (or groom) more comfortable, then stay true to that whether it's a romantic dinner or something a little more adventurous.
Not sure if a private proposal will strike the chord you want? Consider a semi-private proposal. It may be important to the love of your life to have close friends and family present — but leave the prying eyes of YouTube out of the loop.
And if you know she (or he) will absolutely love a big splashy public proposal with all the bells and whistles then do it — and go all out.
But one thing is certain, if you're going to propose in public, you better be pretty sure she's going to say yes.