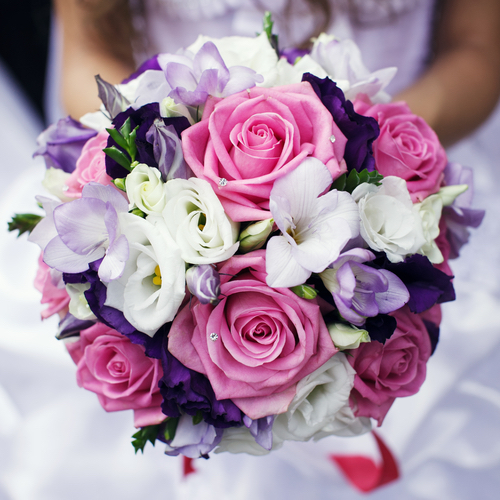 Wedding Style in Bloom
Every bride is different, and no two weddings are ever exactly the same. From the tiny details to the big ones, a bride's personal style can be found in nearly every aspect of the big day. This is especially true of the bride's bouquet. Here we'll cover five different styles and how the bouquet complements her unique flair.
Contemporary
Updated and chic are two words synonymous with a contemporary bride's style. These brides love all things luxury. Martha Stewart Weddings recommends a variety of modern bouquet styles for this type of bride. For example, white, ruffly poppies with black centers give a luxe spin on a traditional bouquet. Eggplant calla lilies, green hypericum berries, fringed tulips and dusty miller leaves come together to create a bold, contemporary bridal look that complements a range of wedding themes and colors.
Traditional
For the bride who sticks to tradition, a simple, elegant bouquet is best. Ivory bouquets are a great choice for the bride who wants the attention to be on her, not her bouquet. A hand-tied bouquet of ivory-colored rosesmakes a subtle statement that suits the style of a traditional bride.
Trendy
On-trend brides are out to find the style of the moment for their big day. The farm-to-table style of thinking is important to many of these brides, and that includes their choice of flowers, too. Many trendy brides look for locally grown flowers for their wedding day. They want bulk in their bouquets and stay far away from the traditional loose and wide bridal bouquet shapes. They want arching branches and dangling vines and foliage. Chrysanthemums, succulents, rich foliage and herbs, fruits and edibles are just some of the biggest trends in bridal bouquets this year.
Avant-Garde
There are no rules when it comes to bridal bouquets for the avant-garde bride. They are on the search for a wow factor when it comes to planning the day when they will tie the knot. For this bride everything is couture, from the dress to the cake to the bouquet she will carry as she walks down the aisle to the alter. Bold bouquets that make a statement are best. From whimsical cascading lilies to architecturally focused bouquets made with many different colors and textures, nothing is off limits and the bouquet style is certainly elevated from other styles mentioned here.
Minimalist
Simple is key when it comes to the minimalist bride style. This bride opts for the simple wedding dress without any frills or glitz. The same can be said about her big day bouquet. Less is more when it comes to minimalist brides. This style of bride will likely opt for an elegant arrangement in a simplistic color palette. Smaller bouquets are the arrangements of choice for this style of bride. Olive greens and a collection of white peonies make a simple, understated bouquet that complements a minimalist bridal style.