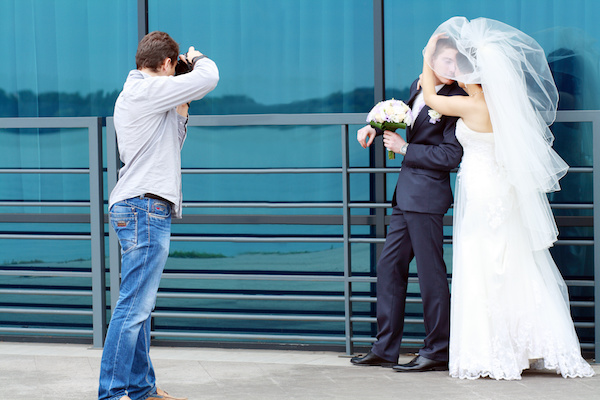 Whomever you choose to capture the essence of your day essentially becomes part of the wedding party – sticking by your side and making sure not to miss a moment. Choosing a photographer who not only fits the artistic style you want for your wedding, but who can also fit with you and your bridal party are equally important.
Personality
When meeting with your potential photographer, keep in mind that he or she will most likely be around the bride and groom more than any other individual.
Some photographers are casual and laid back about everything, while others will immediately take control. The casual, laid back photographer is most likely not going to get in the way, and will capture the candid shots everyone loves. The more controlling photographer will get people where they need to be and deliver those perfectly-posed shots. Most photographers fall somewhere in-between the two.
Other personality types include the overly-friendly versus the overly-quiet. No one personality is better than another: it's up to the bride and groom to decide who they want for their day.
Some studios will hire outside photographers to work for them. When having the consultation with the studio, identify if that person will be photographing the wedding or someone else. Ask to meet the person who will be there on the wedding day.
Style
Any good photographer will do a combination of "candid" and "formal" shots. Are the formal shots posed in a way that will please the client? Do the candids look natural and memorable? The style of the photographer should match what the bride and groom imagine for their day.
Albums, prints, disks – what else?
If buying the optional book or album, check the quality ahead of time. Will people be able to flip through it years later? Will it hold together? Does the photographer do a good job of using the album to tell a story? These are all things one should consider before making a purchase.
If photographic prints are provided, what type of paper and inks are used? Does the photographer do the prints in-office, or does he or she send them to a quality lab? If a disk is provided, what is on the disk? For example, does this include high resolution JPG files the clients can use to make prints later? Or are they low resolution, which will only work on websites, but won't create a quality print?
There is nothing wrong with the photographer limiting what is in the initial package and charging more for extras, such as a full-resolution disk or additional prints. Just make sure to ask questions, understand the order, and ensure everything is documented in the contract.
Portfolios
Photographers are only going to show potential clients their best work. Since most photographers do online galleries, ask for a link to a few other client galleries. This will give the client realistic expectations, as not all photographs taken will look like they belong on the cover of a magazine.
Are the images consistent? Does the photographer use a lot of soft or hard lighting? High contrast or low? Identify the breakdown between black and white and colour images.
Price
It's important to set a realistic budget for a photographer. Once that budget has been set, ensure you understand what is being provided by the photographer for that price, including the cost of any extras. Examples of extras include: extra time, additional prints or disks, albums, and more.
Photographers don't just charge for a product, they charge for time, and that needs to be taken into consideration when hiring a professional. Processing pictures and creating albums are all time put in after the wedding day. W