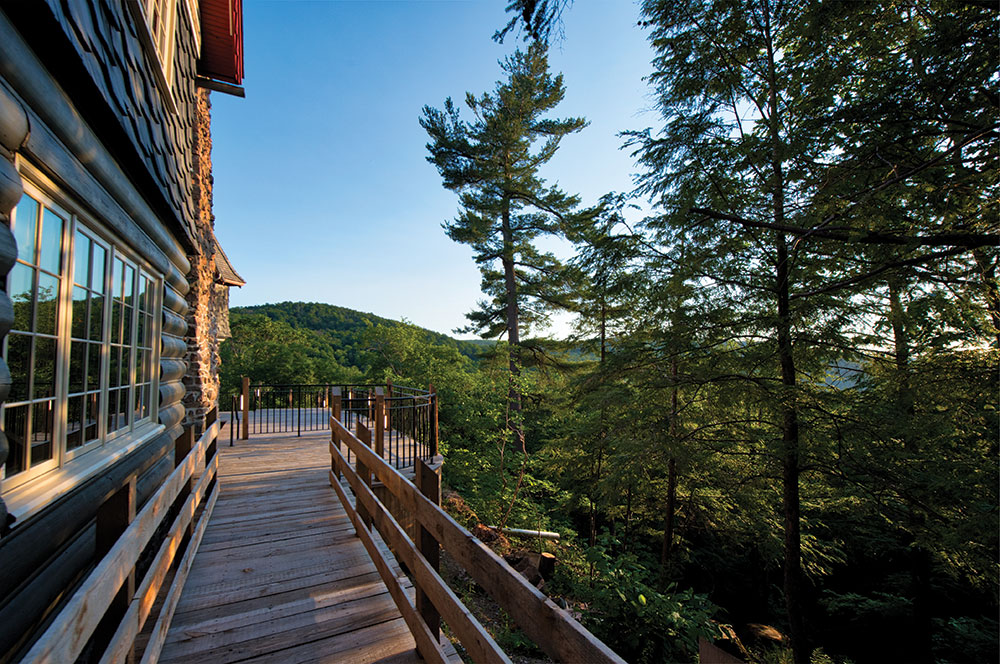 For your special day or secluded honeymoon getaway.
By Michele Peterson
Think cottage country and destination wedding, and, if you're like most people, the first image that comes to mind is rustic. But wilderness weddings and honeymoons can also be stylish affairs featuring luxurious comforts, epicurean delights and special details that express your unique personality.
From a beautifully restored 1930s millionaire's mansion to a luxury resort with its own private island, here are three romantic cottage country venues to consider for your special day or secluded honeymoon getaway.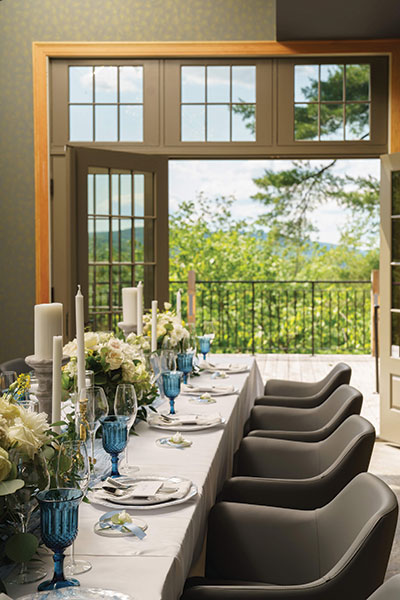 The O'Brien
The vibe: Timeless Canadian Elegance
The setting: Perched at the top of a forested hill in Gatineau Park in Old Chelsea, Quebec, The O'Brien is a handsome 1930s mansion that has been renovated into an 11-room luxury boutique hotel and restaurant. Once the wilderness lodge for industrialist Ambrose O'Brien, owner of the Montreal Canadiens and co-founder of the National Hockey Association, The O'Brien was acquired by the National Capital Commission in 1964 and recognized by the Federal Heritage Buildings Review Office in 1984. It languished until it was meticulously restored as a luxury boutique hotel and restaurant in 2018.
The O'Brien was designed in the ultra-romantic Queen Anne Revival style of architecture, but in addition to its fanciful turrets and gables, it features signature Canadian wilderness lodge details such as its original stone fireplace, cedar-shingled roof, log siding and sweeping granite stone foundation. Much of the top-notch Canadian artwork, antiques and carpets on display are curated from the NCC's Crown Collection and contribute to the quintessential Canadiana décor.
The experience: The all-season beauty of the Gatineau Hills and panoramic views of Meech Lake create a stunning backdrop for a nature-inspired destination wedding or honeymoon. Bridal couples can exchange wedding vows within the impressive Douglas-fir beamed Canadiana room or outdoors under a canopy of trees. Guests will enjoy mingling over cocktails in the comfortably elegant library or outdoors on the sunset terrace before gathering in the dining room for dinner.
When it comes to dining, Executive Chef Patrick Marion presides over a menu featuring artistic new Canadiana cuisine showcasing locally-sourced and artisanal ingredients. Accommodation options include a honeymoon-suite as well as 10 additional guest rooms, all offering breathtaking views of Meech Lake or Gatineau Park.
Special ingredient: Be sure to include time at the nearby Nordik Spa-Nature, North America's largest day spa where the bridal party or honeymooning couple can bask in an outdoor haven of Nordic baths and waterfalls, steam baths, infinity pools, salt water pools and more.
Details: Situated 15 minutes from Ottawa, exclusive use of the O'Brien provides for a seated dinner for 50 guests within the dining room or a cocktail reception for up to 100. theobrienhouse.ca and chelsealenordik.com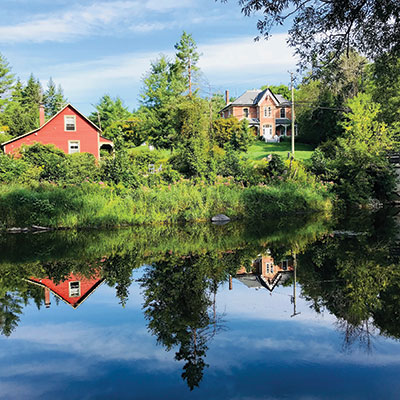 Moulin Wakefield Mill
Vibe: Quaint French village charm
The setting: The riverside village of Wakefield, Quebec, is the charming setting for the Wakefield Mill, a heritage-designated boutique getaway. The historic village offers a unique mix of boutiques, attractions and waterfront promenades, ideal for photo-ops. Especially photogenic is The Wakefield Covered Bridge, a pedestrian bridge originally built in 1915, overlooking the Gatineau River and Lovers' Rock.
The experience: For a memorable nature-inspired backdrop, exchange wedding vows overlooking the cascading waterfall or beside a sun-splashed river in a forest grove. Indoor options include a solarium bathed in natural light within the historic Mill, the Waterfalls Banquet room and the Lester B. Pearson room in the Eco River Lodge surrounded by wildflowers and landscaped gardens. Bridal parties can choose from 40 guest rooms within the atmospheric stone Mill, dating to the 1800s, or the new environmentally friendly Eco River Lodge.
The Wakefield Mill's two restaurants, including the fine-dining MUSE, offer unforgettable views of MacLaren waterfall. Pre or post-ceremony, wedding guests can enjoy a lush oasis complete with an outdoor stone hot tub, red cedar sauna and seasonal riverside swimming pool, or explore the walking trails of a vast surrounding parkland filled with the fragrance of pine, cedar and forest herbs. For the ultimate in serenity, indulge in a spa treatment at Eau Vive Spa, set within the original stone walls and featuring five tranquil treatment rooms ideal for couples or bridal parties.
Special ingredient: For your rehearsal dinner or post wedding day brunch, enjoy fine regional cuisine at the award-winning Les Fougères in nearby Chelsea. Chef-owners Charles Pratt and Jennifer Warren-Pratt preside over the menu and vision of this farmhouse-style restaurant set amidst gardens used for sourcing fresh ingredients for the artistically prepared dishes.
Details: Located 30 minutes from Ottawa, the Wakefield Mill can accommodate up to 50 guests. wakefieldmill.ca and Outaouaistourism.com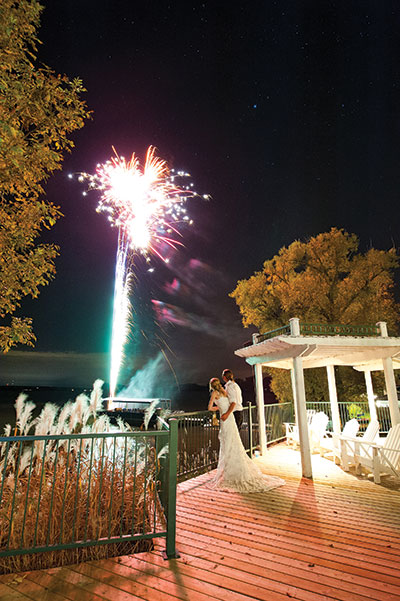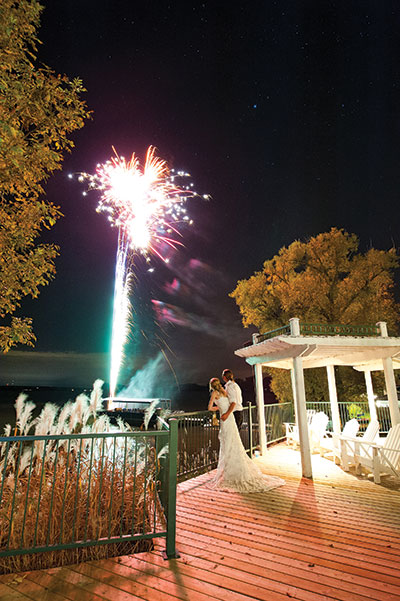 Elmhirst's Resort & Spa
Vibe: Magical waterfront escape
The setting: Elmhirst's Resort, a secluded collection of 30 luxury cottages plus destination spa and upscale restaurant located on 100 hectares of waterfront on Rice Lake in the Kawarthas, transforms into a magical playground for friends and family to enjoy and celebrate all weekend long.
The experience: Make a storybook entrance on a carriage ride led by the resort's team of Clydesdale horses or paddle to your ceremony in a Voyageur canoe. Exchange vows to the sound of lapping waves on the waterfront Boardwalk or in the Conservatory Room followed by
a cocktail reception under the stars or in one of several banquet spaces. Once you've said "I Do" make a grand exit by departing in a vintage Piper Cub floatplane right from the dock. The onsite spa offers a peaceful sanctuary for the bridal party or bridal couple. Your guests will enjoy the options at this waterfront playground — from archery to pontoon cruises to bonfires, you'll create memories to last a lifetime.
Dreaming of a wedding or vow renewal reception with an unforgettable view? Dine in the Heritage Room overlooking the calm waters of Rice Lake and gardens while enjoying multi-course, gourmet dining featuring locally-sourced and farm-fresh cuisine. At the wine tasting table within the atmospheric Underground Wine Cellar, bridal parties can sample Ontario VQA wines, learning how to differentiate grape varietals and trying a vertical tasting.
Special ingredient: Ramp up the nature factor (and together time) by taking a floatplane to a remote private lake where the pilot will drop you off for a romantic night in a cozy cabin complete with porch hammock and glowing lanterns.
Details: Situated 2.5 hours from Ottawa, Elmhirst's Resort can accommodate up to 150 guests for ceremonies and receptions. elmhirst.ca