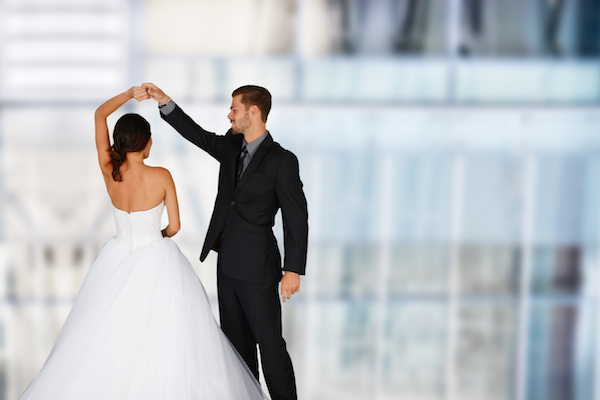 It's a thought: how about Dance lessons so you can shine and shimmy on the dance floor for your first dance as a married couple?
We've all seen the amazing wedding dance videos on YouTube. Whether it's the happy couple with the amazing moves (Hello, Ryan and Leah Claxton!), the groom — a professional dancer — and his groomsmen putting on an epic show, the "bride and her bridesmaids performing the best Beyoncé wedding dance routine in Texas" or the surprise father-daughter dance to a song mashup that earned over 11 million views, some sweet moves can really make your day epic.
And not one but two Dancing With The Stars weddings last weekend have plenty of engaged couples talking or at least thinking about that first dance in front of the crowd. While nobody's expected to dance like a pro or waltz and cha-cha so expertly millions of people want to see, it certainly would be nice to avoid stepping on each other's toes.
Dance lessons can actually be a really fun activity to do together. And thankfully, there are many great dance studios and dance instructors in Ottawa offering wedding dance lessons. Not only do these lessons offer potential stress relief in the midst of your wedding planning, they also offer a pleasurable opportunity to stay fit.
But in order to make that stress relief real, don't leave them until the last minute. It's best to start well in advance so you have plenty of time to do the lessons as well as to practice your steps and routine.
If you do want to make a splash on the dance floor, there are a few topics to consider:
What song do you want?
What style of dance do you want to perform?
Do you want to do a medley of styles with a mashup or songs? (This option will, no doubt, be spectacular, but will also require plenty of instruction, planning and practice.)
And what shoes do you wear? Should you have an extra pair for your dance? While this is a topic worth exploring, the quick answer is, "Of course!"