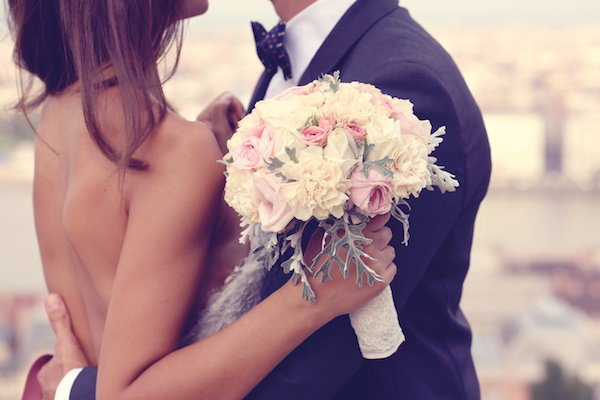 by Lindsay Ruck
A plunging neckline. A corset bodice. A crop top and a sheer skirt. Any of these on your bridal gown checklist?
Looks that were once taboo are now major trends in the wedding dress world and Ottawa Wedding is embracing this explosion of lacy seduction.
When perusing the more risqué bridal designs, I cringed more than once at some of the overly-exposed gowns. There was no distinction between wedding day and wedding night. But I also found myself salivating over beautiful styles that achieved the perfect bridal balance.
To-be-brides around the world gave a unified hip-hip-hooray when Hudson's Bay announced they would be bringing Kleinfeld Bridal to Canada. And this includes the dramatic designs of Pnina Tornai, noted dress designer who has made several appearances on TLC's hit show, Say Yes to the Dress.
Show-stopping style
Many of Pnina's gowns speak to the sexy side of bridal fashions. See-through corsets, shorter skirts, and strategically placed lace are all on this designer's resumé. But Pnina's not the only one who's answering the daring wedding gown call.
"We saw this trend starting out a few years ago," says Dana Alexander-Salares, owner of Ottawa's With Love Bridal Boutique, "but this is the first year we are really seeing brides embracing a more flirty approach to their style while keeping more elegant and traditional bridal elements."
So the question is, how do you obtain that look of über sexy yet sublimely classy? Let's break down the top styles that have nailed this coveted combination.
Plunging neckline
First up is one of the most popular necklines this season: the deep-V. Designer Dennis Basso sent a plunger down the runway for his fall 2015 collection that didn't stop until it hit the bride's waistline. This particular gown is perhaps one of the more extreme styles. There are other designers, however, who have created happy mediums for this look. Caroline Herrera's collection features a beautiful A-line gown with a deep-V neckline and illusion short sleeves.
When it comes to a plunging neckline, your tailor will be your best friend. The alterations on this look need to be precise to avoid shifting or scrunching. This is no surprise, but the larger the chest, the trickier a plunging neckline will be. You will be moving, sitting and dancing all night, and that dress should be staying put no matter what.
Along with that fabulous tailor of yours, your undergarments will also play a huge part in pulling off this look. Track down a low- cut bra to mirror your low-cut style. If you're also opting for a backless design, the strapless plunging bra is key.
"Plunging necklines are beautiful in a more sheath silhouette on a smaller busted bride," remarks Dana. "A low V-neck doesn't provide enough support or coverage, but definitely gives a smaller bust a boost."
A low-cut body suit with built-in support will also work. The added bonus of the body suit is it can act as shapewear and smooth out the torso. But make sure it fits properly and doesn't bulge under the gown. The downside of the body suit – makes going to the washroom just a little trickier!
If an undergarment doesn't complement the width or plunge of the V, you can ask your seamstress to sew cups into the gown. Along with the use of fashion tape or stickies, you'll be well-supported all day and night.
Cut outs
Next up on the radar are cut outs. From Rivini and Anne Barge to Mikaella by Paloma Blanca, there have been a multitude of gowns featuring different takes on this design. The majority of cut outs are found around the lower waist and torso and some feature a lace underlay while others go bare. Some are modest side slits, no bigger than a strike at the waist, while others are wide, unique shapes that become works of art throughout the gown. This peek-a-boo style is great for those brides who really want to make a statement with their gown and who have all the confidence in the world to expose those "trouble zones" that many of us would just like to cover up.
Depending on where the cut out hits the body, undergarments shouldn't be that tricky to find. If your cut outs expose some part of your torso or waistline, then shapewear may not be an option.
A beautiful lace top and bottom may be all you need to complete your look.
Crop top
Onto our next style: the crop top. That's right, ladies: the '80s are making a comeback (sans the velvet scrunchies and purple metallic eye shadow). Crop tops and layered separates were seen on several runways this season, including a stunning two-piece by lace extraordinaire, Jim Hjelm and beautiful crop designs by Hayley Paige and Reem Acra. Just like cut outs, there's a chance your mid-section will make an appearance at your wedding. Consider all movement you will do throughout the day: posing, dancing, hugging … you get the point.
What's wonderful about the separates look is it can go from pretty and soft to sporty and casual. It's a versatile style that can be dressed up or down, depending on how you accessorize.
Once again you'll need to call on separates for undergarments. A corset will not work. Undergarments that are light and don't add any bulk are best for this look.
Corsets
Up next is trend No. 4. The corset bodice has a lingerie look and feel. What many brides find so appealing about the corset is how it hugs the torso and cinches the waist. The boning defines the hourglass the garment creates, giving the bride a more full-figured look. Designers such as Lazaro, Monique Lhuillier and Paloma Blanca feature the corset in their most recent designs. What takes the corset to the next level is the fabric. A lace corset provides a sheer exposure, meaning the bride is technically covered up but her skin is only wrapped in a thin, sheer layer of fabric. If you want to create more of a waistline, then this is a great option for you. A corset, along with the proper undergarments, can also give the chest a bit of oomph, if perhaps you are not as well-endowed.
"The corset bodice style maintains a bit of bridal tradition when constructed of a quality lace for more coverage with a bit of boning peeking through the pattern," says Dana.
What's wonderful about many corsets is they don't require much underneath. Their snug fit keeps you in place and well-supported
throughout the day. You'll be able to tell if support is necessary at your first fitting. If you do feel the support is not there and you're not pulled in, then a bra should be on your undergarment list. If it's merely coverage you seek and not necessarily support, there are stick-on options that work wonderfully, especially when wearing a sheer gown.
Sheer sensation
And last but certainly not least is the sheer skirt. Sheer fabrics can go one of two ways. They can be a beautiful, soft, airy style that adds some whimsy to the bridal look, or they can just be plain see-through and have everyone wondering where to look. This look features a translucent overlay with lining underneath or tulle. Among other names, Pronovias and Rivini both feature sheer skirts. What's great about the sheer style is it's understated sexy. It's an airy and whimsical look that allows the bride to feel completely covered without all of the bulky fabric or extra layers.
An added element to the sheer skirt is the high slit. This gives the gown added movement as it flows freely as you walk down the aisle. A sheer look I am cautiously-obsessing over comes from designer Paolo Sebastian. Despite the sheer beaded bodice and high slit skirt, this dress is über-sexy but still a class act.
When it comes to undergarments, seamless is the way to go. In this instance, the less material the better. Shapewear may also work with a sheer skirt, as long as it is no longer than the cover-up underlay.
Keep it classy
It breaks my fashionista heart to see a beautiful bride pull her bodice up or her skirt down all day long. There are several things that could be wrong in this case. If you're constantly making sure the girls are covered then the dress is not fitting you properly, you're wearing it too low on the chest, and you aren't wearing the right support. You have enough to think about. Whether or not you're giving your loved ones a free show should not be on your priority list. If you're constantly pulling the dress down, then the dress is either too tight or too short. Make sure you can move freely in your gown. Sit down, stand up, repeat. If you'll be dancing, then bust a move in the bridal boutique. Cover all bases to ensure your dress moves with you, not against you.
If your everyday look is a turtleneck and jeans and even a tank top makes you feel uncomfortable, then this is not the time to reinvent your wardrobe. You'll be self-conscious the entire day. A word to the wise and modest bride – save the sexy for the wedding night. W