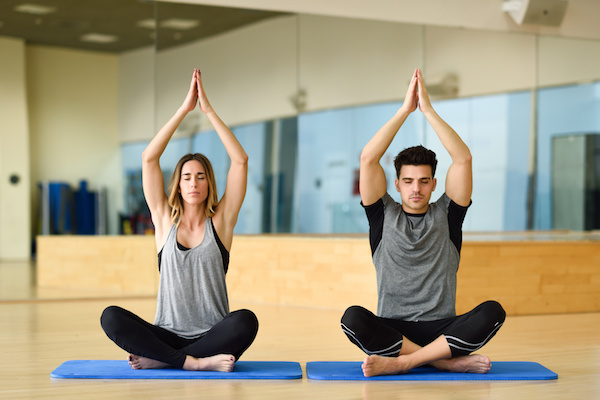 By Dr Alan Viau
While planning a wedding doesn't have to be stressful, for many it seems to be an inevitable part of one of the most exhilarating times of their life. Some can deal with the stress better than others. Yoga is one proven way to help cope with the added pressures that accompany planning a wedding. You can De-stress for the Dress.
With all the weddings I've witnessed, wedding stress is a result — a response to one of two sources. However your stress manifests, you'll be able to choose a type of yoga that works for you. As you approach your wedding day, you'll be ready to tackle anything.
Pressure
One source of stress is that couples feel the pressure of having everything planned to the smallest detail to achieve their ideal of a perfect day. It is complex to handle multiple vendors let alone the planning that goes with mixing people, friends and family together. There may be inter-personal dynamics about how the guests will interact, especially those who have never met — or have and aren't on the best terms. Bride and grooms need to find mechanisms for letting go of that stress by doing gentle hatha yoga.
In gentle hatha yoga, the poses tend to be simple and accessible to beginners. The focus is on using the poses as a way to relax and meditate. Instructors frequently encourage their students to be in the present moment. The benefits of gentle yoga are an increase in flexibility and strength.
The type of relaxation and meditation attained through gentle hatha yoga can help make you a more mindful person, more aware of your internal thoughts and how you construct narratives about yourself and other people in your life. On the mat, you'll have time to reflect on those inner dialogues.
Anticipation
Another source of stress is that couples aren't necessarily feeling stressed at the beginning. However as anticipation builds the nerves kick in. All of a sudden, there are disaster scenarios that appear in their minds that can drive them batty. Couples can work off that extra steam by doing something for themselves. It's important to set aside time to unwind and be reflective. This can be achieved through a more vigorous power/vinyasa flow yoga practice.
Power/vinyasa flow yoga is focused on dynamic movement and strong physical practice. You're going to sweat (hot yoga is also in this category). The philosophy behind these types of yoga is that by challenging yourself physically, your mind is fully focused on your body. This type of yoga often resonates with those who find jogging beneficial for stress relief. By having a really powerful yoga practice, brides and grooms can get over the noise of their busy lives and feel energized. Once you've taken the time to not think about everything, when you step off the mat you're energized and ready to tackle everything — like planning a wedding.
By approaching your wedding day with mindfulness, you'll feel proactive rather than frustrated as challenges arise. Yoga can help make you a more mindful and happier person. The aim of practicing yoga is a long-term, sustainable, healthy body and mind. By starting a new fitness regime early in your planning days, you'll be able to tackle what comes your way.
---
Originally published at alanviau.com on October 14, 2016.
Alan Viau is yoga teacher, minister, health scientist, & cancer survivor who teaches & coaches achieving fitness & well-being at LoveOfLifeYoga.com.