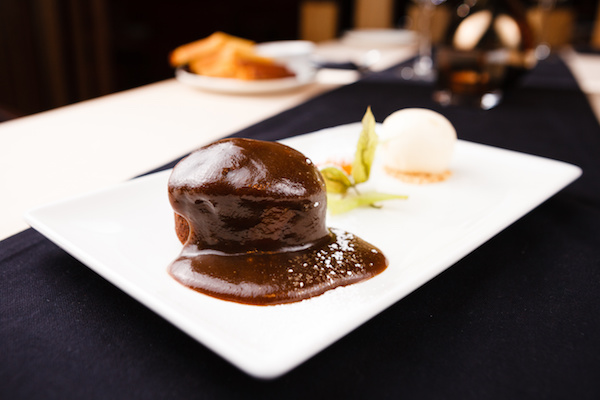 Planning a romantic October 31 dinner with your fiancé? This fab dessert is a Halloween treat that's swoon-worthy! Yes, it's Sticky Toffee Pudding, but there's a bonus. It's more nutritious than it looks. Unlike a traditional sticky toffee pudding, this one is made with prunes.
And guess what? New scientific research shows that eating a daily serving of five prunes supports heart and bone health; and may even help slow and prevent bone loss, lowering the risk of osteoporosis. Who knew?
INGREDIENTS
¼ cup (50 mL) unsalted butter, plus extra for greasing pan
¾ cup (175 mL) brown sugar
1 Tbsp. (15 mL) maple syrup
2 eggs
1 tsp (5 mL) all spice
½ tsp. (2.5 mL) vanilla extract
1½ cups (375 mL) all purpose flour
1 tsp (5mL) baking powder
1 cups (325 mL) California prunes
¼ cup (50 mL) chopped nuts
½ cup (125 mL) boiling water
TOFFEE SAUCE
½ cup (125 mL) unsalted butter
½ cup (125 mL) packed dark brown sugar
½ cup (125 ml) heavy cream
DIRECTIONS
1 – Preheat oven to 350 F° (180°C).
2 – In a medium bowl with a hand mixer on medium high speed, cream together butter and sugar.
3 – Beat in syrup, eggs, all spice and vanilla.
4 – Add flour and baking powder and combine with a spoon just until flour is absorbed.
5 – Finely chop California prunes and add to mixture along with nuts.
6 – Add water and stir.
7 – Pour into a 9-inch (23 cm) square, greased cake pan and bake in oven for 35-40 minutes or until a skewer comes out clean.
TOFFEE SAUCE
8 – Place butter, sugar and cream in a small saucepan and simmer over low heat until thick and glossy (approx.10-15 mins).
9 – Serve pudding hot from the oven with Toffee Sauce and ice-cream.
Makes 1 – 9-inch (23 cm) pudding