Celebrate Your #disneyside: How to Have Your Own Disney Fairytale Wedding!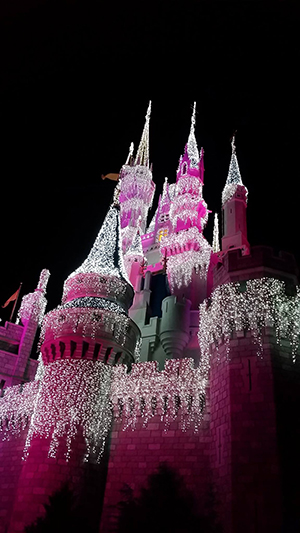 By Anastasia Marie
I have a confession to make: I'm obsessed with everything Disney. From countless VHS tapes (I swear, they are worth keeping), to a bevy of Disney princess dolls, stuffed animals, and themed, well, everything, I was the kid who should have been born with Mickey Mouse ears.
Though I've since outgrown complete Disney fandom (I've created my own fairytale, after all), I still reserve a little space (okay, okay, a medium-sized space) in my heart for the most magical place on earth.
Today, it is only a little amusing that I now help couples bring their own fairytales to life. As their personal fairy godmother, I help design, plan and coordinate their personal happy endings. Interestingly, one of the most common questions I receive on my Pinterest page and Twitter feed is how to achieve the perfect Disney Fairytale Wedding. As a former (okay, okay, current) Disney kid, I'm happy to help. Below are some of the ways you can achieve your own Disney Fairytale Wedding and experience a happily ever after.
Rent a horse-drawn carriage.
Channel your inner Cinderella and ride into the sunset with your very own horse-drawn carriage. For the couple that likes the outdoors, Ottawa's Lone Star Ranch, lets couples celebrate their wedding in style while accessing the ranch's personal horse and carriage. For the couple that doesn't mind traveling outside of Ottawa, Bean Town Ranch also provides horse-drawn carriage services that doubles as a sleigh during the winter season. Just be home before midnight.
Create a Disney-inspired reception table décor.
There are many ways that your love of everything Disney can be channeled into a beautiful wedding centerpiece. Are you a lady that sees herself as Belle from "Beauty and the Beast"? Why not mimic the look of the Enchanted Rose by renting a glass cover to place atop a beautiful summer rose? Is Ariel your favourite princess? Little touches like aqua-coloured glass, tropical flowers and starfish-themed place cards may be the perfect "thingamabobs" to get you started!
Stick to a Disney colour theme.
Disney is well-known for its stunning works of animation art. In fact, many people can recognize popular Disney movies by their colours alone! For a subtle way of showing your Disney pride, choose a wedding colour theme that is in line with your favourite Disney film. To find the colour theme of your favourite Disney film, visit my Pinterest page to check out my "Disney Wedding Colour Theme" board!
Wear glass slippers.
Okay, perhaps real glass slippers are out of the question (can you imagine the blisters??). Luckily, recreating the look is as easy as bibbity bobbity boo! Christian Louboutin offers a pair of gorgeously designed, Cinderella-inspired wedding shoes that are adorned with crystal butterflies. For brides on a budget, Aldo offers glittery heels that are princess-inspired and are under seventy dollars.
Give out Disney-themed favours.
From chocolate "mouse ears" to an antique key to unlock exciting adventures, your guests will love a Disney-inspired wedding favour. Is "Snow White" your movie of choice? Candy apples are the perfect treat. Is Ariel your kindred spirit? An engraved dessert "dinglehopper" might be the ticket. Do you look to the couple in "Up" for relationship inspiration? A personalized balloon favour is a great way to honour your favourite film. Disney-themed wedding favours are a wonderful way of adding a little Disney magic to your day.
Play a Disney score.
Are you looking for a more subtle way to profess your love of Disney at your wedding? Why not play a Disney score during your dinner? Formal, grand and offering mass appeal, Disney scores are less obvious than well-known Disney theme songs and offer perfect background music. While your guests enjoy the ambiance, you will smile at the subtle reference to your childhood. Just download them yourself!
Serve a Disney dinner and treats.
Try the grey stuff, it's delicious. Don't believe me? Ask the dishes! Far beyond the obvious choice of a Disney-themed wedding cake, Disney-themed dinners are an easy way of incorporating your favourite movies into your wedding. For fans of "Beauty and the Beast", The Disney Diner offers a delicious take on the famous "grey stuff" that is served at the Beauty and the Beast Castle at Disney, Orlando. For fans of Disney's "Frozen", a chocolate fountain would be the perfect touch. Eat up!
Wear a Disney Fairytale dress.
Want to feel like a princess on your wedding day? Famed wedding dress designer, Alfred Angelo, has created Disney princess-inspired wedding dresses for the little girl in all of us. Stunning and masterfully crafted, Alfred Angelo's Disney Fairy Tale Wedding dresses are perfect for the sophisticated bride who is looking for just a touch of Disney magic. Simply visit the site and search for a local distributor.
Get married at a Disney Wedding destination.
Have you dreamed of getting married in a real Disney castle? Your dreams can come true when you book your wedding day with Disney Fairy Tale Weddings and Honeymoons. With access to world-famous theme parks, award-winning resorts and luxury cruises, (and not to mention Cinderella's castle!), a Disney destination wedding offers endless possibilities for a magical and memorable wedding day celebration.
Donate to your local Make-A-Wish Foundation.  
At the end of the day, what makes Disney so magical is the fact that it brings out the child in all of us. There is just something about Disney that hearkens back to a simpler time, a time when dreams and wishes weren't so out of reach. The Make-A-Wish Foundation of Eastern Ontario grants wishes to children with life-threatening medical conditions in order to help them experience the hope, strength and joy that childhood is all about. By asking your guests to make a donation in lieu of wedding gifts, you are helping make a child's wish come true. And what is more magical than that?
Looking for more wedding inspiration? Visit www.anastasiamarie.ca and follow me on Pinterest, Instagram, Twitter and Facebook. Happy planning!
Disney Fairytale Wedding