By Rev. Alan Viau
When I meet couples, I ask them how they got together because I find life journeys very interesting. Leanne and Andrew were really a fairy tale of a Disney Prince Charming meeting his Princess.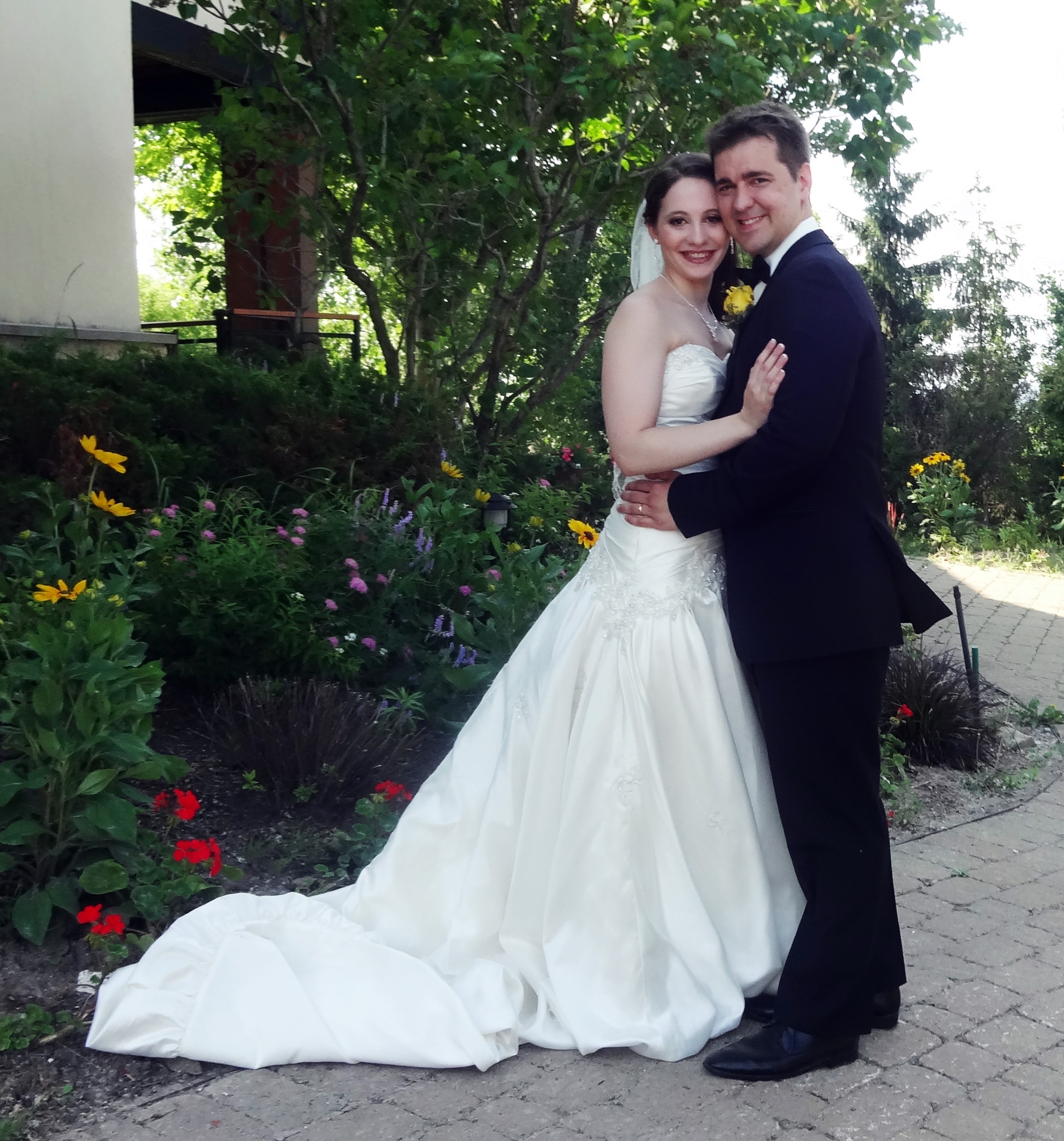 I will let their story speak:
Leanne and Andrew met at a house party in late April, 2010. It was a wild kegger to "raise money" for the university ultimate Frisbee team, but their kids will believe it was only a university fundraiser until they are at least 18.
A week later, they went on their first date. From this moment, Andrew and Leanne knew they were made for each other. They spent almost every day together, exploring Ottawa as if they hadn't both lived there since they were born.
In June, Andrew left for Venezuela for 3 weeks for his Disney on Ice skating career. They talked whenever they could on Skype. They both knew they were crazy about each other, but it wasn't until he came back from Venezuela, on this 29th day of June exactly four years ago that they professed their love for each other.
But Andrew knew he had to leave for Europe in September for 6 months, and the thought of being without Leanne for that long already terrified him. He made some calls, pulled some strings and got Leanne a job selling popcorn at his shows as he traveled through Europe.
Two months later, the two set off for Europe together, experiencing picturesque Northern Ireland, historic England, romantic France and many more countries. Unfortunately, complications with the company made it so that Leanne, a Canadian, couldn't work in concessions anymore in Europe.
Andrew, as the talent could continue to skate, but decided that he didn't want to do long-distance with Leanne and quit his skating career to move permanently back to Ottawa for Leanne and their future together. The rest is history.
Leanne's vows to Andrew:
On our very first date, we agreed to meet at the bench outside the Booster Juice at the Rideau Centre. Then, you immediately put your right arm around my waist and grabbed my hand with your left. You said to me "This is how a figure skater guides their partners on the ice" and we walked all the way down Elgin street, just like that.
Andrew, since that day, you have been my guide. You have taught me so many things about life, about love, about myself. You inspire me every second of every day. You are so pure of heart and full of goodness, more than anyone I know. You constantly look at the world around you and strive to make it a better place for everyone. You are so selfless, you do so much for me and everyone all the time.You know me better than anyone else in this world, and somehow you still manage to love me more than I could ever dream of.
Andrew, I promise to spend the rest of my life doing everything I can for you. I promise to stand by you in times of conflict. I promise to be your greatest fan and your toughest adversary, in life, and also in board games! I promise to be your fellow explorer. To travel together and experience the biggest adventures of life by your side. I promise to hold you in times of disappointment and dance with you in times of happiness. You will forever be my lover, my rock, my best friend. I love you.
Andrew's vows to Leanne:
Leanne, there are so many things that I love about you. You have that perfect quirky sense of humour that I appreciate, which, combined with your loving personality, allows me to be myself around you. Your excitement is contagious, and when you set your mind to something, and are passionate about it, there is no stopping you from reaching your goal.
From the night we met, bouncing those balloons to each other, to travelling throughout Europe with Disney on Ice, peering above the giants causeway, to kissing atop the Eiffel Tower even though it was freezing, you have changed me as a person. My thoughts had moved from focused on myself, to thinking about us, and our future together, which brings us to today.
Leanne, I vow to love you, to protect you and to always be here for you as long as I live. I vow to apologize and make amends after arguments, and to do everything I can to make our lives easier, more comfortable, and make them the best lives they can be now and in the future.
I vow to not embarrass you by singing and dancing in public. Well, not too much at least. I vow to love you through sickness and in health, through the good times and the bad. In the presence of our family and friends as witnesses, I Andrew choose you Leanne to be my lawfully wedded wife. I love you.